At this moment there is an interesting arbitrage opportunity for investors in the agricultural space.
When we look at the potash price, we can clearly see a downward trend. Ever since the break-up of the potash cartel between Uralkali (OTC:URALL) and Belarusian Potash Company in July 2013, we have seen a subsequent drop in potash price from 400 USD/tonne to 300 USD/tonne (see chart below from InfoMine.com).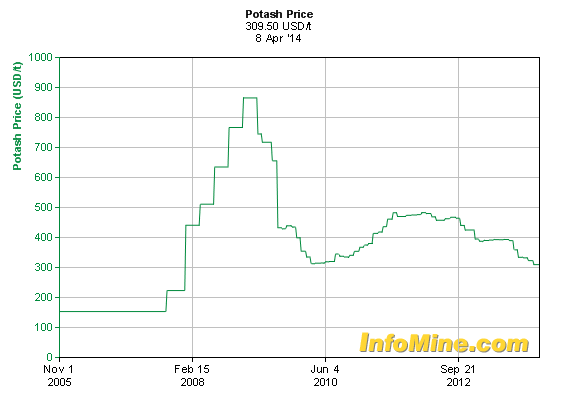 Historically, the potash price follows the food price, because the food price is a leading indicator for the potash price. I have noted this correlation here. So you would expect that the potash price would get some momentum upwards since food prices have soared almost 20% since the start of 2014 (see chart of RJA below from Google Finance, which represents agricultural prices).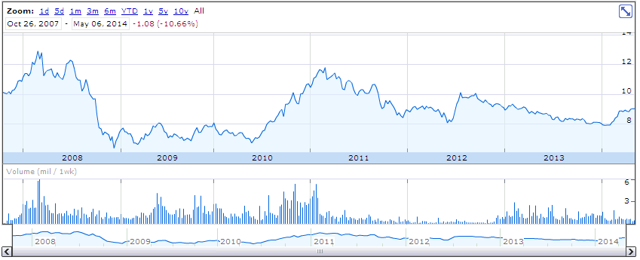 Moreover, Uralkali has secured a major potash deal with India last month at a price of $322/t for more than 1 million tonnes. That's almost one third of Indian annual potash demand. China also secured potash deals at this price level. So basically, Uralkali has set a base floor for the potash price at around $300/t and I think that floor will hold. We don't see any new deals around the world with lower potash prices, so I believe the bottom is in. Investors can buy potash at this stage to benefit from higher prices in the future in a time frame of two to three years. The way to do that is to buy potash companies like Potash Corporation of Saskatchewan (NYSE:POT). I like this company because it pays a healthy dividend of 4% per annum.
Another opportunity can be found in the agricultural space. As food prices go up and potash prices are very cheap, the agricultural companies will benefit from this. Higher food prices in 2014 will increase the revenue on the top line while lower potash prices (while they last) will cut costs. This will result in higher net earnings. I'll show a small analysis on Adecoagro (NYSE:AGRO), which is my favorite in this agricultural space.
Fertilizers and agrochemicals accounted for approximately 15% of the company's cost of production, which is a pretty significant number if you compare that to the energy cost of production which is at around 10%. The 25% price drop since last year in fertilizers has cut production costs with approximately $10/acre, which is about a 4% reduction in total cost. It's not much compared to the almost 20% food price increase, but it's nevertheless a welcome one. In the case of Adecoagro you should keep an eye on sugar prices as most of its earnings (70%) come from that space. But I wouldn't worry about the price of sugar as I'm sure the fundamentals are favoring sugar. This commodity is now pricing at $17 cents/pound, a 70% discount from its historic high in 1974 and should move higher in time (see chart below: price of sugar).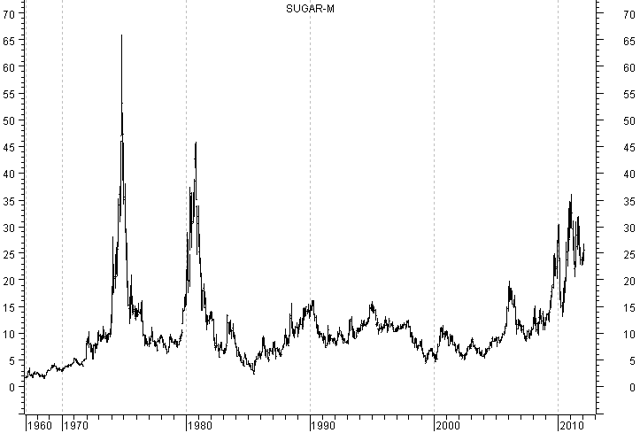 Finally some additional positive info on the stock. Adecoagro had issued a share buyback program last year up to 5% of the company and is now almost halfway through that program. This will add upward pressure on the stock. Earnings were also very good for the last quarter with an EBITDA of $66.5 million, which propelled the stock almost 20% higher in the next weeks after the earnings were released. Last but not least, George Soros is still backing the stock with a large position according to his latest fund update. The fund even added to its position in Adecoagro.
Disclosure: I am long AGRO. I wrote this article myself, and it expresses my own opinions. I am not receiving compensation for it (other than from Seeking Alpha). I have no business relationship with any company whose stock is mentioned in this article.