Immersion Corporation (NASDAQ:IMMR) reported Q2 2010 results on Thursday, August 5th (see Company's Press Release and Seeking Alpha transcripts).
Revenues for the quarter were $8.5 million, higher than consensus of $6.52 million, and the Company also reported Q2 EPS of $0.01, 8 cents better than the average analyst expectation of ($0.07).
A look at the highlights from the quarter first:
on track to meet or exceed the high end of the $25 to $30 million annual revenue guidance for 2010 (we'll explain later on why we believe that Immersion lost a small chance to communicate better this positive expectation to the investing community);

cash and cash equivalents at $63,9 million, a slight decrease from the $64,6 million as of March 31;

achieved royalty and license revenue of $ 6,3 million in the quarter, compared to $ 6,4 million in 1Q, which is seasonally benefiting from the strong Christmas holiday period sales in mobility and gaming, that represent the majority of Immersion's royalties (as a reminder royalties for product sales are recognized the following quarter);

reduced operating expenses to $7.2 million, including non-cash charges related to depreciation, amortization and stock-based compensation. Excluding these non-cash charges operating expenses were $5.8 million during the quarter;

generated positive adjusted EBITDA of $2 million;

gross profit was $7.7 million, or 91% of revenues;

announced a new licensee, Toshiba (OTCPK:TOSBF), which included Immersion's haptic technology into its new Libretto W 100, a dual touch screen Windows Mini Notebook PC.
There is no doubt that these numbers exceeded all expectations and confirm that Immersion is on track in its turn around effort, started when the company decided to change its business model and concentrate on licensing its impressive IP, in exchange for royalties.
If we have a look at the royalty and license revenue stream, we get a nice visual confirmation that Immersion has probably turned the corner in 2010:
Royalties in Q2 2010 are 76% higher than in the corresponding quarter a year ago, a strong validation of the positive momentum for haptics in the market place (quotes from the conference call, Seeking Alpha transcripts):
Vic Viegas

The industry clearly is in the midst of a very favorable technology trends that are expected to drive strong adoption of haptics. As we move to the back half of the year and complete our three-year strategic plan, the opportunities in these large and rapidly growing markets provide a level of excitement we've never experienced before.
Going through the 10Q (pg. 26), we discover that all verticals performed well:
The second quarter revenue increase was primarily due to a 76% increase in royalty and license revenue primarily due to increased royalty and license fees from our gaming, mobility, integrated circuit, medical, automotive, and other touchscreen licensees, partially offset by a 33% decrease in product sales and a 3% decrease in development contract revenues.
A bit of housekeeping, before we get into a deeper analysis of Immersion's potential for the next few quarters.
Product revenues ($1.9 million) also included approximately $1 million from the three medical product lines that were sold to CAE Healthcare (NYSE:CAE) in the 1Q 2010. These products were shipped previously, but recognized as revenues in Q2 based upon recognition criteria required by GAAP.
Going forward, Immersion will only recognize royalties from these product sales, that will be done directly by CAE Healthcare (and by the way, royalties will start being recognized in the 3Q from CAE, although Immersion booking such a high level of sales in the 2Q makes us believe that license revenues from CAE might take a bit longer to reach a noticeable level).
For the future, Immersion will only recognize sales from the virtual IV product line, and, to a smaller level, development kits, and in some cases components that the Company makes available to partners as they develop products.
Another one time event that was underlined during the call is related to the royalty and license revenue stream. During the quarter Immersion booked about $ 500,000 as adjustments made by licensees to previous reports. This was described as not usual by management, although the amount is bigger than average. These true-up payments mostly generated from the gaming market.
As we noticed at the beginning, the Company said it is on track to meet or exceed the high end of 2010 guidance ($25 to $30 million).
We believe that management could have communicated this information better to investors. If they had increased and narrowed guidance, say to $28 to $32 million, making the former high end of guidance become the new mid point, the headlines would have certainly benefited.
Immersion also issued guidance for the 3Q 2010:
for Q3 given our current visibility we see revenues coming in between $6 million and $6.5 million which is consistent with our historical seasonal trends.
We believe that the Company might have been a bit conservative in this forecast, as phone sales from partners in the mobility market were quite solid in the 2Q, and new revenue stream should start kicking in – but we understand that management now probably prefers to try deliver better numbers than forecasted.
Even at the mid point of guidance, Immersion would reach revenues of about $ 24,5 million for the first three quarters of the year, leaving a forecast of about $ 5,5 million for the 4Q to achieve the high end of guidance ($ 30 million). Given the wider adoption of haptic that we expect for the second half of the year (when new royalty streams, like semi conductor partners, should also emerge), we believe Immersion is on track to exceed guidance and exit the year with royalties well over $7 million per quarter.
As we said, Toshiba was announced during the conference call as a new licensee. Their product is an interesting dual 7-inch display notebook.
While we think Toshiba, as a Company, is a great win fro Immersion, the product itself sounds more like a concept PC than an item that will be sold in great volume. Here are a few comments from Engadget (emphasis added):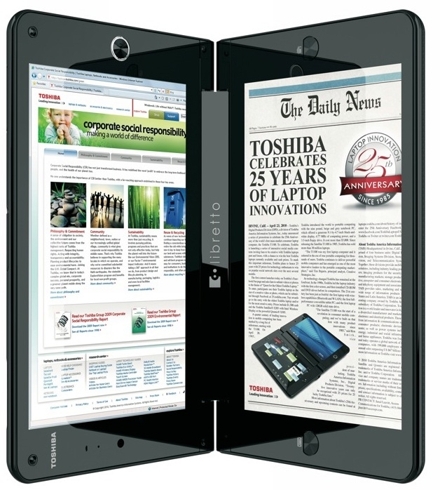 The 1.2-inch thick Libretto W100 is covered in a black brushed aluminum finish, and is surrounded by a single USB port, an SD card reader and headphone jack.

You can choose to extend the desktop to the other screen or you can hit the physical keyboard button and just use the bottom screen as a keyboard. Speaking of that virtual keyboard, Toshiba has created six different layouts -- yes, six! You can check out some of those in the gallery, but the split keyboard is pretty cool if you want to just use your thumbs, and we're big fans of the haptic feedback.
Hopefully Immersion will be able to make more inroads in the exploding tablet market, that Toshiba itself will start entering probably next October.

Here is a part of the Q&A concerning this market:
Jeff Schreiner - Capstone Investments

There's a new kind of form factor coming out in the PC market that incorporates very large touch screens, tablet-based designs when we seen products such as the Apple iPad. Has Immersion secured any tablet based design wins either direct or maybe though chip competitors? Is there any timeline in which over the next 6, 9, 12 months we might be able to expect royalties from this new segment?

Vic Viegas

as you are aware, there are number of others that are also considering and utilizing the Immersion technology whether direct from Immersion or through our chip partner, so we do expect to capitalize on that trend.
The Company also expects to increase the number of licensees in the mobility sector:
Aaron Husock - Lanexa Global

Vic, going in the past you've talked about hopefully signing a new handset licensee before the end of this year and having our product launched by the end of the market. Could you give us update on that? Are things on track? When should we expect to hear from you on that?

Vic Viegas

Well, you're here when we are able to announce it, but I think what I said is that we are working towards signing one to two new cell phone licensees by the end of the year and we'll hopeful that have a piezo based phone launched during this year. So, we're still working toward those in anticipation.
Looking beyond next quarter's results, as we said, we believe Immersion will be benefiting from new or increased royalty streams. We've already mentioned the chip industry, that should start shipping products including Immersion's technology in good volumes in the second half of 2010. If we look at the comments made recently by most semiconductor licensees, expectations are very good on this front – with at least a couple of Immersion's partners talking about a potential $100 million market in the close future (quotes from Seeking Alpha transcripts):
Revenues by market segment showed strength across almost the entire spectrum of markets, with particular strength in the cell phone market and consumer.

As previously stated, maXTouch is experiencing extraordinary customer acceptance, and despite the fact that production shipments didn't occur until Q1, based on strong bookings, backlog, and planned capacity expansions, we expect maXTouch will generate over $100 million of revenues for 2010.
Cypress Corporation (NASDAQ:CY)
Adam Benjamin – Jefferies
Got you. And then Norm, a question for you on TrueTouch. You've kind of talked about $100 million as a number for this year. Based on what you're seeing now plus or minus what do you think?

Norm Taffe
Based on what we're doing right now, we're still on track to more than double what we did last year. It's not clear yet whether we'll look to get all the way up to the $100 number but we're certainly on our plan more for than double this year.

Brad Buss
And I think importantly, we added, we received the first significant orders from two more of the top eight handset suppliers this quarter, which are going to ramp for us in Q3 and Q4. So now we are shipping volume in Q3 at five of the top eight handset suppliers on touch and so the backlog is really starting to ramp for us.
While this has not been mentioned during the conference call, we believe that the casino gaming vertical might be at an inflection point, as proved by the European launch of new products incorporating 3M's technology (NYSE:MMM), based on the relationship with Immersion:
3M today announced that its next-generation surface capacitive touch technology has been incorporated in gaming machines built in central Europe for deployment worldwide.

3M's multi-sensory touch system offers games machine manufacturers and operators the chance to provide video-based, haptic feedback without mechanical buttons

Bracknell, UK, 26 July 2010 - Diversified technology company 3M today announced that its next-generation surface capacitive touch technology has been incorporated in gaming machines built in central Europe for deployment worldwide. Gold Club d.o.o. of Slovenia selected the 3M MicroTouch MCT System for many of their gaming machines, including their 22-inch multi-user electronic roulette tables, to provide a more responsive and immersive user experience. Gold Club has adopted this 3M touch solution for its own-built machines and selected it for externally-manufactured machines throughout its casino operations.

The 3M MicroTouch MCT System consists of an enhanced 3M MicroTouch Sensor SCT3256, a hybrid 3M MicroTouch Controller MX touch and haptic feedback electronics, and two or more touchscreen actuators, according to screen dimensions. This system provides haptic feedback effects for on-screen video buttons so users actually 'feel' like they are depressing mechanical buttons.

Haptic feedback effects are created when the user simultaneously sees a video button depress, hears an audio file of the mechanical 'click' and feels a vibration in the touch screen's glass surface. The user instinctively interprets the combination of these three sensations as pressing a mechanical button, when in reality they are simply touching a solid glass surface.
Here are a few more comments, taken from Electronicstalk:
Gold Club's experience highlights the key advantages of next-generation touch screen technology for the casino gaming industry, according to Francesco Fasoglio, business manager, 3M Touch Systems Division.

'Game designers are looking for new ways to enhance players' gaming experiences and keep them engaged for longer,' he said.

'Tactile feedback response, as embodied in our MCT System, enlivens the usual slot functions and heightens bonus round play experience.

'As well as replacing mechanical buttons on standalone machines, it's also ideal for multi-user games,' he added.
While the automotive sector seems to take some more time to implement Immersion's technology in popular models, we believe there are enough good news to look with interest at Immersion's turn around in the next few years.
Disclosure: Long IMMR