Retrophin (NASDAQ:RTRX) has three drugs in the pipeline plus two approved drugs that it acquired through a $62.5 million acquisition earlier this year. At least four out of these five are orphan drugs, which have a small target population but are tolerated at a higher price point in the market. At the same time, there is also little or no chance of competition as other companies are afraid even to begin research in the same area since the patient population is already so low.
These are the three factors behind the big attraction for orphan drugs. General drugs have high patient population but low price; orphan drugs have low population but a proportionately higher price. Multiply the two, and by the mathematics of proportions, you get the same overall revenue - only at a much lower competition level.
One of these three factors recently got a jolt when the government came down on Gilead's exorbitant pricing of its orphan drug, Sovaldi - $1,000 per tablet and $84,000 per patient per year. Gilead's shares lost 4.6% the day the news broke out and the typical dominoes effect took its toll on some of the leaders in the biotech industry. Simultaneously, we saw RTRX going down by 33% after seeing an 85% gain this year.
Given that, investors want to ask - first, are the two events related? And second, how should we evaluate RTRX as an investment?
So, did RTRX stumble because of Gilead?
Gilead news was expected to hit Retrophin because prices of companies focused on orphan drugs often shoot up to unrealistic levels due to their high revenue potential. But it failed to do so, at least not on the day the news became public. In fact it continued to hold its ground for 10-12 days from March 21, 2014 when the news that the House Energy & Commerce Committee had sought justification for high price of Sovaldi was reported.
The reason for the subsequent drop in RTRX price needs to be found elsewhere and not in the price investigation and certainly not in the strength and potential of its pipeline.
Retrophin pipeline - orphan and ultra orphan drugs
Two out of three candidates in the company's pipeline are eligible for ultra orphan drug status. Ultra orphan drug pertains to a 2011 amendment (Unlocking Lifesaving Treatments for Rare diseases Act) to the 1983 Orphan Drug Act and improves "access to the FDA's Accelerated Approval process for very rare diseases". It also provides a more predictable regulatory process.
Sparsentan (RE-021): RE-021 is being developed for treatment of Focal Segmental Glomerulosclerosis (FSGS), a rare kidney disease - kidney damage leading to increased level of protein in the urine (proteinuria). Currently, there is a no FDA approved treatment for FSGS and patients are put on steroids. The overall incidence of FSGS in the U.S. is 70,000 and 50,000 for non-dialysis FSGS, which makes it eligible for orphan drug status.
RE-001: Retrophin's other investigational drug, RE-001, is also being developed as a treatment for an orphan disease, Duchenne Muscular Dystrophy (DMD). DMD occurs roughly 1 in 5,600 to 7,700 males in the age group 5-24.
RE-024: This pertains to treatment of another extremely rare disease, pantothenate kinase-associated neurodegeneration (PKAN), a neurological disorder that occurs in children below the age of 10. Prevalence of PKAN is unknown but estimated to be about 1-3 per million (say, 5,000 to 10,000 worldwide).
Even the gallstones treatment, Chenodal® that came with Manchester acquisition, is being tested for cerebrotindinous xanthmatosis, a rare disease that hampers cholesterol metabolism. The drug was designated as an orphan in 2010 as there are supposedly only 500 to 1,000 patients in the U.S.
Here's quick look at the status of Retrophin's pipeline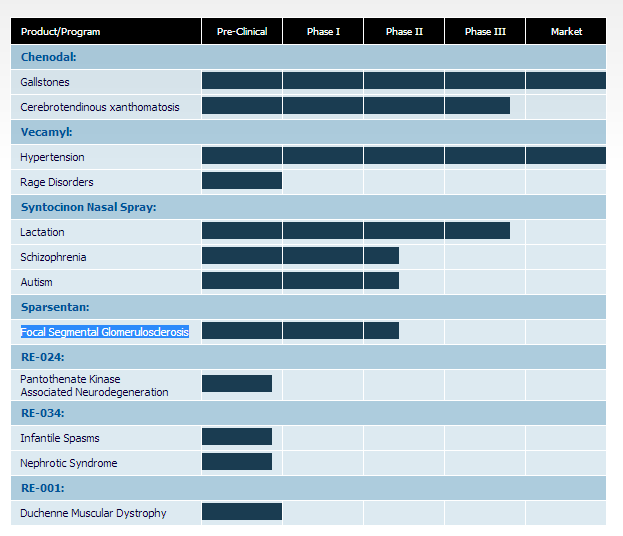 (Source)
So! What if Gilead is forced to reduce price of Sovaldi
The point the U.S. Congress made was that Breakthrough Designation (a sort of second cousin to orphan drug status) was of no use if "a treatment will not cure patients if they cannot afford it."
While the outcome of the price investigation is yet to be known, it can have a major effect on potential of Retrophin's pipeline ONLY if the company goes overboard with its pricing policy. FSGS is designed as a treatment for dialysis dependent patients. There are 50,000 such FSGS patients in the U.S. that can benefit from it as it would mean avoiding costly kidney transplants that cost anything above $100,000.
I think that the price investigation of Gilead serves the purpose of a warning shot to Retrophin. Sparsentan (RE-021) is moving rapidly towards phase III clinical trials and even if the drug is moderately priced (if approved that is) at $25,000 per patient, it can potentially generate peak revenue of $1 billion or more.
Whats interesting about this research stage biotech is that although its pipeline has a way to go to reach the market, it has quite smartly acquired two revenue generating marketed products. So if you are investing into RTRX, you are making money right now while you await the windfall from the pipeline. That is pretty smart thinking for the management.
My take
With all three pipeline candidates in Phase I and II, investors can expect a fair amount of catalysts for an upside move all through 2014 and, hopefully, an FDA approval before the end of 2015.
Retrophin's current cash position, after the $40 million IPO and upfront payment of $29.5 million for the Manchester acquisition, would suffice for taking its RE-021 and RE-001 through to the next phase of clinical trials. The two FDA approved drugs that came with the Manchester acquisition will also start generating revenues in the current quarter (the drugs were acquired in March 2014). The company recently upgraded its revenue guidelines for fiscal years 2014 and 2015. At about $12 a pop, and given that revenues from the new acquisitions are going to kick in in this quarter, the stock appears to me to be fairly valued at this time.
| | | |
| --- | --- | --- |
| | Current revenue forecast | Previous revenue forecast |
| 2014 | $19 million - $21 million | $10 million - $12 million |
| 2015 | $35 million - $40 million | $19 million - $21 million |
Retrophin's focus being on orphan diseases, there is little or no fear of competition. RE-021, if approved, is a potential blockbuster product, something that is worth taking notice of. At the same time, although orphan drugs rarely attract competition, there is a remote chance of a larger company trying to enter Retrophin's target market.
On the flip side is the fact that investment in startup biotech companies carries a binary risk, more so than in macro cap companies.
However, in the case of Retrophin, considering the strength of its pipeline and the fact that it stands pre-warned over the pricing issue I think it is a risk worth taking and the current drop in share price should be taken as an opportunity to buy for the long haul.
Disclosure: I am long RTRX. I wrote this article myself, and it expresses my own opinions. I am not receiving compensation for it (other than from Seeking Alpha). I have no business relationship with any company whose stock is mentioned in this article.