One of the benefits of the increasing prevalence of exchange-traded funds (ETFs) is the growth in the more niche areas of the market. While there are dozens of ETFs covering the more traditional asset classes, such as large-cap, mid-cap, small-cap, international, and so on and so on, there are only a handful of ETFs that cover more specific themes, sectors, and regions. It is these more specific themes that are the subject of this investment piece, and should provide access to the broader market, while helping grow your portfolio for the long term.
Spin-Offs
One of my favorite ETFs is the Guggenheim Spin-Off ETF (NYSEARCA:CSD), which tracks the Beacon Spin-Off Index. This index includes companies that have been spun off from their parent companies "within the past 30 months (but not more recently than six months prior to the applicable rebalancing date), without limitations on market capitalization (including micro-cap securities), but which are primarily small- and mid-cap companies with capitalizations under $10B." This "wait time" of six months is one of the benefits to this ETF, as there is generally selling pressure in shares of both companies (especially the spin-off) in the days and weeks after they have been spun off due to various reasons. The index is comprised of up to the 40 highest-ranking stocks chosen from the universe of companies recently spun off, and ranked using several growth-oriented and multifactor filters. The ETF then invests in these stocks by market cap with a maximum weight of 5%, and is rebalanced semiannually, which may be delayed if there are not enough new spin-offs to populate the index.
Essentially, when a company is spun off from its parent company (think Chipotle from McDonald's), the parent company distributes 100% of its ownership interest in a unit, such as a stock dividend to existing shareholders. This tax-free method helps both the parent company and the spin-off focus solely on their main business, thereby increasing shareholder value. There have been several studies done which have found that both spin-offs and their parents outperform the broader market over time.
One of the more commonly cited studies by Patrick Cusatis, James Miles and J. Randall Woolridge determined that spin-offs and their parents outperformed the S&P 500 by an average of 30% and 18%, respectively, during the first three years of trading. Although this study was published in 1993, other studies have shown the same thing. A Lehman Brothers investigation between 2000 and 2005 by Chip Dickson showed spin-offs and their parents outperformed the S&P 500 by 45% and 40%, respectively, over the first two years. JPMorgan also examined the relationship between 1985 and 1995, and found that spin-offs and their parents outperformed the S&P 500 by 20% and 5%, respectively, over the first 18 months. Furthermore, Julie Morris, an analyst for Beacon Trust, found that spin-offs have historically outperformed their parent companies by about 22% in their first year; with those spin-offs also beating the S&P 500 by about 18% in their first two years as independent companies.
Aside from the fact that management's interests in these spin-offs are better aligned with shareholders' interests, there are other reasons why spin-offs tend to outperform. Spin-offs usually don't get as much attention as their parent companies do from analysts, which could result in pricing discrepancies, especially in cases where the spin-offs are in the small- and micro-cap markets (as opposed to large- and mid-cap markets). Morris has also suggested that some of these spin-offs might be more difficult to understand, and therefore trade at a discount.
Buybacks
Another alpha-generating ETF for the long term is the PowerShares Buyback Achievers (NASDAQ:PKW), which follows the Nasdaq U.S. Buyback Achievers Index. This index is "comprised of U.S. securities issued by corporations that have effected a net reduction in shares outstanding of 5% or more in the trailing 12 months," and is reconstituted annually in January and rebalanced quarterly. As companies buy back shares of their stock, they reduce the number of shares outstanding, thereby increasing the ratio of earnings per share. This activity also signals to the broader market that the company views its shares as a good investment over the long term -- perhaps a better investment than other uses of cash, such as acquisitions, dividend increases, paying off debt (if applicable), etc. Ultimately, holding these companies has tended to be much more profitable than holding the broader index itself, as illustrated below.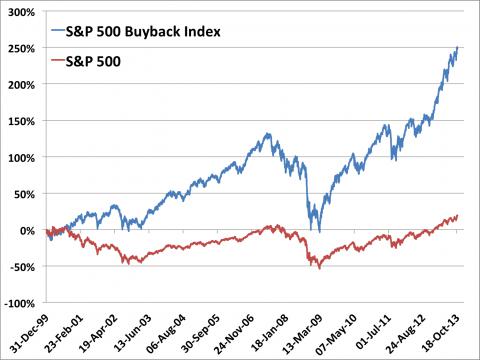 Source: Business Insider, Oct. 29, 2013
S&P Capital IQ recently released new research that further supports positive performance following buybacks. They observed that stocks on average outperformed the equally weighted Russell 3000 by 0.60% over one month, and by 1.38% over one-year periods following buyback announcements. Furthermore, these stocks also outperformed their sector and peer groups of similar size and value over the period January 2004 to July 2013. The study also found that outperformance was greatest among small caps and larger buybacks (as a percentage of shares outstanding), and that disclosed insider trading and buyback announcement signals are complementary.
Biotechnology
Biotech investing is another area of interest that has performed extremely well over the last five years, with the biggest increases coming over the past two years. Since the market bottom in 2009, the iShares Nasdaq Biotechnology EFT (NASDAQ:IBB) is up over 250%, with the ETF gaining 65% in 2013 alone. While it is natural for a stock or ETF that has run up that much to come down somewhat as a reversion to the mean, the recent 20% drop over the last several weeks is overdone and most likely just a rough patch. In fact, the purported catalyst for the indiscriminate selling in the sector came after a Congressional committee sent a letter to Gilead Sciences asking for clarification on its pricing policy. Given the fact that most drugs -- especially those treating rare and harmful diseases -- are very expensive, investors are fearful of government intervention, which could potentially threaten profits within the industry.
Although scrutiny among biotechs might increase, it is no reason to simply dump one of the more promising sectors of the market. For a long-term investor, biotechs are definitely an asset class you should allocate some money to. Yes, they have risen quite a bit and, yes, they are somewhat pricey. But when a company treats diseases ranging from cancer to hepatitis to Alzheimer's to HIV, one would expect to pay a premium -- and most likely a significant one -- for access to that market.
Furthermore, improvements in technology and overall innovation, coupled with increasing spending on research and development (R&D) has increased FDA approvals and accelerated the time to market that most new drugs experience. For example, according to a recent article in Bloomberg BusinessWeek, 2013 saw 27 clearances at the FDA that included several under a new "breakthrough therapy" designation prioritizing reviews of promising medicines. The article also noted that this followed a record 2012, in which 39 novel drugs were approved, which was the most in 15 years. It is my opinion that approvals and breakthroughs will only accelerate -- or at the very least, continue at the pace they have in the past. Either way, an investment in biotech (albeit not a major one) is definitely one that should be considered by most investors.
Hedge Funds
One of the newer ETFs on the market that I believe will perform well over the longer term focuses on the top holdings of hedge fund managers -- an area of the market most retail investors do not have access to due to the large minimum investments, high expenses, and overall illiquidity of the hedge fund asset class. The Global X Guru Index ETF (NYSEARCA:GURU) offers access to hedge fund managers' top equity ideas by utilizing a proprietary methodology to compile the highest-conviction ideas from a select pool of hedge funds using 13F filings, which are issued quarterly by all hedge funds with more than $100 million in U.S. equity investments. The ETF follows the Solactive Guru Index, which is comprised of the top U.S.-listed equity positions reported on the 13F by a group of entities that Solactive AG characterizes as hedge funds.
Additional filters are applied by Global X that eliminates hedge funds with high turnover rates for equity holdings, and only hedge funds with concentrated top holdings are included in the selection process. Once the hedge fund pool has been determined, the stocks are screened for liquidity and equal-weighted. Additionally, the ETF is rebalanced quarterly to capture changing hedge fund positions.
Although some critics argue that the 13F information is too dated and therefore provides no "edge" to someone investing in GURU, I tend to disagree. While GURU will miss the initial "pop" in share price experienced by a newly-formed holding by a hedge fund manager, that is a moot point, as most hedge fund managers are not seeking short-term gains in their higher-conviction ideas, and will likely not sell a position soon after announcing that new holding (or the increasing of an existing position). For those looking to benefit from a rising share price in the stocks the so-called "smart money" believes in the most, this ETF offers excellent exposure.
An additional criticism of hedge funds in general has been that they have severely underperformed the S&P 500 since 2009. While this is true, there are several considerations to take into account. For one thing, hedge fund strategies are very seldom long-only, and are most useful in managing downside risks and as part of an overall investment strategy. Typically, when the stock market goes straight up, like it has over the past five years, it is difficult for these types of investments to outperform the broader equity market. Furthermore, along the same lines, all hedge funds are not created equal, and many employ a wide array of strategies (i.e., global macro, convertible arbitrage, long-short, event-driven, etc.) that make it difficult to compare the performance over time. Lastly, since hedge funds self-report their performance, survivorship bias is widespread among the asset class, as those with poor performance will likely not be reported, especially as so many fail and end up closing.
Moreover, the performance of GURU since its inception speaks for itself. While performance by itself should never be the basis for an investment, it certainly needs to be considered. Since inception in June 2012, the ETF has outperformed the S&P almost every month up until this year. One reason for the underperformance in 2014 could be the fact that some hedge fund managers were placing big bets on momentum stocks that were hurt when investors rotated out of the best performers and into shares with lower valuations. Additionally, an investment in GURU should be studied further, as the fund has not experienced a significant market decline similar to the one in 2008, and therefore, could be extremely risky and subject to a considerable decline given its 100% exposure to equities.
Dividends
Lastly, we turn to a more traditional and familiar area of the market -- dividends. While it has been a common investment theme among almost all asset managers in the past (especially of late), the trend is likely to continue for the long term, as dividend payments are likely to continue to increase, as large U.S. companies with huge cash piles are in a position to increase payouts to shareholders. Although the demand usually falls for high-quality dividend-paying stocks during bull markets, they should perform relatively well -- and even more so during economic downturns. For example, in 2008, the Vanguard Dividend Appreciation ETF (NYSEARCA:VIG) outperformed the broader S&P 500 by 10% (but was still down 26% for the year).
Looking at VIG, it seeks to track the investment performance of the Nasdaq U.S. Dividend Achievers Select Index, which includes U.S.-listed companies that have a history of increasing dividends for at least 10 consecutive years. Ultimately, VIG's holdings result in a collection of high-quality firms that tend to have high profits, low financial leverage and steady earnings -- all desirable characteristics in a long-term investment. One of the aspects that differentiate VIG from the rest of the more traditional dividend strategies is that VIG does not focus solely on yield. Over the longer term, investors are rewarded more for the quality of their investments, and that is exactly what VIG seeks to accomplish.
Conclusion
Ultimately, the case can be made for each of these investments separately, but when used together, they offer the necessary diversification benefits while generating alpha in your portfolio over the long term. Although there might be some minor overlap in the underlying holdings, each of these ETFs together should give an investor adequate exposure to the broader U.S. market. Aside from the possible overlap, another criticism of simply holding these ETFs is the lack of exposure to international markets, as these ETFs focus mainly on the U.S. market, with some minor exposure overseas.
Finally, it should be reiterated that each of these ETFs invest in the equity market only, and are therefore subject to significantly more risk than an investment in fixed income. Ideally, these ETFs, when held with other asset classes outside of equities, should provide the investor with adequate diversification, but among equity investments, these five ETFs should allow you to profit over the long term.
Disclosure: I have no positions in any stocks mentioned, and no plans to initiate any positions within the next 72 hours. I wrote this article myself, and it expresses my own opinions. I am not receiving compensation for it. I have no business relationship with any company whose stock is mentioned in this article.
Disclaimer: For the full disclaimer, click here.