Energy stocks have been outperforming the broader market lately. A big reason why? Natural gas. Energy companies' Q1 EPS reports generally showed much higher realized prices for natural gas. We saw this from a big producer in the Marcellus - StatOil (NYSE:STO). We also saw it from ExxonMobil (NYSE:XOM), the largest domestic producer of natural gas. ConocoPhillips (NYSE:COP), the #7 largest producer, also showed very strong natural gas earnings. Yet, the bigger bang for the buck could come from smaller, more highly leveraged natural gas producers. Two that come to mind, and yet to report Q1 earnings, are Enerplus (NYSE:ERF) and Peyto Exploration (OTCPK:PEYUF).
As the chart below shows, over the past month, energy stocks as measured by the SPDR Energy Select Sector Fund (NYSEARCA:XLE) have significantly outperformed the S&P 500, Nasdaq and DOW 30: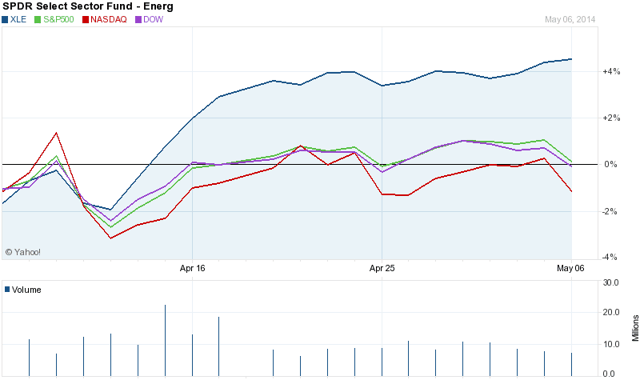 For those Seeking Alpha followers who read my two-part series Is The Pendulum Swinging From Oil Back To Natural Gas, it should not have come as a surprise that StatOil reported nicely higher Q1 earnings, primarily as a result of a doubling of North American natural gas prices. The main driver of those higher prices was a cold winter and decade-low domestic natural gas storage supplies. While the winter is now in the rear-view mirror - the natural gas storage data is still very bullish: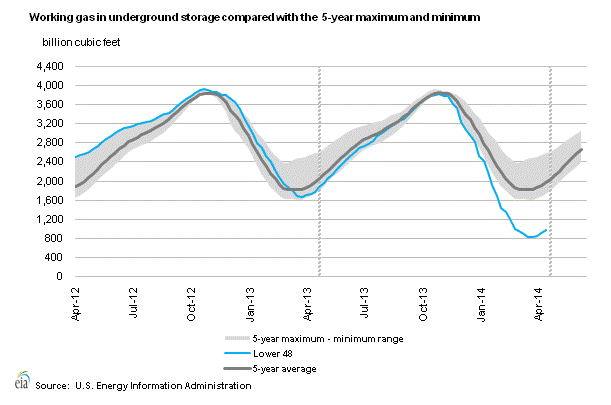 According to the EIA, working gas in storage was estimated to be 981 Bcf, as of Friday, April 25. While this was a net increase of 82 Bcf from the previous week, stocks are still 790 Bcf less than last year at this time, and almost 1 Tcf below the five-year average of 1,965 Bcf. While many assume the prolific shale gas resources in the US are more than capable of re-supplying storage levels prior to next fall (I agree), the question is, at what price? Many big companies like XOM and COP have said they are reluctant to allocate capital to dry gas drilling until prices stay above $5 for an extended period of time. Meantime, other than the prolific Marcellus shale, it is clear dry gas drilling has pretty much halted in most other shale gas plays like the Haynesville and Barnett. I suspect natural gas prices would be significantly higher were it not for the associated gas coming from the Eagle Ford shale as a result of liquids drilling. Dry gas volumes from the Eagle Ford are still increasing, while volumes from the Haynesville and Barnett continue to drop: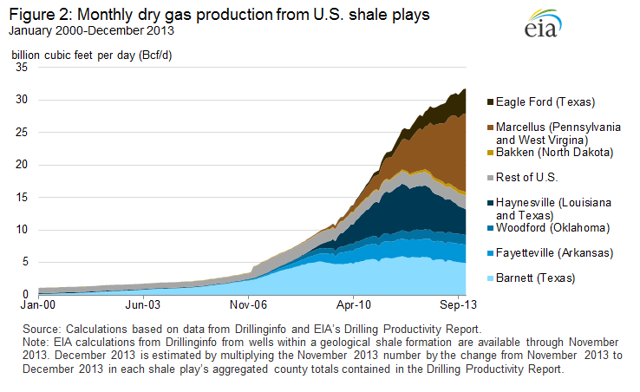 Exxon, for a nice change, reported higher-than-expected Q1 earnings. Again, stronger domestic natural gas prices were a big reason why XOM is the #1 domestic natural gas producer. You can easily see the impact stronger domestics natural gas prices had on Exxon's overall profit per barrel (NYSE:BOE) metric. This metric was up sharply over the prior quarter: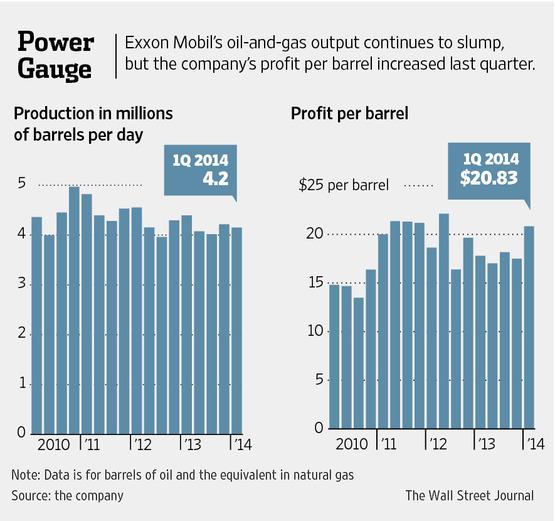 Not surprisingly, ExxonMobil has been hitting all-time highs since the Q1 report was issued: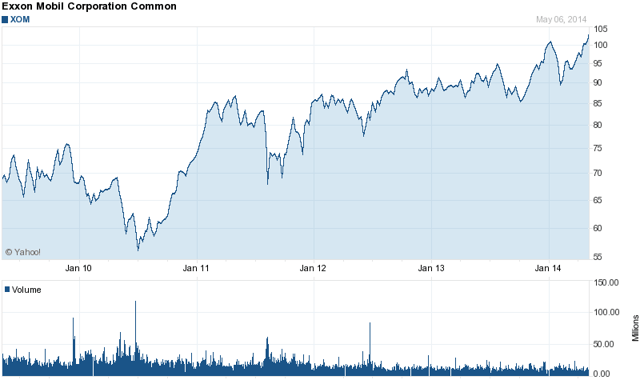 ConocoPhillips had an outstanding Q1 earnings report. COP is the #7 largest domestic natural gas producer, and reported strong North American natural gas prices and income from marketing third-party natural gas. COP earned approximately $100 million after-tax from marketing third-party North American natural gas volumes.

(Source: ft.com)
So it is clear there has been a momentum change in domestic natural gas fundamentals and pricing after years of abnormally low prices due to the onslaught of shale gas at the beginning of the shale gas revolution. But it is not only US natural gas prices that are much firmer - Canada is also seeing nicely higher natural gas prices: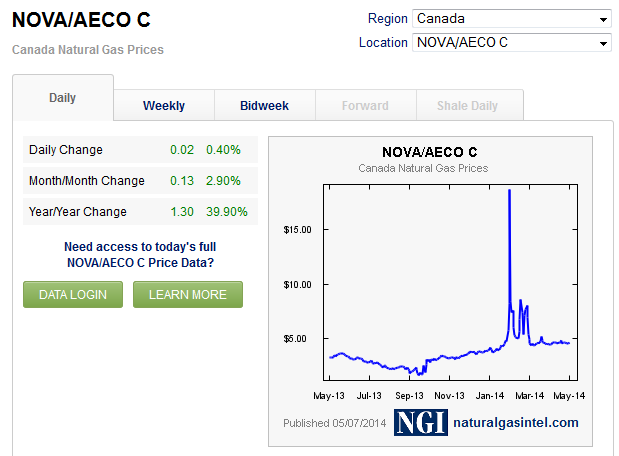 For the Canadian natural gas play, investors should keep an eye on Enerplus. Enerplus is a Canadian company that has a significant stake in the Marcellus. I profiled this company and the impact of firmer NA natural gas prices in the PRO article What StatOil's Q1 Results Infer For Enerplus's Q1. However, my favorite Canadian natural gas stock is Peyto Exploration. You can find some of my Peyto articles here. Peyto is the lowest-cost gas producer in Canada's deep basin.
Summary And Conclusion
The cold winter led to a steep drawdown in natural gas storage levels and sharply higher natural gas prices. I don't think the fundamental trend is over - either in the US or Canada. In the US, storage levels are down ~50% throughout the country:

(Source: EIA)
It will be interesting to see if tomorrow's EIA natural gas weekly report will show a larger-than-expected build. I suspect not. Regardless, two companies yet to report Q1 earnings are Enerplus (this Friday, May 9th) and Peyto Exploration (May 14th). Shareholders in these two stocks will likely see very strong earnings on the back of nicely higher realized prices for natural gas.
Disclosure: I am long COP, ERF, PEYUF, STO, XOM. I wrote this article myself, and it expresses my own opinions. I am not receiving compensation for it (other than from Seeking Alpha). I have no business relationship with any company whose stock is mentioned in this article.
Additional disclosure: I am an engineer, not a CFA. The information and data presented in this article was obtained from company documents and/or sources believed to be reliable, but has not been independently verified. Therefore, the author cannot guarantee its accuracy. Please do your own research and contact a qualified investment advisor. I am not responsible for investment decisions you make. Thanks for reading and good luck!
Editor's Note: This article discusses one or more securities that do not trade on a major U.S. exchange. Please be aware of the risks associated with these stocks.