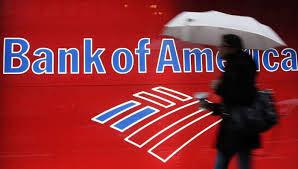 Bank of America (NYSE:BAC) just completed the company's Annual shareholder meeting on Wednesday. As I expected, several key factors discussed at the meeting underpin my thesis the bank is an excellent buying opportunity right now. In the following sections, I will discuss what I perceive to be the top three highlights from the meeting.
Three Major Positive Highlights
Global banking loan and deposit growth is rising.
Average loans and leases are up approximately 11% year-over-year with the bank posting $271 billion in 2013 vs. $244 billion in 2012. Moreover, Deposits are up nearly 16% year-over-year growing from $221 billion in 2012 to $256 billion in 2013.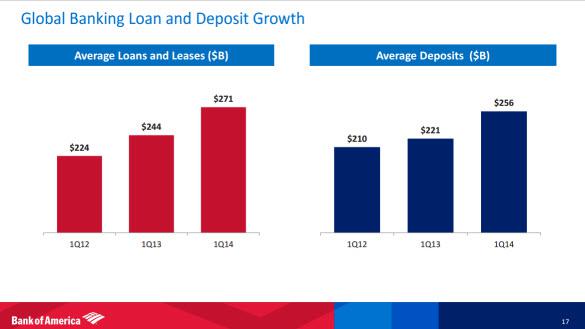 (Table provided by BankofAmerica.com)
Bank of America has achieved this growth by providing excellent customer service and focusing on the company's core strengths. The bank has gained significant market share. Bank of America is one of the top three global players in Corporate and Investment Banking and continues to gain market share. Furthermore, the bank is ranked second in middle market products as well. The growth in loans, leases and deposits is a sure sign the bank is on the right track regarding organic growth.
Vastly improving net income and EPS
Net income was up nearly two fold year-over-year with the bank posting $11.4 billion in 2013 vs. $4.2 billion in 2012. Furthermore, diluted EPS was up significantly year-over-year at 0.90 for 2013 vs. 0.25 in 2012.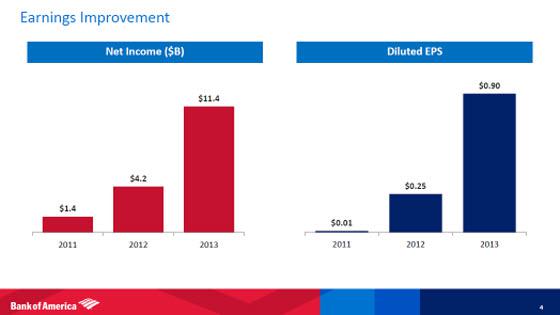 (Table provided by BankofAmerica.com)
While revenues have mostly stabilized over the past year, the bank has done a bang up job cleaning house. When Moynihan took over the bank was a sprawling mess. The buyouts of Merrill Lynch and Countrywide mortgage had made the bank practically unmanageable. Nonetheless, this left Moynihan with plenty of costs to cut and operations to streamline. It has been a long tedious process, yet the bank has successfully navigated the pitfalls and come out on top. The exponential increase in net income and EPS is proof positive of this.
Reduced non-interest expenses
Over the past three years, Bank of America has reduced non-interest expense by approximately 11%.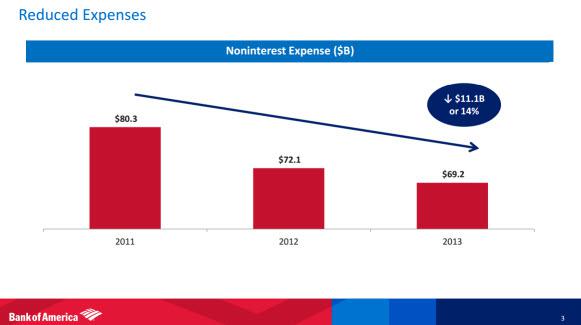 (Table provided by BankofAmerica.com)
Bank of America has been laser focused on cost cutting. The bank has significantly reduced brick and mortar banking centers as more and more people move to a mobile banking platform. Additionally, the company has cut overheads significantly by folding in like divisions from both Merrill and Countrywide, creating significant cost synergy savings. Furthermore, I expect this trend to continue as Moynihan's cost cutting program is nowhere near complete.
The lone negative, if you can call it that, is that revenue growth has remained muted at approximately $90 billion over the past three years.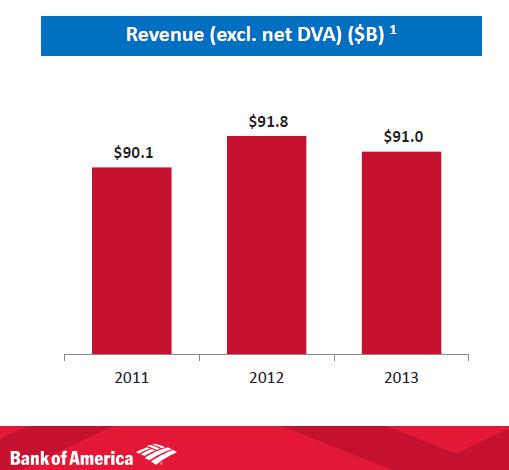 (Table provided by BankofAmerica.com)
Nonetheless, revenue has stabilized and at least it is not deteriorating. Even so, Bank of America will need to show an uptick in revenue growth going forward for the stock to continue higher. Financial engineering and cost cutting can only take you so far.
Conclusion
Bank of America has been hit by several major negative headlines as of late. Legal liability issues coupled with a major snafu regarding the bank's capital return plan have taken their toll on the stock. Nonetheless, you must see the forest through the trees. Once market participants recover from recent headlines and focus on the fundamentals, I submit buyers will appear in droves. I submit anyone who takes the time to do some serious due diligence will find the bank is extremely undervalued at current levels.
Final Thought
The bank has until May 27 to resubmit financial templates to the Fed regarding the capital return plan. The central bank will then have 75 days to respond. With the recent news Warren Buffett's preferred shares have been reclassified to non-accumulative, effectively resolving the regulatory capital issue, I'd say the bank has a good chance to have the plan reinstated. The successful resolution of this issue should be a major catalyst for the stock going forward. The bank is a buy in my book.
Disclosure: I have no positions in any stocks mentioned, but may initiate a long position in BAC over the next 72 hours. I wrote this article myself, and it expresses my own opinions. I am not receiving compensation for it (other than from Seeking Alpha). I have no business relationship with any company whose stock is mentioned in this article.