By Elliot Turner
SunPower (SPWRA) reported second quarter earnings per share of $0.15 cents on revenues of $384.2 million, compared to analyst estimates of $0.10 in EPS, on revenues of $401 million. For the quarter, the company's gross margins were 26.3%, beating analyst estimates of 22.5%.
SunPower issued 3Q guidance of $0.08-0.15 in EPS compared to estimates of $0.13, and full year guidance of $1.35-$1.65 verse estimates of $1.28. Following the EPS beat and raised guidance, shares of SunPower shares are trading at $13.40, up $0.47 from today's closing price. Most notably, the company's margins improved substantially over the past quarter, and the outlook is for that improvement to continue.
Technologically, SunPower boasts the most efficient line of commercially available solar modules at converting the sun's energy to power, and the dropping cost per watt brings SunPower more in line with their thin-film rivals like First Solar (NASDAQ:FSLR). SunPower enjoys premium pricing because of its increased efficiencies, and the declining production costs should help SunPower continue to generate a healthy profit margin.
Here is the company's recent cost per watt performance and guidance:
Q4 and Forecasted Efficiency Adjusted SunPower
Panel Cost Per Watt*
———————————————-

Q4 2009 Q4 2010 Q4 2011
——- ——- ——-
Cost per Watt** $1.91 $1.71 $1.48

————— —– —– —–
Efficiency Adjusted (versus Conventional
14% panels) $1.47 $1.36 $1.08
————————————- —– —– —–

Efficiency Adjusted (versus Thin film 11%
panels) $1.01 $0.92 $0.71
SunPower's joint venture with AU Optronics (NYSE:AUO) will help the company both lower their production costs and increase their production capacity. This move will further improve the company's margins and will help meet increasing demand for utility scale projects. CEO Tom Werner had the following observations about the 2nd quarter and remainder of the year:
Our growing pipeline of 2011 Utility and Power Plants (UPP) business bookings, as well as the continued momentum in our Residential and Commercial (R&C) business, adds to our confidence and visibility for 2011. Additionally, we are pleased with the significant progress we're making on our cost reduction roadmap and expect that our joint venture with AU Optronics (AUO) to accelerate this process.
The story over at SunPower continues to improve, as the company is cutting its costs as demand growth is accelerating. This bodes well for future EPS growth and margin expansion.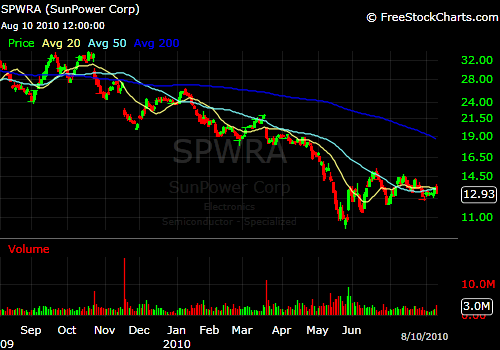 (Click to enlarge)
Disclosure: Author long SPWRA and FSLR