Iridium Satellite LLC (NASDAQ:IRDM) is the second largest provider of voice and data communications via satellites. Through their constellation of 66 low earth orbit (LOE) satellites and in-orbit spare satellites, IRDM is the only commercial provider offering truly global coverage. Also, IRDM's ability to offer secure transmission of confidential information over public networks has allowed them to sign contracts with the U.S. government.
Bullish Case - Long Term, Undervalued Investment
IRDM has impressive fundamentals with its price to book value at .61, its book value per share at $12.45, and cash per share at $3.32. Moreover, the company is liquid, with a current ratio of 3.38. Adding more conviction is the fact that IRDM is trading just over 10x earnings, which is significantly lower than its industry average of 21.9.
Multiplying IRDM's current EPS of .73 by a modest 15 gives us $10.95 a share. At the time of writing, the stock is trading at $7.32, so this represents an appreciation of 49%. While I don't foresee IRDM increasing by 49% in one quarter, I feel safe in believing that IRDM has the ability to trade at around $11 by Dec 2015.
To help illustrate my optimism for 2015, I have included a graph from Fastgraphs.net.
(Click to enlarge images)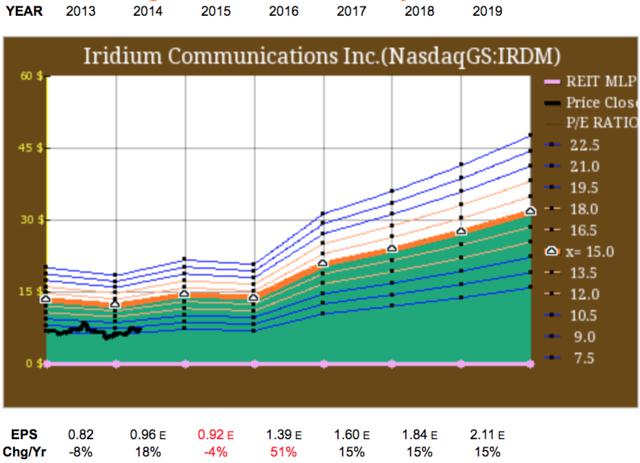 Analysts predict that IRDM's EPS for 2015 will be .92. After multiplying 2015's predicted EPS by a P/E of 12, we get a per share price at $11.04
I don't know where IRDM will be in one month or one year, but growing EPS as predicted and trading at a P/E of 12 seems doable for IRDM. If the above returns prove to be accurate, IRDM investors will see a total return of 50%. Not too shabby.
High Barriers to Entry That Help IRDM
Any company willing to compete with IRDM will have to scale the high barriers of entry, which include obtaining the proper spectrum licenses and raising enormous amounts of capital. Building, launching, and maintaining a fleet of satellites while also erecting the necessary building infrastructure needed to allow communications with the "birds" is no simple task. Iridium has a brand name and quality reputation. Also, IRDM is the only commercial provider that offers truly global coverage. Furthermore, IRDM appeals to the U.S. government due to its ability to safely and securely transmit messages over public networks.
Increasing Customers, Including a Lucrative Government Contract
Iridium is increasing customers. In comparison to 2012, 2013 saw an increase of worldwide subscribers by 9%. Subscribers include the U.S. and foreign governments, non-governmental organizations and consumers such as emergency services, maritime, aviation, construction, and transportation. Many of Iridium's users view their products and services as critical to their daily operations.
Iridium and the U.S. government:
Representing 19% of Iridium's revenue, the U.S. government is IRDM's largest customer.
The DoD owns and operates its own dedicated gateway that is only compatible with IRDM's satellite network.
Iridium is able to provide secure communications for the government by routing traffic across their satellite constellation before bringing it down to earth through the secure DoD gateway.
The Iridium hardware that the government owns is only compatible with IRDM's satellite network.
IRDM signed a five-year contract with the U.S. government in October of 2013 for $400 million. The contract will provide the government with EMSS services at a fixed price rate.
M2M Services
As the need to communicate and receive real-time updates anywhere in the world increases, people are turning to Iridium for their connectivity needs. Machine to machine (M2M) represents IRDM's fastest growing sector and their largest source of future growth and profits.
According to Iridium, their M2M data subscribers have grown at a 41% compound annual growth rate since 2009, and now represents 44% of IRDM's customer base. The rapid success in M2M can be attributed to the declining cost of goods and services, increasing performance in hardware, penetration of the heavy equipment OEM segment, and signing long-term deals with commercial and government services.
Going Forward With M2M's Success
Today, ship operators are forced to carry several pieces of communications hardware in order to meet Global Maritime Distress and Safety System (GMDSS) standards. To alleviate this problem, IRDM has recently submitted an application to the International Maritime Organization for the provision of mobile satellite communications in GMDSS. If the application is approved then Iridium could begin providing GMDSS services in late 2015.
IRDM's entrance into GMDSS communications will give the maritime industry the option of purchasing a single, affordable communications terminal that will allow the ship to fulfill GMDSS standards and business communications requirements.
In support of Iridium, Admiral Robert E. Day of U.S. Coast Guard said, "We see Iridium's inclusion as a GMDSS service provider as being very important to maritime safety and security on a global basis ... Our preliminary review of the Iridium network capabilities is positive, and we look forward to the possibility of welcoming a new provider of GMDSS services."
Current and Future Projects That Are Out of This World
Iridium GO
Many rural and remote areas throughout the world are unable to utilize telephone services due to the high costs of investing in new switches, landlines and cellular towers. This represents an opportunity for IRDM to tap into a minority market with its products, such as Iridium GO. GO is a compact, rugged, and portable unit that allows users to connect up to five wireless Android or Apple devices onto a single GO. Once connected, users will have the ability to make voice calls, download apps, send and receive SMS messages, check email, and even release an SOS alert.
Iridium NEXT
NEXT represents IRDM's second-generation satellite constellation. Some of NEXT's advantages will include 66 LOE satellites with 6 in-orbit spare satellites, and 9 spares on the ground. Also improving will be the amount of subscribers that IRDM can accommodate. IRDM currently has a 2 million-subscriber capacity, but NEXT will allow for an additional million subscribers. Furthermore, bandwidth speed will be increased, voice quality will be enhanced, and NEXT will be able to host secondary payloads from Iridium's Aireon and Harris (NYSE:HRS).
On April 28, 2014, IRDM announced the completion of upgrades on its ground station infrastructure, which is in support of NEXT. The upgrade modernized five global ground stations, 21 antennas, and software. In 2015, SpaceX will launch the majority of NEXT's satellites into orbit, while being supplemented by the International Space Company, Kosmotras.
To help mitigate costs, NEXT will be equipped with cargo from Aireon and HRS. The payload from Harris is expected to address various customer applications with the Harris AppSTAR reconfigurable payload platform. Hosting fees charged by Iridium have the potential of costing up to $45 million.
Aireon will be discussed in greater detail shortly. NEXT is expected to be fully deployed by 2017 and is remaining within budget. Once completed, capital expenditures are expected to decrease by about $30 million annually.
Iridium AIREON
Hoping to set the standard for air traffic control monitoring, IRDM will launch the Aireon project in tandem with NEXT. Aireon will allow air traffic controllers to continuously monitor a plane's location, regardless of the flight's position in the world. Aireon's tracking capabilities will be made possible by installing ADS-B receivers onto NEXT's orbiting satellites. Signals will then be relayed from the aircraft to air traffic controllers. Continuous tracking will provide safety and cost saving advantages.
Monitoring a plane in real-time can enhance safety by allowing officials to respond to a flight in need. Take for example the tragedy of Malaysian Airlines Flight 370. If Aireon had been available and installed on the flight then perhaps safety officials would have been able to monitor the plane's whereabouts and been able to respond swiftly and accordingly.
The catalysts for cost savings will come from the ability for air traffic controllers to better monitor and establish efficient flight paths. These advantages will allow flights to:
Avoid poor weather by flying higher in the atmosphere
Fly with the jet stream in order to decrease flight time and fuel expenditures
Allow pilots to take advantage of flight paths that were once impossible due to limited radar coverage
Aireon's benefits will lead to shorter and safer flights, less fuel expenditures, and an increase in flight satisfaction. Furthermore, "green" will be increased since money and the environment will be saved.
Aireon is positioned to be a success since it has already signed long-term contracts for Aireon's data services with five air navigation service providers. Companies investing in Aireon are NAV Canada, ENAV North Atlantic, Irish Aviation Authority Limited, and Naviair Surveillance. Collectively, a total of $270 million will be invested into Aireon. Once Aireon is complete, it is expected to increase global flight monitoring capabilities from 10% to 100%.
Expected by 2018, NAV Canada will hold 51% of the fully diluted ownership of Aireon, ENAV North Atlantic will hold 12.5%, Irish Aviation Authority and Naviair Surveillance will each hold 6%, and 24.5% being retained by Iridium.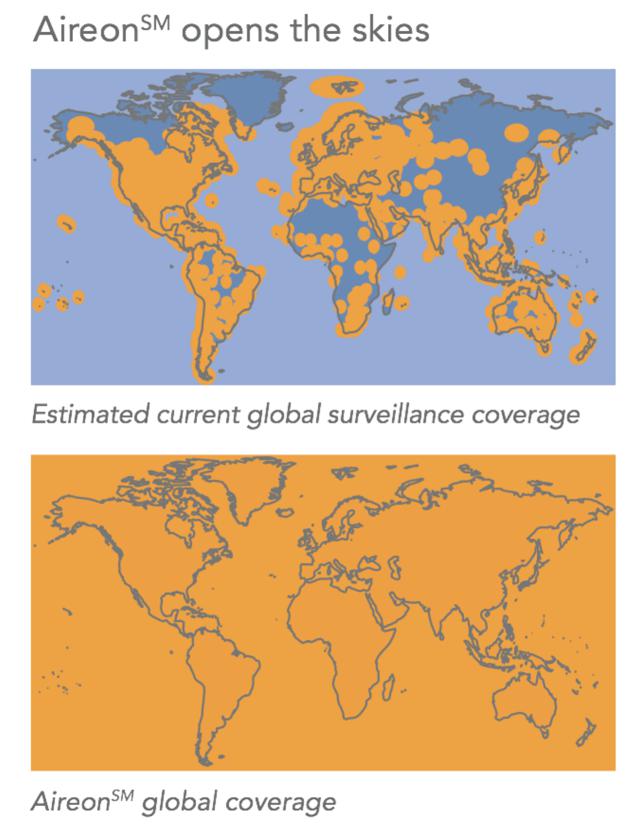 Source: Aireon's Brochure.
Iridium PRIME
Similar to NEXT, PRIME will equip a third-party's cargo onboard an IRDM satellite prior to launching into the atmosphere. Once in orbit, the cargo will allow actions such as space-weather monitoring, earth observations, and government specified missions.
The appeal of possibly saving over 50% has allowed Iridium to land three dozen potential customers. PRIME's cargo shuttling services will help leverage the significant investment in Iridium NEXT.
Note Worthy Risk Factors
High Level of Future Debt
IRDM predicts it will need an additional $1.7 billion in order to cover the total costs of the $3 billion needed to fully deploy NEXT. If IRDM fails to raise the funds necessary to upgrade its constellation they will have to take on debt or issue more equity.
Government Contract
The contract between IRDM and the government can be terminated at any time. Such actions would represent a loss of 19% from Iridium's total revenue. Also, it can be assumed that the government would only discontinue a contract if they found a more worthy partner.
Competitors
Iridium's main competitors are Inmarsat (ISAT.L), Globalstar (NASDAQ:GSAT), and ORBCOMM (NASDAQ:ORBC).
1. ISAT.L owns and operates a fleet of high flying, GEO satellites. Opposite of IRDM's LEO satellites, GEO satellites orbit at about 22,000 miles above the equator. Because of this high altitude, GEO operators are forced to use larger and more expensive devices that also suffer from a delay in their transmission. Due to its GEO system, Inmarsat's coverage area extends and covers most bodies of water except for a majority of the Polar Regions. This coverage over the water has allowed Inmarsat to be the leading provider of satellite communications services to the maritime sector. Inmarsat also offers land-based and aviation communications services.
2. GSAT owns and operates a fleet of LEO satellites with services that require voice and data transmissions be routed from satellites to nearby ground stations. This heavy dependence on ground structures deeply limits their coverage area over hostile terrain and the ocean.
Also, Globalstar has indicated that satellite failures and other problems with its constellation are limiting its ability to provide two-way services. GSAT completed its most recent launch campaign in February 2013 and has made arrangements to replace only 24 of its original 48 satellites.
3. ORBC also provides commercial services using a fleet of LEO satellites. Similar to Globalstar, ORBCOMM's network has limited real-time coverage area due to its dependence on a heavy presence of building infrastructure. ORBCOMM's principal focus is in direct competition with IRDM since its focus is on low-cost data and M2M services. Moreover, ORBC does not offer voice service or high-speed data services.
Suffering from a failed launch in 2012, ORBCOMM has set off on developing a second-generation satellite constellation. The upgrades began in early 2014 and will send a total of 17 satellites during the year.
Conclusion
While the risk factors associated with Iridium's competition and long-term debts are alive and true, I feel confident that Iridium's advantages outweigh their risks. IRDM has done a great job at securing investors and the trust of the U.S. government, and these benefits have only helped to strengthen their competitive advantage. Moving forward won't be easy, but it's important to remember that the coming projects will set a new standard in global satellite communications, air traffic control monitoring, and "out of this world" third-party cargo transportation. Iridium represents a long-term position for the patient investor who is seeking value.
Disclosure: I am long IRDM. I wrote this article myself, and it expresses my own opinions. I am not receiving compensation for it (other than from Seeking Alpha). I have no business relationship with any company whose stock is mentioned in this article.