In a move announced nearly a year ago, Qatar and the United Arab Emirates will join the MSCI Emerging Markets Index later this month.
Homes to the two of the most liquid, best-performing equity markets in the region, Qatar and UAE are the first Middle East nations to earn the frontier-to-emerging promotion. The pair have also been primary drivers behind the popularity and, more importantly, the performance of the iShares MSCI Frontier 100 ETF (NYSEARCA:FM).
Not only has FM become an $822.6 million ETF since coming to market in September 2012, the fund has surged 43% since its debut. Since FM came to market, the Vanguard FTSE Emerging Markets ETF (NYSEARCA:VWO), the largest emerging markets ETF, is down 3.4%.
Some market observers have expressed concern about how the eventual loss of Qatar and UAE, currently a combined 37.4% of the ETF, will affect FM. A strong case can be made the new look MSCI Frontier Markets 100 Index will benefit FM. Said BlackRock Managing Director & Head of Americas Index Strategy Sara Shores in an interview with ETF Trends:
We've received good feedback about the changes. One prior criticism of FM was the heavy Middle East concentration. With the index changes, the regional diversification gets better and becomes representative of true frontier markets.
Looming changes for the MSCI Frontier Index include increased weights to countries such as Nigeria and Pakistan. Last month, MSCI said Pakistan's weight to in the MSCI Frontier 100 Index will rise to 8.9%.
That may not be such a bad thing. In local currency terms, stocks in Pakistan gained 49.4% last year, topping the S&P 500, every benchmark index in Europe and plenty of other emerging and frontier markets. As for Nigeria, the OPEC member is now Africa's largest economy and stocks there are considered inexpensive.
Shores said the changes for FM and its index will also boost sector diversification, decreasing the ETF's exposure to the financial services sector while increasing its allocations to sectors such as energy and telecommunications. Although FM is home to several OPEC members, its current weight to energy stocks is just 7.6%, according to iShares data.
In terms of country exposure, Shores said the new look FM an MSCI Frontier 100 Index will feature a dual-capping feature whereby no two countries can combine for 40% of the index's weight. Still, some investors may have liquidity concerns because Qatar and UAE are the two most liquid markets currently residing in FM. Shores acknowledges this:
There are liquidity concerns. Investors want pure frontier markets exposure and we've been working with MSCI to enhance the methodology for the FM 100 Index to ensure liquidity. We've evaluated 20 different scenarios to ensure we are able to main both diversity and liquidity.
Another important, but overlooked, element to Qatar and UAE departing FM is exactly how that departure is taking. While the two countries will join the MSCI Emerging Markets Index after the close of U.S. markets on May 30, that does not mean investors will wake up on May 31 to see FM with no exposure to those countries. MSCI emerging markets indices will reflect the addition of Qatar and UAE in a single tranche.
The plan to move Qatar and UAE out of FM is gradual and pragmatic, including seven tranches of reducing exposure to those countries lasting through November.
On valuation, FM's changes could also be positives. Notes Shores:
FM's valuation could actually be more attractive because Qatar and UAE have done so well in anticipation of the emerging markets promotion. Nigeria has been a laggard, but it has good growth expectations.
Several members of FM currently traded at noticeable discounts to both the MSCI Emerging Markets Index, including Kazakhstan, Nigeria, Oman and Romania. Those countries currently combine for nearly 19% of FM's weight.
iShares MSCI Frontier 100 ETF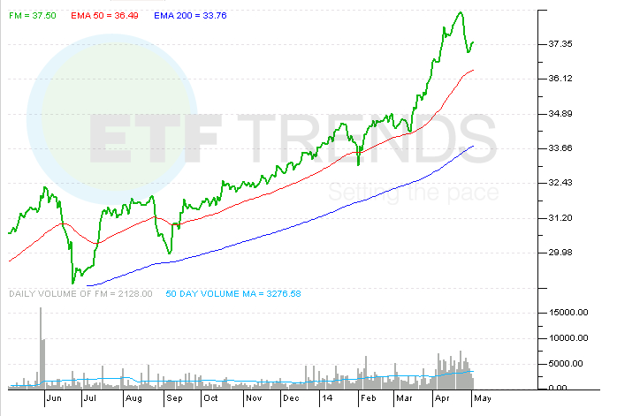 Disclosure: I have no positions in any stocks mentioned, and no plans to initiate any positions within the next 72 hours. I wrote this article myself, and it expresses my own opinions. I am not receiving compensation for it. I have no business relationship with any company whose stock is mentioned in this article.