Conclusion: In a previous article, "Widening CEF Discounts May Indicate Better Future Performance" (7/20/10), the analysis indicated that extreme relative premium/discounts appeared to be a better indicator of a CEF stock future price performance more so than its absolute premium/discount. This appeared true quarter-to-day (QTD).
Historical Results: Based on historical results, there was a tendency for those CEFs with extreme lower premium/discount spreads on average to outperform those with extreme higher prem/disc spreads on a 3 and 6 month period bases. This was for the period from December '08 to December '09. This was particularly true for the Bottom 3 and Top 3 CEFs.
Premium/Discount Spread: The premium/discount spread was calculated by comparing the difference in the premium/discount of 580 CEFs at the CEFs' quarter-end to their respective rolling average premiums/discounts for the past four quarters (Cur-RollAvgSprd). (See report above for details.)
Consistent QTD: Based on 2nd quarter calculations, as noted in the report sighted above, the Bottom 3 were on average up 10.5% versus the Top 3 that were on average up 0.9%. This was for the period of from June 30th to August 10th. This was consistent with the 3 and 6 months trends. During the same period, the S&P 500 was up 2.8%.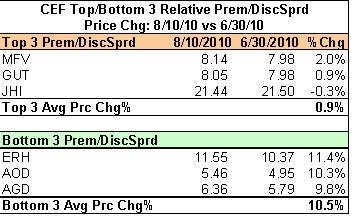 Surprise Factor: What is surprising is that all the Bottom 3 CEFs had been trading at significant premiums and had recently cut their respective distributions. So, it may have indicated the stocks were oversold.
Caveats: Whether or not this performance will also be true 3 to 6 months from the second quarter's end will be a metric monitored.
Investors buying the shares at this time may have missed the price appreciation that may aid their performance for the 3 and 6 month periods. So, care should be exercised with purchasing these stocks at this juncture. The fundamentals that caused the distributions to decline are still in place.
Disclosure: Author purchased and sold AOD