Overview
In this series of articles, I will be identifying which stocks for various S&P industries are best suitable for income investors, based on dividend growth and yield. For Part 2, I will be taking a look at Apparel, Accessories, & Luxury Goods stocks. These stocks include:
Out of these stocks, Fossil Group, Michael Kors Holdings, and Under Armour do not currently pay dividends.
When ranking the dividend paying stocks by yield, the order is as follows:
Coach - 3.14%
V.F. Corporation - 1.72%
Tiffany & Company - 1.55%
Nike - 1.34%
Ralph Lauren - 1.18%
PVH - 0.12%
When ranking them by dividend growth over the past five years, the order is as follows:
Ralph Lauren - 800%
Coach - 350%
Tiffany & Company - 100%
Nike - 92.00%
V.F. Corporation - 77.97%
PVH - 0.00%
When looking at dividend growth, Ralph Lauren has seen significantly higher dividend growth compared to the remaining stocks over the past five years, while Coach has the highest yield and second-highest dividend growth.
Ralph Lauren's dividend growth has been impressive; however, it seems likely that its growth is set to slow down. In 2009, the company's quarterly dividend doubled from $0.05 to $0.10, and then five quarters later, doubled again to $0.20. Five quarters later, the dividend doubled again to $0.40 on 06/27/2012. Since then, the dividend has only grown five cents to $0.45 per share. When you factor this in with the stock's low yield, I don't view it as a worthwhile option for income investors.
So that leaves Coach as really the only option still left standing, based on yield and growth for income investors.
Coach
Looking at the chart below, you can see that based on trailing and forward PE ratios, the stock appears fairly valued to slightly undervalued.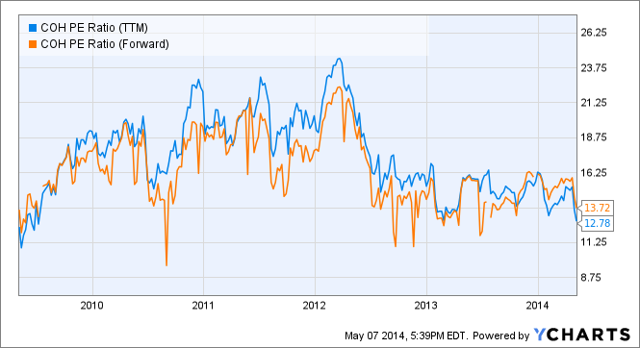 COH PE Ratio (TTM) data by YCharts
When looking at revenue and earnings of Coach over the past five years, you can see recent declines.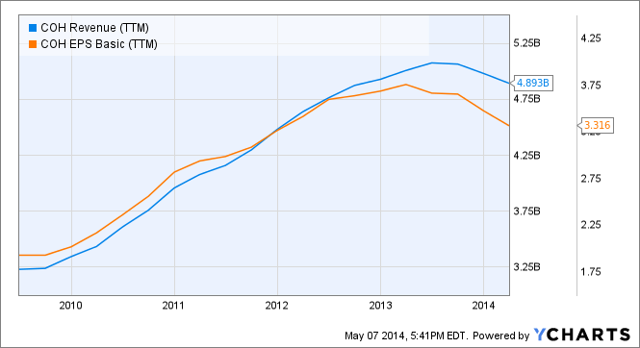 COH Revenue (TTM) data by YCharts
But when you look at the ten-year chart, you can see that Coach saw a similar trend in late 2008 and 2009, so the question remains as to whether this will be another small blip or the beginning of a longer trend in terms of flat/declining revenues and earnings.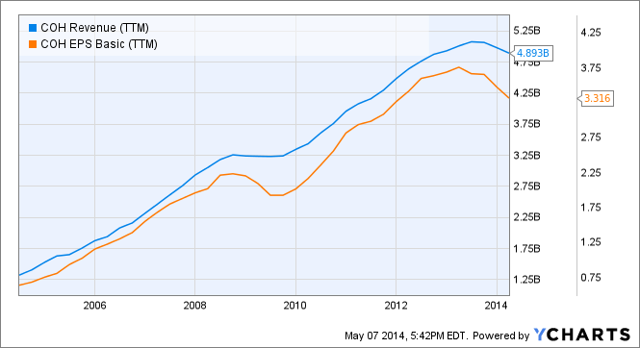 COH Revenue (TTM) data by YCharts
Conclusion
I believe the recent troubles Coach has faced are short-term problems that the company is already in the process of correcting.
I think that the new Vevers line that is set to come out later this year will help with the sales declines in North America, and I expect to see continued growth internationally. Earlier this month, Coach partnered with Studio Sofield to help develop the company's next-generation retail concept.
I think the short-term troubles Coach has faced has presented a great buying opportunity for income investors looking for a 3%+ dividend yield. With a payout ratio just over 30%, I feel the current dividend is safe. I don't expect much growth in the distributions over the next year, but do expect it to continue growing long term.
As always, I suggest individual investors perform their own research before making any investment decisions.
Disclosure: I have no positions in any stocks mentioned, and no plans to initiate any positions within the next 72 hours. I wrote this article myself, and it expresses my own opinions. I am not receiving compensation for it (other than from Seeking Alpha). I have no business relationship with any company whose stock is mentioned in this article.