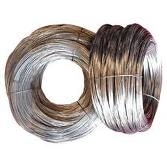 Nickel has been one of the biggest sufferers in the global commodity price meltdown. However, it has been making a steady comeback fuelled by investment demand this year mainly driven by massive Chinese imports, and the stainless steel market recovery worldwide. As the global stainless steel production slowly rebounds towards its highest levels and since stainless steel mills account for over two-thirds of nickel demand, it's no surprise that Nickel prices have witnessed a spike in the recent times. As nickel's chief application is as a constituent of a major building material, nickel use mirrors economic growth.
Nickel has jumped about 45% since the start of 2010, while copper and aluminum have risen merely 5%. And since its low point in late 2008, the commodity's price has more than tripled to $27,500 a ton thanks to strong demand from the stainless steel industry along with supply disruptions.
Some 80% of nickel is use to produce steel products - with stainless steel being particularly important. Stainless steels are used in the building industry, automobiles, food & beverages and water industries
Nickel is taking off because there has been a huge rise in the demand for everything from home appliances to hybrid cars especially in rapidly emerging markets like China and India.
LME nickel stocks are currently sitting at around 116,034 MT, equivalent to around seven weeks of world consumption.
Nickel is a primary component in stainless steel and stainless steel is in all kinds of everyday things we use including home appliances and cell phones.
Nickel Global Demand:

Usage of nickel has increased over time and is correlated with economic development. In the past decade world nickel demand increased from 1.009 million MT in 1998 to 1.278 million MT in 2008, a growth rate of 2.4 % per year. However, the upward trend has had peaks and valleys. sia is now the largest regional market for nickel representing 54 % of total world demand. China alone now accounts for 25 % of world nickel demand compared with 4 % ten years earlier.

Nickel Mining: Nickel exists in the earth's crust in two main types of deposits, laterites, and sulphides. Each deposit presents unique challenges to the mining companies who try and extract the nickel contained within. Sulphide mining presents difficult geological conditions (the deposits are found very deep in the crust), and variable grades.

Sulphide Nickel: Sulphide nickel is a rare type of nickel known as the "King of Deposits" because it's much easier to mine than the more common laterite nickel. And that means it's less expensive to extract. So it's potentially even more profitable. Among the Canadian companies with sulphide nickel deposits expected to be developed in the few years are Mustang Minerals Corp., Victory Nickel Inc., Canadian Arrow Mines Ltd., Canadian Royalties Inc. and Mirabela Nickel Ltd.

Nickel is used in many industrial and consumer products, including stainless steel, magnets, coinage, rechargeable batteries, electric guitar strings and special alloys. It is also used for plating and as a green tint in glass. Nickel is pre-eminently an alloy metal, and its chief use is in the nickel steels and nickel cast irons, of which there are many varieties. It is also widely used in many other alloys, such as nickel brasses and bronzes, and alloys with copper, chromium, aluminum, lead, cobalt, silver, and gold.

Investing In Nickel: Nickel prices have seen steep climbs and descents since the early nineties. Nickel demand in Europe decreased in the period 2002-2005 before recovering in 2006. In the Americas, demand fell between 2002 and 2003 before growth resumed in 2004. Nickel demand has increased strongly in Asia throughout the same period, as hyper-developing China is the largest consumer of Nickel to date.

The price of nickel has shown considerable volatility over the last thirty years. The chart below shows the historic price for nickel in both real and nominal values.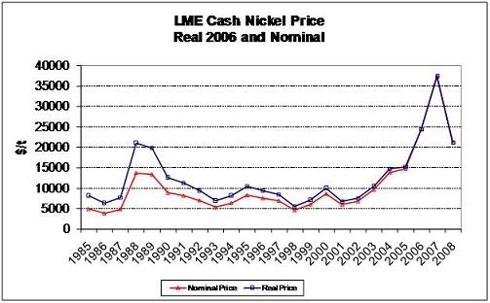 Nickel Futures LME

The London Metal Exchange (LME) offers a futures contract for nickel. The nickel futures contract on the LME provides you with the most direct access to the nickel market. It trades in lots of 6 MT, and its tick size is $5.00 PMT. As with zinc, it trades during the first month, in addition to 27 subsequent months.


Nickel ETF:

Investors willing to invest in Nickel Exchange Traded Funds can participate in the market through an exchange-traded note (ETN) from iPath: Dow Jones-AIG Nickel Subindex Total Return (NYSE: JJN).

Nickel prices have skyrocketed this year, as the iPath Dow Jones-AIG Nickel Subindex ETN (JJN) has gained more than 20% to date in 2010 and is up about 40% since early December.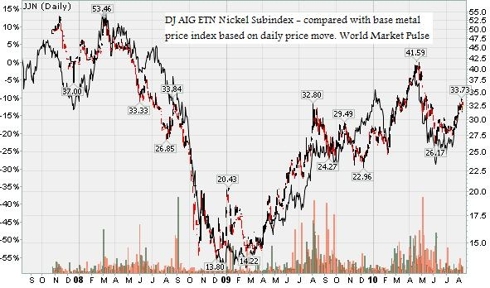 Since the JJN was incepted in 2007, the above chart shows price from 2007 onwards.
Black line is of Industrial base metal index to compare with nickel


Other Nickel ETFs: For nickel exposure as part of a broader commodities portfolio, some other exchange-traded products also offer nickel in their holdings. These include:

Elements Rogers International Commodity Index Metals Total Return ETN (NYSEARCA:RJZ)

UBS E-TRACS CMCI Industrial Metals Total Return (NYSEARCA:UBM)

iPath Dow Jones-UBS Industrial Metals Subindex Total Return ETN (NYSEARCA:JJM)



Nickel Stocks On NYSE
Companhia Vale Rio Doce (NYSE: VALE): With their acquisition of Inco, they became a global leader in nickel production.

Norilsk Nickel (OTCPK:NILSY) - The Russian nickel giant also produces copper, palladium, platinum, silver and gold, along with byproducts like cobalt, rhodium, iridium, and ruthenium.

Lundin Mining (NYSE: LMC) - The purchase of Rio Narcea adds nickel to their metal portfolio

BHP Billiton (NYSE: BHP): BHP Billiton plc is a diversified natural resources company. The Company is engaged in extracting and processing minerals, oil and gas from its production operations located primarily in Australia, the Americas and southern Africa.

North American Palladium (NYSE: PAL): North American Palladium Ltd. (NYSE:NAP) is a Canada-based precious metals company with assets in mining in Canada.


Nickel Stocks On Other Exchanges

Xstrata (LON: XTA): Xstrata PLC (Xstrata) is a diversified mining company. It focuses on copper, coking coal, thermal coal, ferrochrome, nickel, vanadium and zinc and are distributed to the construction, infrastructure and electricity generation sectors.

FNX Mining - This Canadian mining company primarily operates in the Sudbury Basin, which produces about 30% of the world's nickel.

Ji Lin Ji En Nickel Industry Co. (SHA: 600432) - Nickel sulfate, nickel chloride, electrolytic nickel, high copper-nickel, and nickel hydroxide.
Nickel Mining Companies Listed In Canada

Equinox Minerals Ltd. (OTC:EQXMF) :Equinox Minerals Limited (Equinox) is an international mining and exploration company. Equinox's primary asset is the Lumwana copper mine in Zambia.

Sherritt International Corp. (OTCPK:SHERF): Sherritt International Corporation is a Canada-based diversified natural resource company engaged in the production of nickel, cobalt, thermal coal, oil, gas and electricity.

Lionore Mining International Ltd. (TSX:LIM): Labrador Iron Mines Holdings Limited is a mineral resource company focused on the development and mining of direct shipping iron ore in Western Labrador and north-eastern Quebec.

Altius Minerals Corp. (OTCPK:ATUSF): Altius Minerals Corporation is a Canada-based company. The Company's principal business activities are focused on the generation and acquisition of natural resource projects and royalties.

Duluth Metals Limited (TSX: DM): Duluth Metals Limited (DML) is a Canada-based mineral exploration company. It has completed a number of preliminary economic assessments on copper, nickel and platinum group metal (NYSEARCA:PGM) deposit located in the Duluth Complex in northeastern Minnesota, the United States.


Nickel Mining Companies Listed In Australia

Western Areas NL (ASX:WSA)
Independence Gold NL (ASX:IGO)
Avoca Resources Ltd. (ASX: AVO)
Mincor Resources NL (ASX: MCR)
The bulk of nickel is produced in just 5 countries - Russia, South Africa, Australia, New Caledonia and the USA, although the Philippines, Indonesia and other African nations are significant producers. Nickel is not rare, so the focus is on the higher-grade deposits that can be competitive at low prices, since nickel processing requires considerable investment to produce a high-grade concentrate.
History Of Nickel:

Nickel (symbol Ni, atomic weight 58.71, atomic number 28) is a lustrous, silvery-white metal discovered in 1751. In the mid 18th century, primary nickel was first isolated as a separate metal. Prior to this, it was found in copper mines and thought to be an unsmeltable copper ore. Primary nickel can resist corrosion and maintains its physical and mechanical properties even when placed under extreme temperatures. When these properties were recognized, the development of primary nickel began. It was found that by combining primary nickel with steel, even in small quantities, the durability and strength of the steel increased significantly as did its resistance to corrosion. This partnership has remained and the production of stainless steel is now the single largest consumer of primary nickel today. This highly useful metal is also used in the production of many different metal alloys for specialized use.


Nickel Markets Future Outlook:

With a larger population base, the next growth phase for stainless steel as well as Nickel is primarily be in the BRIC countries as their inadequate infrastructure is creating an insatiable hunger for stainless steel.

Indonesia's nickel producer, PT International Nickel Indonesia Tbk (Inco) has reported a huge increase in nickel production as compared to its 2009 first quarter profits of 16,220 MT to this 2010 first quarter of 19,811 MT net profit.

China's apparent consumption of stainless steel, the main driver of the country's nickel demand, is expected to rise by 5 % in 2010. China, the world's largest stainless steel maker, resumed production to full capacity in January and is expected to boost output by 19 % this year while Output is expected to 13 % in Western Europe and by 15 % in the U.S.

Nickel prices have climbed 20 % this year, more than any of the other main metals on the London Metal Exchange, as stainless steel makers led by Madrid's Acerinox SA reported increased orders and production. According to recent estimates projected by London-based research group, CRU, Nickel production is likley to fall behind demand this year for the first time in four years on increased usage by the stainless steel industry, the biggest user of the metal. The nickel deficits are estimated to reach 20,000 MT levels this year after a surplus of 45,000 MT last year


Disclosure: No Positions