Like many in its sector, Annaly Capital Management (NYSE:NLY) has been on a tear, with a YTD gain of over 18%, not including dividends. However, its recently reported quarter has some questioning this move. While Annaly posted okay results, its net spread decline and book value gains were unimpressive, especially compared to other mREITs such as American Capital Agency (NASDAQ:AGNC).
Q1 2014 Overview
On May 7, Annaly reported its Q1 2014 results. For the quarter, the company reported a GAAP net loss of $203.4 million, or $0.23 per common share, compared to GAAP net income of $1.0 billion, or $1.07 per common share, posted last quarter; and GAAP net income of $870.3, or $0.90 per common share, posted last year. The vast majority of Annaly's GAAP losses came as a result of losses on interest rate swaps ("hedges") and interest-only Agency mortgage-backed securities.
However, Annaly's core earnings, which are basically GAAP net income adjusted for non-cash losses on hedges, net losses on trading assets and extinguishment of convertible debt, and one-time gains on asset sales, came in at $239.7 million, or $0.23 per common share. This is a decline of 34% from last quarter's $350.1 million, or $0.35 per common share, and a 21% decline from last year's $296.4 million, or $0.29 per common share.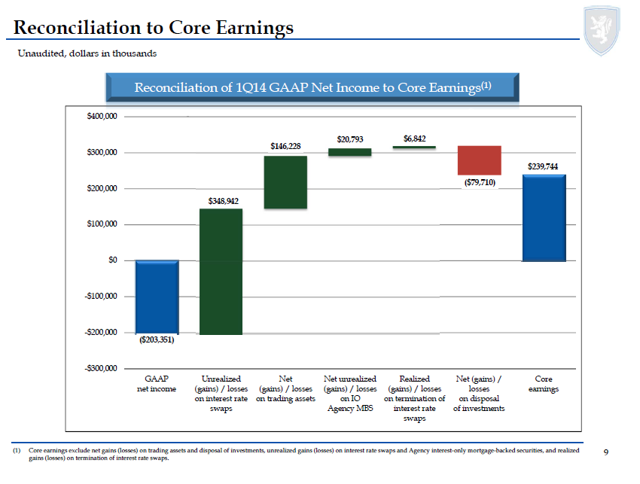 Annaly's net interest rate spread, a key metric for determining profitability in mREITs, declined to 0.90% for the quarter, down 53 basis points from 1.43% last quarter and down 1 basis point from 0.91% last year. However, this decline includes large amortization expenses on Annaly's portfolio of investment securities.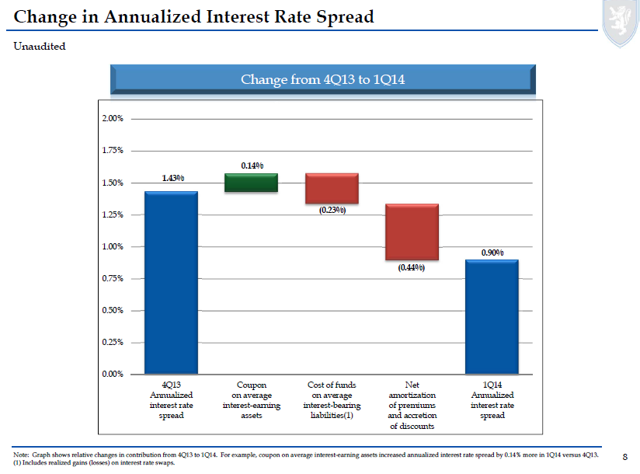 Basically, the company saw higher much prepayments during the quarter, $119 million versus $30.7 million, greatly impacting its spread. Adjusting for this item, Annaly's net spread (yield on assets minus yield on repurchase agreements) would have come in line with last quarter.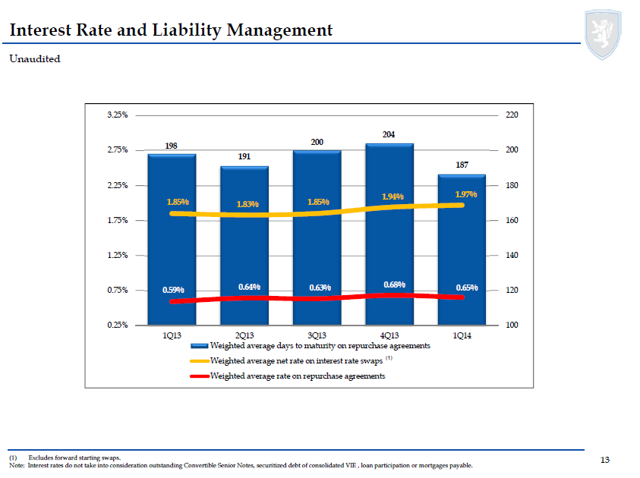 Annaly's leverage ratio remained conservative at 5.20x, compared to 5.0x last quarter and 6.60x last year. Annaly is among the least leveraged mREITs out there, with the typical leverage ratio at around 6.50x to 7.50x.
Annaly's dividend is no longer covered by core earnings
While not always 100% accurate, Annaly's core earnings' return on equity, ("ROE") is a good gauge on the future sustainability of the dividend. This metric declined to 7.68%, compared to 11.05% last quarter and 7.59% last year.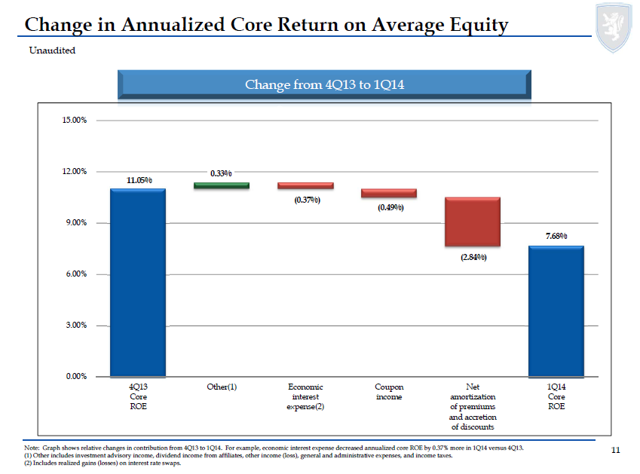 Indeed, in dollar terms, Annaly's $0.23 in core earnings per share is 23% below the current dividend of $0.30 per share. Therefore, a dividend cut to the $0.25 per share range seems likely. While in theory, Annaly could dip into its cash reserves to pay for the dividend, I would not count on it.
However, a wildcard here is the leverage ratio. If Annaly chose to beef up this metric, say from the current 5.20x to the 7.0x range, it could maybe maintain the dividend at current levels.
Annaly's book value sees an increase
In a bit of good news, Annaly's book value per share saw a 1.4% increase to $12.30 per share, compared to $12.13 per share last quarter. However, the book value is still 20% below last year's $15.19 per share.
Compared to other mREITs, Annaly's book value gains were average, above the ARMOUR Residential REIT (NYSE:ARR) (1.70% decline), though below others, such as CYS Investments (NYSE:CYS) (4.70% gain), American Capital Agency (AGNC) (2.30% gain), and Hatteras Financial (NYSE:HTS) (1.40% gain).
As shown below, it appears as if the market may have been pricing in some form of increase for these stocks, with Annaly and all its peers save for Armour posting solid YTD gains.
NLY data by YCharts
Conclusion
Annaly still trades at around a 10% discount to book value. However, as of this writing, Annaly's shares are down close to 5% in pre-market trading. With its yield already low on a TTM basis, it seems like the market cannot tolerate another potential cut, especially if its peers are yielding up to 400 basis points higher. For that reason, I would avoid Annaly -- there are simply better options out there.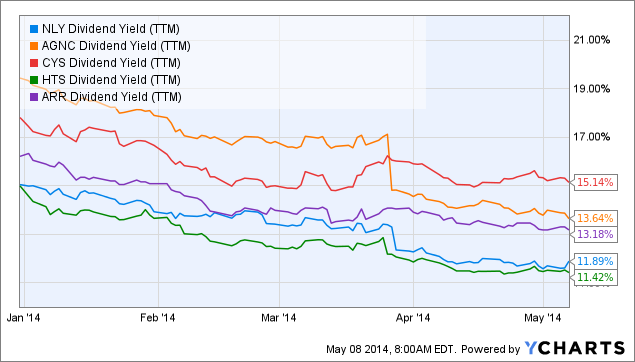 NLY Dividend Yield (TTM) data by YCharts
Disclaimer: The opinions in this article are for informational purposes only and should not be construed as a recommendation to buy or sell the stocks mentioned. Please do your own due diligence before making any investment decision.
Disclosure: I am long AGNC, CYS. I wrote this article myself, and it expresses my own opinions. I am not receiving compensation for it (other than from Seeking Alpha). I have no business relationship with any company whose stock is mentioned in this article.