After Tesla (NASDAQ:TSLA) reported earnings (PDF link) on Wednesday, the stock dropped in after-hours trading. The delivery numbers were lower than expected at 6457, but slightly higher than guidance of 6400. Production numbers were at 7535, also higher than guidance. Earnings and revenues beat analyst expectations.
Guidance
However, this time, Tesla set 35,000 as a lower bound for deliveries in 2014. For Q2, Tesla guided 7500 deliveries and production between 8500 and 9000. Tesla also stated that battery cell supply constraints will be lower in Q3, setting up the stage for steeper ramp-up for the Model S.
North American Demand
Finally, Tesla laid to rest the most often-repeated bear argument that North American demand is slowing. It stated that North American demand grew by 10% QoQ and has been steadily increasing.
Gigafactory Updates
This was the most important update from Tesla so far. It stated that it has a signed letter of intent from Panasonic. It also stated that the Gigafactory is on track to start production in 2017, and finally gave dates when actual work will start - next month at two potential sites. Personally, I would bet that the second location will be used for a second Gigafactory that will get started building as soon as the first one commences production.
China Updates
Tesla said that China demand is stronger than expected. It even expects to build Superchargers within cities, in addition to between them, like America and Europe. Tesla also confirmed what I stated in my previous article about Shanghai incentives.
Model X Updates
Model X volume deliveries are expected in Q2 2015, and Tesla stated that the "production ramp for Model X will be much greater than for S". Based on this, here is an updated chart on my estimates for Tesla deliveries going forward to 2020.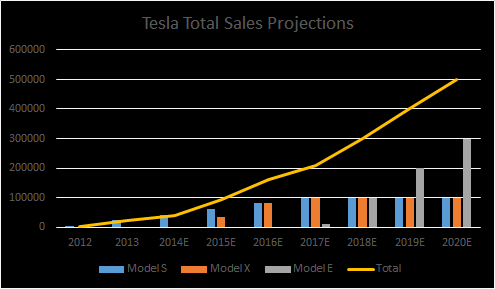 Customer Deposits
Customer deposits is the most overlooked number provided by Tesla, and consistently ignored by Tesla bears. However, that is the best number we have from Tesla for actual Model S demand.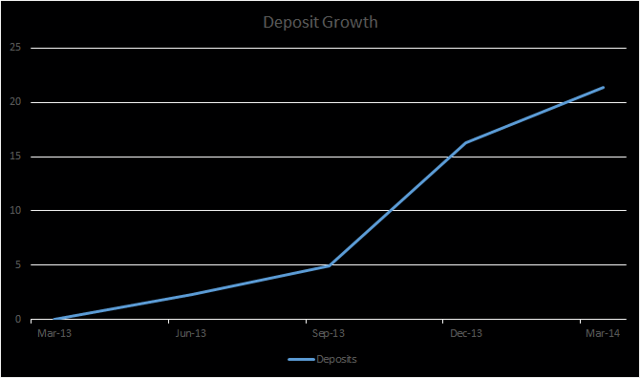 We can estimate Model X demand from volunteer trackers at the Tesla Motor Club forum. At $5,000 for a production model and $40,000 for a signature Model, the maximum possible deposit we have for the Model X is about $134 million. Tesla, however, holds deposits of $198 million, leaving $64 million for the Model S. That is a backlog of over 25,000 cars, at a $2500 deposit per car. However, Tesla does hold orders for Signature models in some markets. The Signature order ratio of the Model X is about 12%. If we assume the same for the Model S and that Tesla holds Signature orders for half its market, we have that as 6% for the Model S. This would represent a backlog of over 13,000 for the Model S, and that is a lower bound.
With this kind of backlog, any demand slowdown thesis is soundly invalid. From a similar estimate last quarter, the deposits for the Model S were about $58 million.
Stationary Storage
This is the first time Tesla actually talked about the market for stationary storage. It also talked about its plans of constructing and designing a stationary storage battery longer term when it has fewer cell constraints, and stated that it has begun the design work on what the product would look like. Tesla already sells a stationary storage battery to SolarCity (SCTY), which is available in a small form to residential customers, and a new product called DemandLogic to commercial customers as a cheaper alternative to demand charges.
Conclusion
Both the earnings and the future guidance are promising. Tesla answered and decimated most bear arguments against the company. Based on the information we have so far, I stand by my end-of-year $280 price target, and take dips as an opportunity to buy more Tesla stock.
Disclosure: I am long TSLA, SCTY. I wrote this article myself, and it expresses my own opinions. I am not receiving compensation for it (other than from Seeking Alpha). I have no business relationship with any company whose stock is mentioned in this article.
Additional disclosure: I might add to my Tesla and SolarCity positions in the next 72 hours.