McDonald's Current State of Affairs
McDonald's (NYSE:MCD) operates 6,719 restaurants and licenses 28,774 additional restaurants over 120 countries. McDonald's is a truly global business.
McDonald's Revenue (in $ Millions)

Region

Revenue

% Total

US

$2,054.10

30.66%

Europe

$2,712.20

40.48%

APMEA

$1,618.80

24.16%

Other

$315.20

4.70%

Total

$6,700.30

100.00%
Source: 2014 First Quarter Report
Note: APMEA stands for Asia Pacific, Middle East, and Africa
McDonald's has historically grown through increasing the number of its franchises, first in the US and then globally, and by increasing same store sales through innovative offerings.
McDonald's plan for future growth is focused in 3 areas:
Optimizing menus
Modernizing customer experiences
Broadening accessibility of the McDonald's brand
Of these 3, I believe that the most headway can be made by optimizing the menu. McDonald's US menu can be confusing to non-regular customers.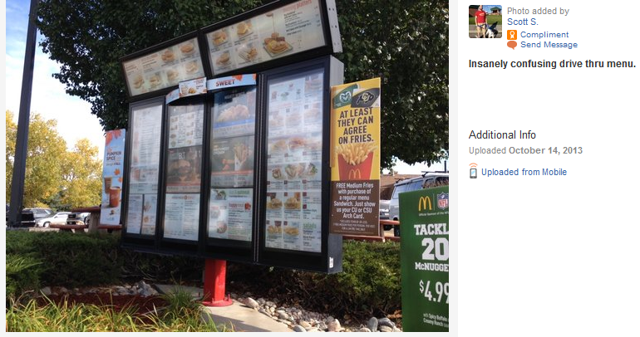 Source: Yelp
McDonald's grew constant currency revenues 3% for the first quarter 2014. McDonald's expects to add between 1,000 and 1,100 restaurants in 2014, which represents a store count increase of between 2.8% and 3.1%. The company will also remodel approximately 1,000 existing locations in 2014 as well.
Shareholders of McDonald's can expect long-term growth of around 3% due to McDonald's increasing store count. Additional growth must come from increasing same store sales.
McDonald's is a very shareholder friendly corporation. The business has returned an average of over $5 billion per year to shareholders since 2009. McDonald's is expected to return another $5 billion to shareholders in 2013 through dividends (~3 billion) and share repurchases (~2 billion).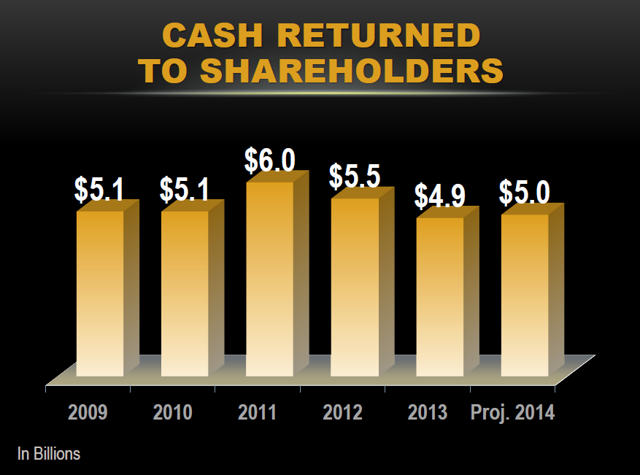 Source: McDonald's 2014 Consumer Conference Presentation
Coca-Cola's Current State of Affairs
Coca-Cola (NYSE:KO) is a non-alcoholic global beverage company. The business has been around 127 years, sells in over 200 countries, and has 17 brands with over $1 billion in sales per year.

Source: Coca-Cola investor relations
Coca-Cola sells 4 of the world's top 5 carbonated beverage brands:
Coca-Cola: Created in 1886
Diet Coke: Created in 1982
Fanta: Created in 1940
Sprite: Created in 1961
Coca-Cola's future growth depends on increasing sales from their still (non-carbonated) products. The business currently has 11 still brands with over $1 billion in sales. The business has captured an impressive 33% of global juice growth since 2007. Coca Cola grew still beverage volume 5% in 2013 versus 2012.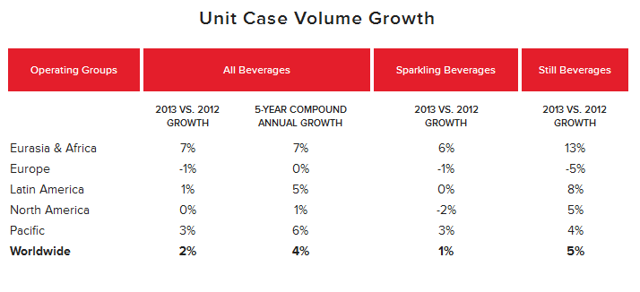 Source: Coca-Cola 2013 Year in Review
Shareholders of Coca-Cola can expect a CAGR of around 8% going forward from growth (3% to 4%), dividends (3%), and share repurchases (~2%). Coca-Cola has historically been very shareholder friendly. In 2013, they returned about 85% of cash from operations to shareholders through dividends and share repurchases. The company plans to repurchase approximately $2.5 to $3 billion in shares in 2014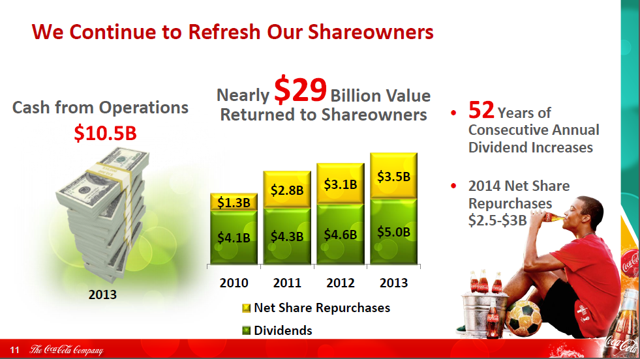 Source: Coca-Cola CAGE Conference Presentation
Comparison 1: Dividend History
Coca-Cola has increased its dividend for 52 consecutive years; one of the longest active streaks of any company. Coca-Cola is one of only 9 businesses on the Dividend Aristocrats index 25 years ago that are still in the index today. McDonald's has increased its dividend each year since 1976, a streak of 38 years.
Both businesses have been able to reward shareholders with growing dividends for very long time periods. Both businesses easily pass the test of paying increasing dividends for 25+ years.
Why it matters: The Dividend Aristocrats (stocks with 25+ years of rising dividends) have outperformed the S&P 500 over the last 10 years by 2.88 percentage points per year.
Source: S&P 500 Dividend Aristocrats Factsheet, February 28 2014, page 2
Comparison 2: Dividend Yield
McDonald's has a dividend yield of 3.21% versus 3.01% for Coca-Cola. Both businesses have dividend yields north of 3%. McDonald's holds the slight edge in this category.
Why it Matters: Stocks with higher dividend yields have historically outperformed stocks with lower dividend yields. The highest yielding quintile of stocks outperformed the lowest yielding quintile by 1.76 percentage points per year from 1928 to 2013.
Source: Dividends: A Review of Historical Returns
Comparison 3: Payout Ratio
McDonald's has a payout ratio of 57%, compared to 58.6% for Coca-Cola. Once again, both businesses are matched evenly. McDonald's once again has an insignificant advantage due to its slightly lower payout ratio.
Why it Matters: High yield low payout ratio stocks outperformed high yield high payout ratio stocks by 8.2 percentage points per year from 1990 to 2006.
Source: High Yield, Low Payout by Barefoot, Patel, & Yao, page 3
Comparison 4: Growth
Coca-Cola has grown its dividends by 9.04% per year over the last decade, with revenue per share advancing at a slightly faster clip. McDonald's revenue per share has grown 7.24% per year, with dividends growing faster than revenue.
Coca-Cola holds the advantage in the growth category. This is the largest difference in these 2 businesses. McDonald's growth is respectable, but Coca-Cola has historically grown at a faster pace.
Why it Matters: Growing dividend stocks have outperformed stocks with unchanging dividends by 2.4 percentage points per year from 1972 to 2013.
Source: Rising Dividends Fund, Oppenheimer, page 4
Comparison 5: Volatility
Coca-Cola has a long-term (10-year) standard deviation of only 18.71%, ranking it at number 7 out of 105 businesses with 25+ years of dividend increases based on this metric. McDonald's also has a low long-term standard deviation of 20.14%, ranking it at 13 out of 105. Coca-Cola holds a small advantage in this category as well.
Why it Matters: The S&P Low Volatility index outperformed the S&P 500 by 2 percentage points per year for the 20-year period ending September 30th, 2011.
Source: Low & Slow Could Win the Race, page 3
Conclusion
Both businesses' strong brands and quality operations have resulted in decades of growth. Both businesses are historically very shareholder friendly, returning the majority of their operating cash flows to shareholder. Coca-Cola is slightly favored over McDonald's based on the 8 Rules of Dividend Investing. Coca-Cola is the 3rd highest ranked business, while McDonald's ranks in at 4th.
Both businesses make excellent long term investments. It is rare to find growing businesses with extremely strong brands that actively repurchase shares and have a dividend yield greater than 3%. It is rarer still to find great businesses such as these in slow changing industries that do not rely on technology for their respective competitive advantages.
Disclosure: I have no positions in any stocks mentioned, and no plans to initiate any positions within the next 72 hours. I wrote this article myself, and it expresses my own opinions. I am not receiving compensation for it (other than from Seeking Alpha). I have no business relationship with any company whose stock is mentioned in this article.