The stock market is hard to predict. As a result, the most successful investors purchase companies based on value, not price. If the relative value is higher than the market, it's a sign the market is over-valuing the stock, and vice versa.
One of the most popular measures used for making relative value comparisons is P/E, but it has limitations. Sometimes, companies are under or overvalued for a reason. So, P/E can give you a relative indication of a company's value in the market, but it can't tell you if that valuation is justified.
For example, assume two companies have the same EPS, but one company spent $100 million and the other spent $10 million. If the stock price is the same for both companies, both must also have the same P/E, but the $10 million company is clearly more efficient. As a result, analysts look at operating margin and ROE as measures of efficiency to confirm what's indicated by the P/E ratio.
IBM and Micron: Low P/E, high margin
In April, IBM (NYSE:IBM) reported another quarter of earnings that were in-line with consensus estimates, but down 15% year-over-year. Revenue came in at $22.5 billion, down 4% and below estimates of $22.91 billion. As a result, the stock is currently trading down, but its P/E ratio is 13 times, which is lower than 69% of other companies in the computer services industry. Additionally, for the trailing twelve month period, IBM's operating margin was 19.12%, which shows that it controls costs and expenses better than 89% of its peers. Clearly, efficiency isn't an issue, and earnings should command a higher price, but the market is concerned about growth.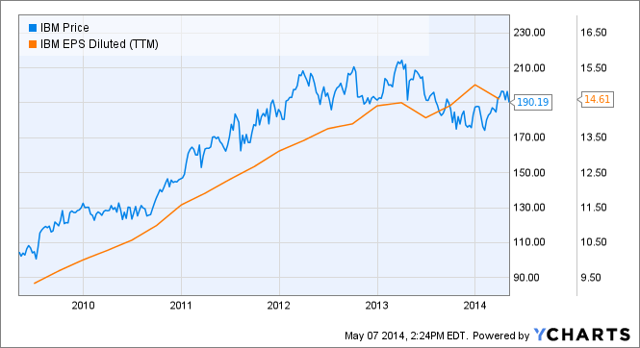 Micron Technology (NASDAQ:MU) is a global manufacturer of semiconductor devices. For the 26 weeks ended on Feb. 27, Micron increased revenue from $3.91 billion to $8.15 billion, and net income almost doubled as well, yet the price is only trading at 11 times earnings, which is lower than almost 90% of other competitors in the semiconductor industry. Additionally, Micron's operating margin is 12.54%, which is better than 83% of peers.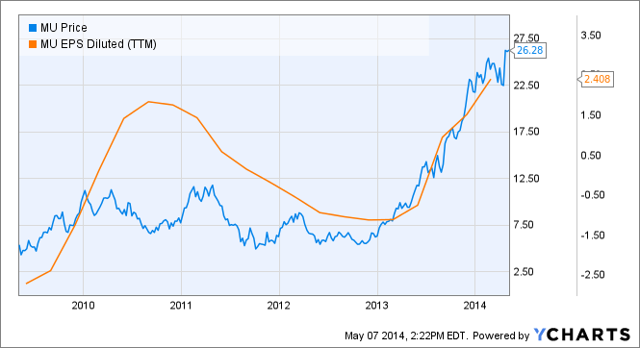 IBM and Micron are undervalued. Both have high operating margins compared to others in the industry, and both have P/E ratios below the industry average. This is a sign that earnings are created efficiently and are in-line with competitors, but the stock price is trading lower than peers.
Based on an average P/E of 16, IBM should be trading near $237, which is a 23% upside to the current price.
Likewise, based on an average P/E of 17, Micron should be trading just under $41, which is a 55% upside to the current price.
Conclusion
You need a crystal ball to predict the future. If you don't have one, you can still beat the market by investing in companies that are truly undervalued. P/E is a great way to measure the relative value of a company to its peers, but it doesn't take resource efficiency into consideration. A company with a higher-than-average profit margin can help determine if P/E is pointing in the right direction. In this case, both IBM and Micron have higher-than-average profit margins and lower-than-average P/Es, making them ideal investments based on relative value.
Disclosure: I have no positions in any stocks mentioned, and no plans to initiate any positions within the next 72 hours. I wrote this article myself, and it expresses my own opinions. I am not receiving compensation for it (other than from Seeking Alpha). I have no business relationship with any company whose stock is mentioned in this article.