How To Catch A Falling Knife
Summary
Falling knife stocks are stocks with downward momentum and overall negative investor sentiment where investors buy hoping to catch it at the bottom.
Whole Foods is a falling knife stock that you should let fall until the stock can stabilize.
Insiders buying on the open market can be a sign that a stock may have reached its bottom and positive momentum may be around the corner.
Being a contrarian investor at heart, I always look at the worst performing stocks for the day and try to pick up quality companies near 52 week lows due to short-term difficulties. However, there is a fine line on when to take a position in a stock that is in a downward spiral. There are a couple schools of thought for investors looking to buy deep value stocks. Should you dive in as a company approaches its 52 week low and seems the worst is behind it or should you wait till positive news and momentum returns to the company at the cost of missing the initial bounce? Many traders refer to this practice as "catching a falling knife".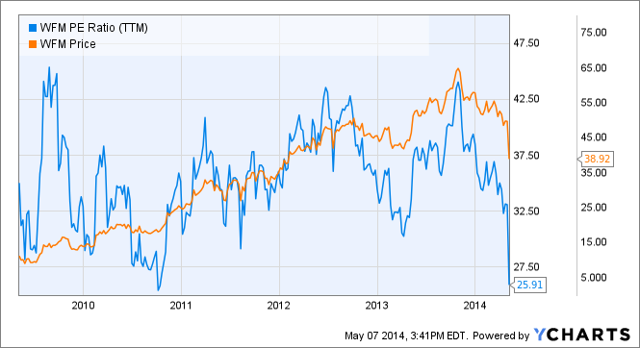 Take Whole Foods (WFM) as an example. The stock recently reported less than stellar quarterly numbers and lowered its FY2014 guidance and as a result lost roughly 20% of its share value. Whole Foods may be the sharpest knife on Wall Street right now as investors have lost confidence in the company's ability to continue their rapid growth with the added pressure of competing brands such as Sprouts (NASDAQ:SFM) and other groceries offering a wide-variety of organic options.
28 weeks ended

($ millions)

4/13/2014

4/14/2013

Y/Y % change

Sales

$ 7,561

$ 6,883

9.9%

Cost of goods sold

$ 4,885

$ 4,434

10.2%

Gross Profit

$ 2,676

$ 2,449

9.3%

Operating Income

$ 486

$ 463

5.0%

Net Income

$ 300

$ 288

4.2%

Diluted EPS

$ 0.80

$ 0.77

3.9%
Whole Foods is a solid company with a strong loyal customer base that is growing their sales and expanding store locations, but the stock was overvalued. When same store sales only grow 5% and the company has to rely on new stores to provide the rest of the growth, rapid growth is very hard to sustain. The company projects 11-14% annual total sales growth through FY2018, which is very impressive. However, it's just not impressive enough to sustain a P/E over 30. After the 20% drop in share price, the P/E is currently around 25. This is still a high number, meaning the share price may continue on its downward trajectory. Catching a falling knife at this stage in the game is probably too early. The company may be approaching its 52 week low, but the stock may still have some downside left as investors lose faith and the sell-off continues.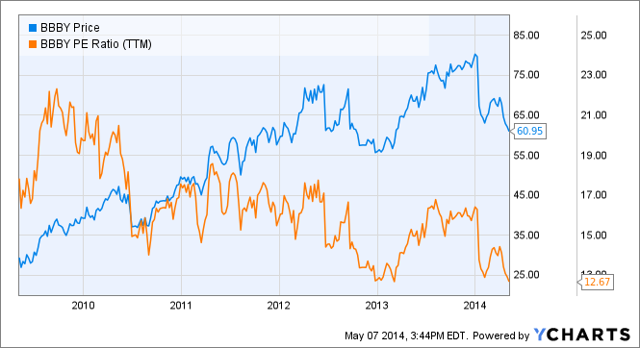 Now let's look at Bed, Bath and Beyond (NASDAQ:BBBY). The company has been a true falling knife since early January as the company looks to right the ship. Unlike Whole Foods, Bed, Bath and Beyond has had several months of declines and the shares are currently at 52 week lows and its P/E has dropped to just over 12. Investors currently have very little faith in the company and its valuations prove that. At this point, there is little downside in the stock. Price/Sales are near 1, the PEG ratio (5 yr expected) is 1.35 and the company has zero long-term debt.
The argument against Bed, Bath and Beyond is the threat posed from online retailers such as Amazon (NASDAQ:AMZN) poaching sales. However, the company remains profitable and last year brought in over $1 billion in net income. The company saw a sales increase of over 5% in 2013 and expects a 4% increase in 2014 with mid-single digit growth in EPS. The company has a mature store base but still expects to add an additional 30 stores across the company in FY2014. In order to gain momentum back in the share price, look for management to initiate a dividend soon as the company has a consistent and profitable core business. Bed, Bath and Beyond has been a falling knife for months that may have reached its bottom.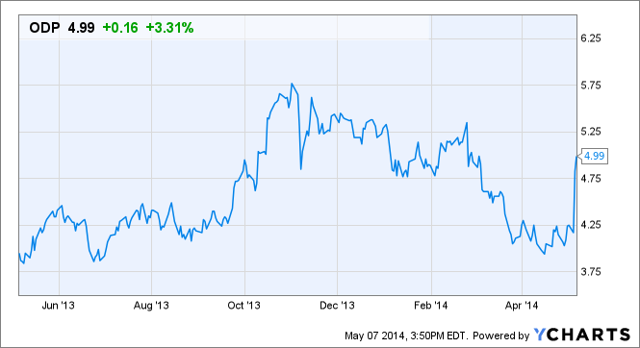 Office Depot (NASDAQ:ODP) represents a "falling knife" stock that has bottomed and regained positive momentum. On 5/6/14 Office Depot reported earnings that beat expectations and the company raised its 2014 outlook. As a result the stock shot up nearly 20% in 2 days. The problem with catching a falling knife is you never truly know where the bottom will be and when it will regain momentum as with Office Depot. However, there are clues you can look for. There were several Office Depot insiders buying the company stock on the open market during late February and March ranging from $4.54-$4.95/share. Insiders making large open market acquisitions is a bullish sign for a company going through a transition and near its 52 week low. It signals that company management believes it's on the right path and the stock price will go higher as a result.
Conclusion
These are just three examples of the many "falling knife" stocks out there and the various stages that they can go through. As an investor, you must decide how much risk and exposure to the downside you are willing to take. If it makes you sleep better at night waiting for momentum to return to a stock, by all means wait. But if you are willing to take the chance and catch the next falling knife, make sure you do your homework and know what you are getting yourself into. Insider buying is a good sign, but the fundamentals and long-term strategic plan of the company must also make sense. While there is a tremendous amount of risk involved in catching a falling knife, there is also a tremendous amount of reward if you buy at the right time and be patient for a bottom to present itself.
Disclosure: I have no positions in any stocks mentioned, but may initiate a long position in BBBY over the next 72 hours. I wrote this article myself, and it expresses my own opinions. I am not receiving compensation for it (other than from Seeking Alpha). I have no business relationship with any company whose stock is mentioned in this article.