Introduction
Eastman Kodak Co. (NYSE:KODK) has a long and unique story of innovation and development. Driven by its products, Kodak has represented the world of photography and film. In 1888, George Eastman invented the first camera with the Kodak name as its trademark, and established Eastman Kodak Company four years later. By 1896, 100,000 cameras had been produced, and with its continued success the company has become a global power for many decades. However, even looking like an unbeatable company, two or three errors of great magnitude have been enough to change its course of success sending it to the dark fate of bankruptcy. Kodak has filed for Chapter 11 business reorganization in January 2012, and has emerged in September 2013 as a transformed, lean and competitive company. Its goal is to become profitable with a new business - digital printing and commercial imaging. I intend to find out what the company has now to offer to the market, and what are its key growth drivers. In the end we'll be able to have a well-founded idea about what to expect from the new Kodak.
The situation before Chapter 11
Briefly, it must be said that Kodak's big problems began in the late 80s with the company's slowness to take up digital photography at a time when sales of film photography diminished greatly. Gradually, since the early 90s its major competitor Fuji has been gaining worldwide market to stand out definitively. Kodak, which had switched too late to digital cameras, had committed another tremendous mistake some decades before. In fact, in 1975, a Kodak engineer had invented the digital camera, but the company did not want to develop it...so as not to hurt its film business.
In late 2011, Kodak was trying to establish a new business plan, and still stated no intention to file for bankruptcy. This was due to the great hope that the company would be able to sell at a high price part of its patent portfolio that several experts valued at between $1 billion and $4.5 billion. Later, it became clear that this would not be possible. Only during Chapter 11 intervention did a superconsortium of the world's leading technology multinationals buy said portfolio for only $527 million, also including the licenses of Kodak's remaining 20,000 patents. In this process, Kodak found itself in a "monopsony" situation, which means that a single buyer with complete market power forces its conditions on sellers.
The inevitable would happen on 19 January 2012. An unsustainable economic and financial breakdown pointed to Chapter 11 without delay. In 2011, Kodak's market continued to deteriorate and losses reached $764M against total revenue of $3.58B.
The economic and financial situation of the company
Kodak' sales declined from $2.72B in 2012 to $2.35B in 2013 (-14% YoY) while the Plan of Reorganization's projection was around $2.5B.
Net income were $1.99B in 2013 due to the inclusion of gains of $2.55B from reorganization items and the sale of the digital imaging patent portfolio. For 2012, net loss was $-1.38B. Considering only 4Q13, net loss stood at $-63 million while it was $-402 in 4Q12.
EBITDA reached $160 million in 2013, an expansion of $375 million over 2012.
Kodak emerged from bankruptcy on September 3, 2013. From that date, it applied the provisions of fresh start accounting which has made the company a new entity with regard to its financial statements. Therefore, the results reported after that date can not be compared with previous ones.
As a matter of fact, Kodak is also now a new company for the purpose of its activity and business development. Specifically, the company operates only in two segments, graphics, entertainment and commercial films (GECF) and digital printing and enterprise (DP&E). The company have ceased the production of digital cameras and exited several other businesses.
In any case, as the company was already working in these areas it is of great interest for financial analysis purposes, a comparison with previous data only in terms of sales and gross profit margins.
The table below shows Kodak's two operating segments as defined above.
$million

2013

Sep-Dec

2013

Jan-Aug

2012
2011
GECF segment
- Net Sales
519
987
1,680
2,341
- Gross Profit
47
182
171
488
- Gross Profit Margin
9%
18.4%
10.2%
20.8%
- Segment Profit (Loss)
-37
5
-210
-8
DP&E segment
- Net Sales
284
519
939
1,099
- Gross Profit
41
146
126
-40
- Gross Profit Margin
14.4%
28.1%
13.4%
-4%
- Segment Loss
-59
-37
-280
-613
Source: FORM 10-K
2013 Sep-Dec - Four Months Ended December 31, 2013
2013 Jan-Aug - Eight Months Ended August 31, 2013
The most important aspect to consider is the general decline in sales. The breakdown of sales that happened from 2011 to 2012 can be relatively acceptable, given that Kodak filed for Chapter 11. But, as the company continued to develop its business with determination the reduction of sales in 2013 is a negative sign. The reasons are related to the continuing decline of motion picture film and inkjet printers. To avoid this significant decrease in sales, the company urgently needs to get a sound sales growth in its technology business - digital printing, packaging and functional printing.
While DP&E sales only match roughly half the other segment, its gross margin is much higher than GECF. It is also clear that the company four months after exiting bankruptcy managed only a slight improvement in sales, but with a lower gross margin. However, it is expected that DP&E sales will rise in 2014 in spite of competition.
Now taking the two segments excluding accounting adjustments related to fresh start and other aspects of the reorganization, we will have a clearer picture in terms of the company's business.
| | | | | |
| --- | --- | --- | --- | --- |
| $million | 4Q13 | 4Q12 | 2013 | 2012 |
| GECF segment | | | | |
| - Net Sales | 396 | 450 | 1,506 | 1,680 |
| - Gross Profit Margin | 16.9% | 12.4% | 18.1% | 10.2% |
| - Segment Loss | -26 | -44 | -32 | -210 |
| - EBITDA | 45 | -12 | 152 | -33 |
| DP&E segment | | | | |
| - Net Sales | 210 | 269 | 803 | 939 |
| - Gross Profit Margin | 26.2% | 16.0% | 28.1% | 13.4% |
| - Segment Loss | -46 | -59 | -96 | -280 |
| - EBITDA | 1 | -38 | 8 | -182 |
| KODAK | | | | |
| - Net Sales | 607 | 739 | 2,347 | 2,719 |
| - Gross Profit Margin | 24.9% | 13.9% | 24.2% | 10.8% |
| - Net Income (Loss) | -63 | -402 | 1,985 | -1,379 |
| - EBITDA | 46 | -50 | 160 | -215 |
GECF continues to be the most profitable segment although its gross profit margin remains much lower than that of DP&E. The restructuring of Kodak made ​​possible a special income of about $ 2.55 billion and a profit of $1.99 billion in 2013. All "old" shares outstanding of common stock (272,782,187) were cancelled on September 3, 2013, and 41.67M shares of new common stock were issued. Obviously, diluted EPS [ttm] of $10.14 in 2013 means absolutely nothing. Indeed, this is a value that doesn't reflect the activities of the company in 2013, whose results would have been negative.
Kodak reported 1Q14 results Tuesday which were in line with the problematic situation observed in the 4Q13. In fact, in the first quarter of 2014, net loss was $-36 million and sales declined to $482 million from $594 million (-19% YoY). Gross profit margin dropped from 25.1% to 17.8%.
CEFC segment showed a decrease in sales to $316 million from $386 million (-18% YoY). Again, the decline was mainly due to the reduction in motion picture film. Gross profit margin dropped from 22.0% to 9.2% due to negative manufacturing cost related to lower production in entertainment imaging & commercial films.
DP&E registered also a decline in sales from $197 to $166 (-16% YoY), and gross profit margin dropped slightly from 26.4% to 25.3%. This decline has to do with a continued decrease of sales in the consumer inkjet business.
In 2014, the company has to struggle in order to meet the guidance and to show investors that it has a promising market position. 1Q14 results aren't showing that yet, and, on the contrary, they add more doubts about the company's strategy.
About the Market
In September 3, 2013, after the Plan of Reorganization has been approved, Kodak emerged from Chapter 11 as a technology company providing printed image for business markets. On an official statement the company reported:
Kodak completed the final steps in its Chapter 11 restructuring, including the spin-off of its Personalized Imaging and Document Imaging businesses to Kodak Pension Plan, a longstanding pension plan of Kodak's U.K. subsidiary. The company also successfully closed on its agreement for $695 million in term exit financing, paid off its DIP lenders and second lien noteholders in full and completed its rights offerings, receiving approximately $406 million of new equity investments from participating unsecured creditors."
Source: News release
On March 12, Kodak's Board of Directors appointed Jeffrey J. Clarke as Chief Executive Officer. Clarke, 52, said:
This enterprise has some extraordinary opportunities, especially those presented by the company's proprietary technology in commercial printing, packaging and functional printing. Kodak has made excellent progress, building on one of the most successful reorganizations in recent years, and I look forward to continuing the work underway in transforming Kodak into a global B2B technology leader."
Source: kodak.com
As a B2B technology company, Kodak offers innovative products and solutions. While working in partnership with manufacturer leaders and innovators, the company has establish a key business collaboration with Bobst in packaging. Kodak also has many other partners in different products. For the development of digital printing, the company has chosen Timsons, and for the production of printed touch-screen sensors, UniPixel and Kingsbury have been the elected partners.
Generally, Kodak has a strong and wide network of business partners around the world that make easy and supporting all business relations with the company.
It is very important that the company may expand sales in emerging markets. In order to manage and reduce costs as well as increase focus on research and development, Kodak has outsourced a significant portion of its overall worldwide manufacturing, logistics and back office.
Problems may persist
The key point is market positioning. For Kodak it's crucial to have a relevant market share for any of its products because only then can it aspire to have viable businesses.
Honestly, I'm going to state how I see the true situation of Kodak. I know that the company is researching new and exciting products. However, with the products mentioned above and the tremendous competition in these markets, Kodak will have a difficult task over the next years. It's main bet - printing business - is declining every year, and in market share, according to Infotrends, Kodak is far behind competitors such as Hewlett-Packard, Canon, Epson and Brother just to mention the most important. In order to show the relative dimension of multifunction printers market share, this table is quite enlightening.
U.S. & Canada Market Share (SF & MFP devices, all technologies)
| In percentage | 2011 | 2012 | 2013 |
| --- | --- | --- | --- |
| HP | 52.5 | 50.1 | 60.2 |
| Canon | 12.8 | 14.8 | 19.9 |
| Epson | 9.0 | 10.4 | 15.5 |
| Dell | 7.8 | 8.7 | -- |
| Brother | 3.0 | 3.5 | 3.1 |
| Lexmark | 4.0 | 3.1 | -- |
| Kodak | 4.6 | 2.4 | -- |
| Samsung | 1.4 | 1.7 | -- |
| Xerox | 1.3 | 1.4 | -- |
| All others | 3.8 | 4.0 | 1.3 |
Source: InfoTrends
Unless the company becomes reasonably profitable, this market segment will only be useful to hold the necessary time until the company may produce new and innovative products.
Certainly, the company must (and is expected to) sell more and improve its operating margin. However, as I see it, the company will only reach the required status of high quality growth if it stays aware of the market. If Kodak's goal is primarily directed to the improvement of products, I think there are other companies in the marketplace that can do it better. Instead, Kodak has to create substantial added value through new outstanding products that really make the difference, and turn Kodak unique again. As the company stands, the only way to really succeed is to be disruptive by creating really new products that turn Kodak somehow on a game changer in a particular market segment. If it takes time but the return is rewarding, then it is the way to go.
The company cannot deceive itself in an attempt to create innovations that can only be used in the very long term, if ever, and, eventually, may even be revealed to be economically unfeasible. By doing so, the company will not be saved even after 20 months of business reorganization under Chapter 11. Of course, Kodak is developing very interesting research projects with potential for commercial success like the spatial atomic layer deposition that may change semiconductor production. About this project, there are several centers and partners around the world, besides Kodak. They aim to develop new materials and processes in order to make possible that atomic layer deposition reach the market as a real business. The applications will go far beyond semiconductor manufacturing as will include also flexible displays, OLEDs (organic light-emitting diodes), flexible solar panels and coated glass production. But will they all be really businesses or some of them will only remain as a fair try? And how far in years are we from those possible new products?
We know that Kodak is good on research but we are also aware that only a fraction of innovative products will survive in the market and even a smaller number will be a profitable business. Kodak is in the running to enter the market with its touch-sensor module. However, once again the competition is huge and the battle is underway involving an extensive choice of different technologies. According to DisplaySearch, the overall touch-screen module market is expected to reach $32 billion in sales by 2018. The problem is that there are dozens of companies in this market with similar or more advanced technologies. Kodak must take into consideration that established technologies will also develop, and in all likelihood it's going to be very hard to have a winner product here in order to get a small slice of market share. Recent news warns that touch screen module makers are now facing greater competition which is pointing to an unexpected revenue reduction. This is happening when smartphone and tablet PC markets are growing worldwide, and continue to drive increased demand for touch panels. However, the situation may even get worse in the near future because there is touch screen oversupply.
Cash flow generation
Kodak seems to have fair cash flow generation from current operations. In the future, we will follow its free cash flow to test not only its real capacity to generate funds but also the stability of the achieved levels. In order to continue funding its operations on the right way, it's advisable that the company has a strong cash position similar to what it has reported in 2013. In the development of its business, Kodak may need additional funding later on. One possible way to have a better financial base of support can be through the sale of non-core assets. This is the case with its industrial park. Kodak has officially put on sale the entire Eastman Business Park, which has been gradually becoming vacant over the years with the decline of the company. The 1,200-acre industrial park will not be easy to sell because the potential buyer will have to invest heavily not only in its development but also at the required environmental cleanup. But it's possible that Kodak may close a fair deal here. Its completion would be a good way to reinforce its cash position and get capital without having to seek loans or increase equity. At this stage of the company, it would mean a significant financial support, and a caution for the event of any difficult situation.
A new Kodak ready to grow?
For 2014, Kodak currently projects that revenue will reach around $2.1B-$2.3B. The company estimates net income will stay between a $40 million loss and break-even. The company also expects for 2014 EBITDA of about $145-$165 million, and capital expenditures of approximately $50 million.
Even with its deep restructuring, Kodak does not seem to have businesses with fair returns. While the company is lean and has an improved balance sheet, one would think that it could put on the market profitable products. Probably, a gradual improvement may occur and, later, sustainable profits will arrive. In this respect, 2014 will be very important.
Kodak has key technologies that will certainly play an important role in the future. However, the company knows it has to go further to grow and be profitable.
Valuation
When Kodak reported earnings for the first quarter of 2014, Jeff Clarke, Chief Executive Officer, said:
The path to sustainable growth and profitability is not a straight line, but we continue to progress, especially in the strategic technology businesses which will constitute the new Kodak.(…) We saw significant increases in sales for our key new products in packaging, digital printing and digital plates, as increasing numbers of customers embraced our solutions."
In spite of poor results in this quarter, Kodak still expects to show in 2014 significant increases for two DP&E product lines in packaging and digital printing that are crucial to profitable business growth. Similarly, the company sees strong sales improvement in one GECF business product - digital plates.
To give the company time to properly introduce its products and gradually gain market share, let's assume that Kodak sales will increase at a 4% CAGR over the next five years which is a moderate expectation. Despite difficult market conditions, the company needs absolutely to grow reasonably if it has the intention and means to be profitable. It has to be noted that, given sales decline of 14% in 2013, we have estimated a sales decrease of 3% in 2014. It may be possible that the operating margin will remain around 3% on average in the same period of 5 years. This is a first approach based on its operating business. But as the company emerged from the bankruptcy process, it will have the opportunity for a fresh start with the ability to innovate. Kodak has new projects in the pipeline, and it has some potential for growth. Thus, we will make an assessment based on DCF analysis. For simplicity, we'll get Free Cash Flow as EBITDA less CAPEX, interest and taxes.
There are many sensitive variables, but by far the most problematic is the number of shares outstanding over the years. We can not forget that Kodak currently has 41.67M shares outstanding and may issue 560M shares consisting of 60M shares of preferred stock, no par value (convertible, at the option of the Company or of the holders, into shares of Common Stock), and 500M shares of common stock, par value $0.01 per share. This situation is not very ordinary and could make the investment in Kodak quite risky given that the company is at an early stage of its new life. However, let's assume that there will be an average increase of only 10 million new shares in Kodak over the period in question. Thus, the valuation model considers this number according to the table below.
US$ million
2013
2014
2015
2016
2017
2018
Revenue
2,347
2,277
2,345
2,497
2,672
2,859
Growth
-3%
3%
6.5%
7%
7%
Operating Margin
2%
3%
3%
3%
4%
Adjusted FCF
46
70
75
80
114
Exit Multiple (15x Yr 5 FCF)
1,715
Free cash Flow
46
70
75
80
1,830
WACC (Discount Rate)
12.5%
NPV (Net Present Value)
1,214
Cash-Debt
132
Total Market Value
1,346
FD Shares Outstanding
51.67
million
Price Per Share ($)
26.05
Therefore, we get a total market value of ~$1.35B. With 51.67M fully diluted shares outstanding, we arrive at a value of $26.05 per share.
If operating margin were changed to 2.5%, we would get a value of $22.89 per share. Taking an operating margin of 3.5%, it would lead to a value of $29.22 per share.
In order to get some confirmation about Kodak's value, I'm going to use another valuation methodology. Currently, the company has an Enterprise Value of $1.10B and an EBITDA of around $120M [ttm] giving us an Enterprise Value-to-EBITDA of ~9. This important metric has a modest level, allowing us to believe (if guidance is met) that the company could be worth more than the current market value​​.
Short position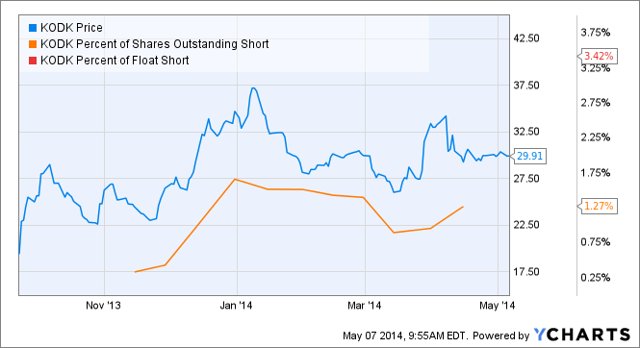 Kodak's floating stock is small as it represents only 27.2% (or 11.34M) of shares outstanding. Typically, a stock with such a float is more volatile and it's harder to borrow which is a disincentive for short sellers.
In normal conditions, a low percentage of short positions also means that investors tend to believe on Kodak strategy. It may also happen that the situation may present itself as unclear, and possibly not suitable for strong bets in short positions. Either way, one may conclude that investors don't see a substantial danger on the dilution issue. Thus, the chart above shows us that since the company shares have begun trading, short positions have remained around 3.5% of float which is not significant.
Technical Analysis
In 2011, Kodak was a very troubled company, and each old share had been trading between $5.64 (January 3) and $0.65 (December 30). As mentioned above all the old shares were cancelled and we have currently a completely distinct situation with a new Kodak. Now, we have a restructured company with an attractive core business in specialized market segments. Naturally, sooner or later the company will need additional funding to its activities and a capital increase is not out of question. If this will happen in the short to medium term, the problem of share dilution is relevant.

Charts courtesy of StockCharts.com
Kodak's new shares replaced the old ones that were cancelled. After a short time trading on over-the-counter venues, these new shares have been listed on the New York Stock Exchange, and have begun trading there on September 23, 2013. It's not possible to analyze technically this stock with only seven months of trading. Moreover, what really matters is to find bases that can define a range of sustainable prices for Kodak. If problematic situations arise, the problem of dilution can be relevant, but we can not predict to what extent.
In technical terms, the only thing that is clear for now is that prices have been quite volatile and, from the end of January, have tended to be near the MA50. One aspect should be highlighted. Kodak has begun trading at $19.25 per share, and after the first two days of dealing share prices were never below $22. However, with poor results reported yesterday, prices will tend to fall, and probably will reach at least that level.
Conclusion
Kodak is a new company with products in very competitive market segments. While it's still innovative, the problem lies on its capability of building a real growing business, profitable and sustainable. It's true that Kodak is not alone, meaning that for each product it has partners and joint arrangements. But, at this moment, there are many risks on this investment. Although the company has only emerged from Chapter 11 eight months ago, it needs to show that results are trending up. It's only possible to see it throughout this year. I'm not pessimistic, but for the time being I will be on the sidelines.
Disclosure: I have no positions in any stocks mentioned, and no plans to initiate any positions within the next 72 hours. I wrote this article myself, and it expresses my own opinions. I am not receiving compensation for it (other than from Seeking Alpha). I have no business relationship with any company whose stock is mentioned in this article.