General pessimism regarding the economy drove stock prices down sharply yesterday, following already-lackluster recent trends. So it seems odd that the Pause-Trading ETF Model I introduced on Seeking Alpha several weeks seems oblivious. As can be seen from the lists below, it shifted from a generally defensive posture to one that may be characterized as... as... this is a tough one. Let's just call it individual situations.
Here is this week's top-five list:
Here's last week's list:
This is a technical model so there may be no fundamental point of view inherent in this week's choices. But even at that, it's hard to see any of these ETFs flourishing over a prolonged period absent decent or better worldwide economic activity. So maybe this can be interpreted as a signal that the recent pessimism is misplaced. (It wouldn't be the first time, by any means, that short-term conventional wisdom has been found wrong.)
In today's information age with its avalanche of commentary, we feel a perpetual need to explain all things at all times and sometimes have to really stretch logic to accomplish that. Perhaps this week's list serves as a reminder that sometimes, it doesn't pay to try to do that. This is technical analysis, pure and simple. Not every week turns out to win, but over time, this approach has won a lot more often than it has lost (see Appendix below). Based on that, I'm just going to close my eyes, grit my teeth, and hope for the best in the week ahead.
APPENDIX
To create this model, I started with a very broad-based ETF screen.
Eliminate ETFs for which volume averaged less than 10,000 shares over the past five trading days.

Eliminate HOLDRs (I don't want to be bothered with the need to trade in multiples of 100 shares).

Eliminate leveraged and short ETFs (I think of these as hedging tools rather than standard ETF investments of even trading vehicles.)
Then I sorted the results and select the top 5 ETFs based on the following factors:
120-day share price percent change - higher is better (15%)

1-Year Sharpe Ratio - higher is better (15%)

5-day share price percent change - lower is better (70%)
The idea of using weakness as a bullish indicator is certainly not new. But often, it's an add-on to other factors that, on the whole, emphasize strength. Here, the weakness factor is dominant, with a 70% weighting.
This model is designed to be re-run every week with the list being refreshed accordingly. If you want to follow an approach like this but do have to worry about commissions, the strategy tests reasonably well with three ETFs, or even with one. (Cutting the number of ETFs is far preferable to extending the holding period.)
Figure 1 shows the result of a StockScreen123 backtest of the strategy from 3/31/01 through 7/22/10.

(Click to enlarge)
Figure 1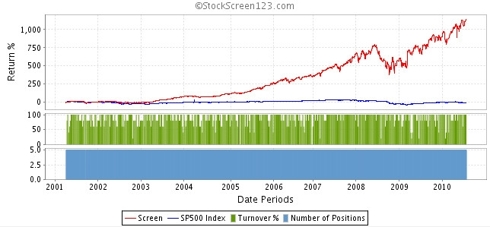 Figure 2 covers the past five years, a very challenging market environment that witnessed the fizzling of many strategies that had succeeded for a long time.
Figure 2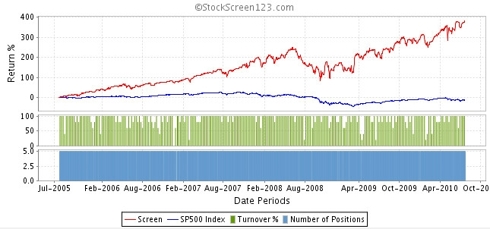 Disclosure: Long CUT, SEA, EWD, TUR, DES