Company Information
Universal Corporation (NYSE:UVV) is a leading tobacco leaf merchant. They are involved in the procuring, financing, processing, packing, storing, shipping, and sale of tobacco leaf. Universal Corporation sells tobacco leaves to the manufacturers of consumer tobacco products. They operate in 30 countries on five continents. Universal Corporation purchases tobacco from farmers throughout the world and then sell the processed tobacco to leading tobacco companies. They have also been working on manufacturing liquid nicotine using tobacco leaves. This venture will prove critical should e-Cigarettes gain wider acceptance and cut into sales of conventional tobacco products. Recently they have announced a plan to expand into food ingredients. This will help diversify the company's revenue stream away from the tobacco industry. Universal Corporation has had a rough start to their fiscal 2014, but with new ventures on the horizon and expected improvements in their core business, things are looking up in the future.
Financial Information
In the past twelve months, Universal Corporation has had $148 Million in net income on $2.497 Billion in sales. When looking at data for the past few years, neither of these numbers seem abnormal. Based on the graph of the company's net income that can be found below, all appears well. However, $53.1 Million of Universal Corporation's earnings in the past year came from a favorable litigation outcome regarding Brazilian tax credits. In fact, Universal Corporation's segment operating income for their fiscal Q1 and Q2 of 2014 was far lower than in previous years. This is due in large part to a lack of carryover crop shipments. These carryover crop shipments were a major benefit to the previous year's Q1 and Q2. To further highlight their poor performance, Universal Corporation had negative cash flows from operating activities for the nine months ended December 31, 2013. This is a steep decline from $201 Million in cash from operations for the nine months ended December 31, 2012. Fortunately, the company had a strong third quarter that resulted in a 9% increase in income over Q3 2013. Management has indicated that they expect Q4 2014 will also show an improvement over results from the prior year.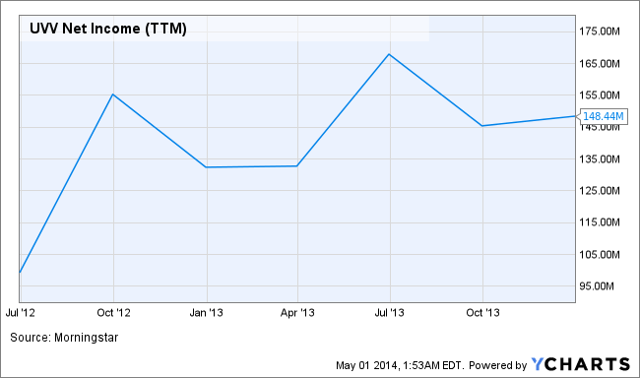 Using earnings for the past twelve months, Universal Corporation is trading at a P/E of 11.70. However, it is important to note that their recent earnings contain one time income from litigation over tax credits. When stripping out the $1.87 per share received from the tax credits, Universal Corporation's EPS falls to $2.83. The company also pays out a 3.70% dividend. Income investors have been particularly interested in Universal Corporation because the company has increased its dividend for 43 consecutive years. This is an impressive streak that demonstrates management's commitment to returning cash to shareholders. Universal Corporation's increasing dividend can be seen in the graph below. Analysts estimate that Universal will earn $5.68 per share in 2015. At current prices, Universal Corporation is being valued at less than 10x future earnings. When coupled with additional quantitative and qualitative information about Universal Corporation, this low forward P/E would seem to indicate an undervalued company.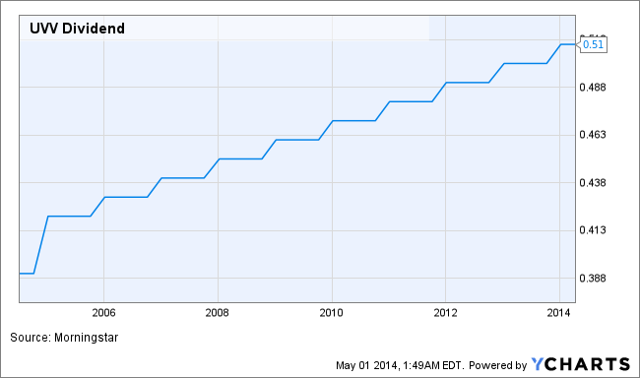 Universal Corporation has a healthy balance sheet with obligations that seem manageable. As mentioned earlier, the company has a sizable amount of cash on the balance sheet - $191.86 Million to be exact. They have over $1.7 Billion in current assets and $515 Million in current liabilities. This leaves Universal Corporation with net working capital of around $1.2 Billion and a current ratio of 3.37. However, inventory comprises a significant portion of Universal Corporation's current assets. When factoring this out, the company has a quick ratio of 1.59. Universal Corporation also has some long term liabilites. These include $245 Million of long term debt and a pension liability of $92.76 Million for their defined benefit pension plan. The company's net current asset value (Current Assets-Total Liabilities) is $789 Million. At current prices the company is trading at just over 1.6x its net current asset value. While this is not the bargain of the century, the company appears to be a good deal at current prices. Universal Corporations strong balance sheet will help them weather future troubles.
Catalysts
-Increasing Tobacco Consumption
The use of tobacco, and cigarette smoking in particular, is on the rise in many parts of the world. Obviously, this is a positive development for a company that sells tobacco leaves. Emerging markets are more than able to cancel out the declining number of smokers in the western world. The increase in the worldwide number of smokers is primarily due to population growth. Everyone knows that smoking rates are declining in western countries. However, many do not realize that the smoking rate is also falling in China and many other developing countries. Fortunately for those involved in the tobacco industry, population growth has resulted in major increases to the absolute number of smokers. Annual cigarette consumption has also increased worldwide over the past few decades. Despite declining smoking rates, population growth is increasing the number of tobacco users.
-Expansion into Food Products
On April 16th, 2014, Universal Corporation announced that it will begin producing food ingredients. This operation will be handled by Carolina Innovative Food Ingredients Inc, a Universal Corporation Subsidiary. Universal Corporation plans to spend $20 Million to construct a new factory in North Carolina. The company plans to focus on food and pet food products derived from sweet potatoes. Universal Corporation cites the growing consumption of sweet potatoes as a positive sign for the new company.This may seem like a strange step for a tobacco leaf seller, but the move is not as far fetched as it appears because sweet potato is often grown in rotation with tobacco. This venture will provide tobacco farmers, many of whom already deal with Universal Corporation, a new market for their sweet potatoes. Production is slated to begin in the beginning of 2015. This will be an interesting development to monitor going forward.
-Expansion into E-Cigarettes
Universal Corporation is also looking to expand into e-Cigarettes. In their most recent conference call, management stated that they have concluded the first trial run of their e-Cigarette cartridge and they are close to sending out samples. This is a well timed move by Universal Corporation, as Big Tobacco has recently begun its push into the e-Cigarette space. Given their existing position as a supplier of major tobacco companies, it seems feasible that Universal Corporation could also become the supplier of choice for e-Cigarette cartridges. Major tobacco companies seem poised to gain market share in e-Cigarettes because e-Cigarettes are becoming increasingly regulated. Regulations lead to cost increases and major tobacco companies will be able to bear these costs better than their smaller competitors. Universal Corporation has a clear path towards taking a key position in the e-Cigarette industry.
-Limited Competition
Universal Corporation operates as part of what could be described as a duopoly with Alliance One International (NYSE:AOI). Major tobacco companies need to use these two companies to meet the large volume of tobacco leaf that they require. Interestingly,in their annual report, Universal Corporation mentions that their other major competitors are their own customers. Many larger tobacco companies are somewhat vertically integrated and periodically purchase tobacco directly from farmers. To date, this does not seem to have had an impact on Big Tobacco's reliance on Universal Corporation. Universal Corporation's strong relationships with small farmers around the world gives them a major advantage over larger tobacco companies that do not commit the same amount of resources to purchasing at a local level.
Risks
-Issues with Crops
The primary concern with Universal Corporation is that they are very sensitive to the results of the tobacco harvest. Excess rain, droughts, storm patterns, and temperature changes can have disastrous effects on the tobacco harvest. Like all crops, tobacco is only grown at certain times of the year. Universal typically purchases tobacco in Brazil from January to July. African tobacco is bought from April through November. Finally, US tobacco is sold starting in late July and the selling lasts for about four months. Luckily for Universal Corporation, these harvests are spread out across different times and regions so as to minimize the risk of a poor harvest on all fronts. A weakness in one region can sometimes be neutralized by strength in another. For instance, in the past few quarters higher volumes of African crops have balanced out lower volumes coming from Brazil. Famed investor Warren Buffett talks about farming in a letter to shareholders and he mentions that, "There would, of course, be the occasional bad crop and prices would sometimes disappoint. But so what? There would be some unusually good years as well, and I would never be under any pressure to sell the property." This would also seem to be a good way to approach a long term investment in Universal Corporation. Investors should be aware that due to poor harvests or price changes, a graph of Universal Corporation's earnings may not always resemble a neat upward sloping line.
-Exchange Risk
Like most other international companies, Universal Corporation is impacted by exchange rates. Payments to tobacco farmers are denominated in the local currency. Universal Corporation also provides advances to farmers. These are also made in the local currency. Exchange risk is usually limited to purchasing because most of Universal Corporation's tobacco sales are denominated in US dollars. While they purchase from small farmers throughout the globe, they sell primarily to large multinational tobacco companies. Since the US dollar is the world's reserve currency, it is often used in these sort of transactions. While mostly limited to the purchase of tobacco crops, currency effects can still have an impact on Universal Corporation. .
-Small Cap Risks
With a market cap of around $1.28 Billion, Universal Corporation is a small cap stock. Because of this, Universal Corporation has risks that are nearly universal in small cap equities. Liquidity can be a concern with shares of smaller companies. Fortunately, Universal Corporation has the benefit of being listed on the NYSE and it trades regularly. Shares of smaller companies can also be more volatile than their larger counterparts. I do not consider volatility to be the same as risk, but it is important that those considering Universal be comfortable with watching the price of their holdings fluctuate. Universal Corporation has an elevated risk profile by virtue of being a small cap stock.
Conclusion
Universal Corporation sold off significantly after they announced their Q1 2014 earnings. This was due to a significant drop in segment net income that was caused, in part, by smaller crops grown during fiscal 2013. Their most recent quarter has shown an improvement towards a more normalized level of earnings. Investors will be able to see if this trend continues when Universal Corporation reports its earnings in about one week. It is important to note that throughout the recent period of uncertainty, Universal Corporation's balance sheet remained strong. The company also has plans for expansion. Universal Corporation has announced plans produce nicotine cartridges and food additives. Both of these tie in with their existing tobacco business and are potential sources of increased profits in the future. Periodic times of decreased earnings can be expected in companies that are highly reliant on crops. This is not a failure by the company, but merely an inevitability when dealing with crops. The occasional bad harvest should have investors running towards Universal Corporation to take advantage of unwarranted drops in share price.
Disclosure: I have no positions in any stocks mentioned, and no plans to initiate any positions within the next 72 hours. I wrote this article myself, and it expresses my own opinions. I am not receiving compensation for it (other than from Seeking Alpha). I have no business relationship with any company whose stock is mentioned in this article.