This Great Graphic, created on Bloomberg, shows the Italian premium over Germany on 10-year sovereign borrowing (white line) and the euro (yellow line). ECB President Draghi held out the possibility of new initiatives next month. This helped drive Italian (and Spanish) bond yields to new record lows. At the same time, the euro is staging a key reversal. It recorded its new highs since early Q3 2011 before selling off to new lows for the week.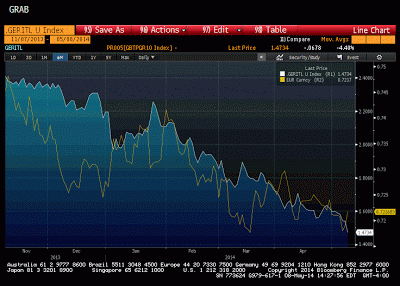 There have been other times in the past several months that the euro has been decoupled from the interest rate spread. While we picked the Italian bonds, Spanish bonds would essentially tell the same story. Foreign buying of European peripheral debt, in the context of 1) economic recovery; 2) reduction of perceptions of redenomination risk; 3) decline in default risk; and 4) a world still characterized by ample liquidity, helps explain the strength of the euro. In turn, the strength of the euro has coincided with the erosion of volatility.
Draghi's comments triggered the largest reduction of Italy's premium over Germany in two months. Today's move was the third largest this year (almost 7 bp). As the chart shows, even though the two time series have trended lower, there have been short-run divergences. Today is one of those occurrences. The technical tone of the euro has weakened and a break of the 20-day moving and retracement objective in the $1.3835-45 area would signal a further correction toward $1.3780.
It probably requires a break of the $1.3675 area to suggest a more important topping pattern. Recall that for about five months (Oct 13-March 14) the euro was largely confined to a five-cent range between $1.33 and $1.38. It was Draghi's comments and lack of action that pushed the euro through the top in March. At the April ECB meeting, Draghi was a bit more successful in softening the euro, but within a few days it began to climb again. Short-term euro bulls were dealt a setback today and the price action reinforces the significance of the $1.40 level, but the medium-term drivers remain in place.
Disclosure: I have no positions in any stocks mentioned, and no plans to initiate any positions within the next 72 hours. I wrote this article myself, and it expresses my own opinions. I am not receiving compensation for it. I have no business relationship with any company whose stock is mentioned in this article.