Chelsea Therapeutics (NASDAQ:CHTP) is a biopharmaceutical development company that acquires and develops innovative products for the treatment of a variety of human diseases. Their pipeline consists of Droxidopa (indicated for use in Neurogenic Orthostatic Hypotension, Fybromyalgia, and Intradialytic Hypotension, Adult ADHD, and Chronic Fatigue), and CH-4501 (indicated for use in Rheumatoid Arthritis).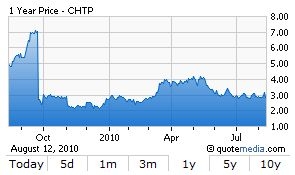 Chelsea's latest stage drug is Droxidopa (also known as Northera), which is currently in two pivotal phase 3 trials for the treatment of Neurogenic Orthostatic Hypotension (NOH). They completed one phase 3 trial last year, which missed the primary endpoint, yet did very well in other endpoints. This caused the stock to drop from ~$7.50 to ~2.80s. Chelsea then announced they were going to meet with FDA to discuss changing the primary endpoint in their second phase 3 trial – the FDA said yes, and Chelsea changed the primary endpoint of Study 301 to an endpoint that had previously demonstrated a statistically significant improvement in NOH patients. Data from Study 301 are expected in September.
In the 2nd quarter earnings report (see conference call transcript here), the CEO had this to say about Study 301,
Having increased the total number of patients and implemented a new endpoint that previously demonstrated a statistically significant symptomatic improvement in this patient population, we eagerly look forward to the results of Study 301 in September.
Northera is also in another pivotal phase 3 trial in NOH – Study 306 – this study is for Parkinson's Disease patients with NOH. Data from Study 306 are expected in the 2nd quarter of 2011.
The market size for Northera in NOH is around $200-$300M. If you take the high end ($300M) of that estimate, divide it by the number of outstanding shares (40.2M), you reach a price per share of $7.46. Please note that this is with a 1x earnings estimate – most companies trade on a 3x, 5x, and sometimes even a 10x earnings ratio. We believe that with positive trial results from Study 301, the stock could possibly see $5-$6 per share.
However, Droxidopa is not all that Chelsea has in their pipeline. They also have CH-4051, which is indicated for the treatment of Rheumatoid Arthritis. CH-4051 is preparing to enter into a phase 2 trial – Chelsea announced with their 2nd quarter earnings that they had submitted additional CH-4051 preclinical data and revised protocol for Phase II trial in rheumatoid arthritis to the FDA. If CH-4051 is successful in the above mentioned phase 2 trial, subsequent phase 3 trials, and if it can demonstrate a significant advantage in safety and efficacy over the current Rheumatoid Arthritis treatments (I.e., methotrexate), it could potentially become a blockbuster drug.
As you can see, there is a reason to invest in Chelsea based solely on the short-term potential of Droxidopa, and when you combine the potential of CH-4051, it goes to show that Chelsea isn't just a short-term trade, but also a long-term hold.
Disclosure: Author is long CHTP