There are few things in life that are certain and even fewer things certain in the investing world. One trend that is almost certain to occur is the continual Internet adoption in China. China has been in the news lately due to a slowing economy, which says nothing about recent news of the U.S. economy actually contracting the last quarter. China without a doubt is slowing down from its double-digit growth years but the economy is still growing and there is that undeniable fact of a lot of Chinese people. China is still the most populated country in the world with India coming in strong. The World Bank currently pegs the Chinese population in 2013 to be around 1.35 billion people with India a bit above 1.2 billion as shown in the following figure.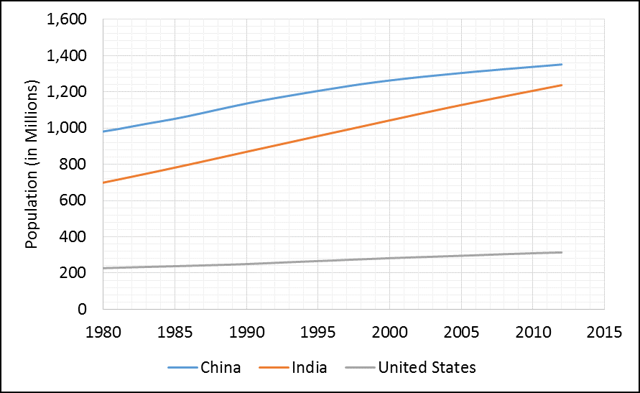 Figure 1 - Population growth for China, India and USA (World Bank)
This number could have easily been higher if not for the one child policy instituted by the Chinese government. This huge population has helped push China to become the second largest economy in the world next to the United States, overtaking Japan. So where does the Internet come into all this. A bigger population means a larger audience for companies to push products and services towards. With less and less people watching TV, the advertising dollars is going towards the Internet, which is pulling a larger and larger audience. China with its large population and standing as an economic power for the next few decades, Internet adoption in China is lower than most of the developed world. Below is a figure showing the Internet usage statistics for the major economies in 2009 and 2013.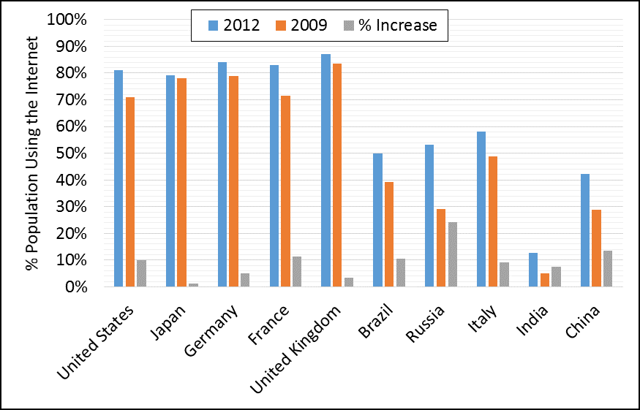 Figure 2 - Internet usage statistics between 2009 and 2013
In 2013, most of the largest economies are above 50% with the highest Internet user percentage belonging to the United Kingdom, France, Japan, Germany and the United States. There are most Chinese Internet users but in terms of percentage of population, only 42.3% of people in China are connected. The momentum to close the gap between China and the big five countries is there. Since 2009, only Russia has grown faster than China in Internet adoption percentage. If the pace continues, China will have almost 78% of the population connected to the Internet in 2020. Even if the Chinese population remains stagnant until 2020 (highly unlikely assumption), that is an additional 480.6 million Internet users in China or a total of over a billion Chinese Internet users. By 2020, there is a chance that most if not all entertainment is derived from the Internet with a larger percentage of advertising money funneled away from other media outlets and focusing on the Internet.
In the United States, Google has revolutionized how advertisers view the Internet. By dominating search and maps, Google has commanded billions of dollars per year in advertising dollars. This trend is only going to grow as consumers spend an increasing percentage of time on the Internet. Competition in China is always fierce, and the Internet is no different but two companies have stood out in terms of dominating the Internet space in China, Baidu (NASDAQ:BIDU) and Qihoo 360 (NYSE:QIHU).
Market Leaders: Baidu and Qihoo 360
Baidu has been the market share leader in search within China for some time now with over 60% of the market share. Due to this dominant share of search, Baidu has been called the Chinese Google. Along with search, Baidu products and services include maps, cloud storage, and app developing. Baidu is also looking into expanding to other large Asian markets including Japan and South Korea. Qihoo 360 dominates the Chinese Internet through security. Qihoo 360 possesses two of the industry leading security software packages: 360 Safe Guard and 360 Anti-Virus. Dominant is the only term to describe Internet security and Qihoo with Qihoo covering 94% of the PC market share and over 70% of the mobile market share. The real amazing development was in 2012 when Qihoo entered the Internet search domain. In short order, they captured 20% of the Chinese search market share and the #2 position behind only Baidu. Qihoo aims to capture 30% of the market share by the end of 2014 and with the growth projections, they may hit that mark. The below figure shows the change in Internet search market share between the end of 2012 and the end of 2013.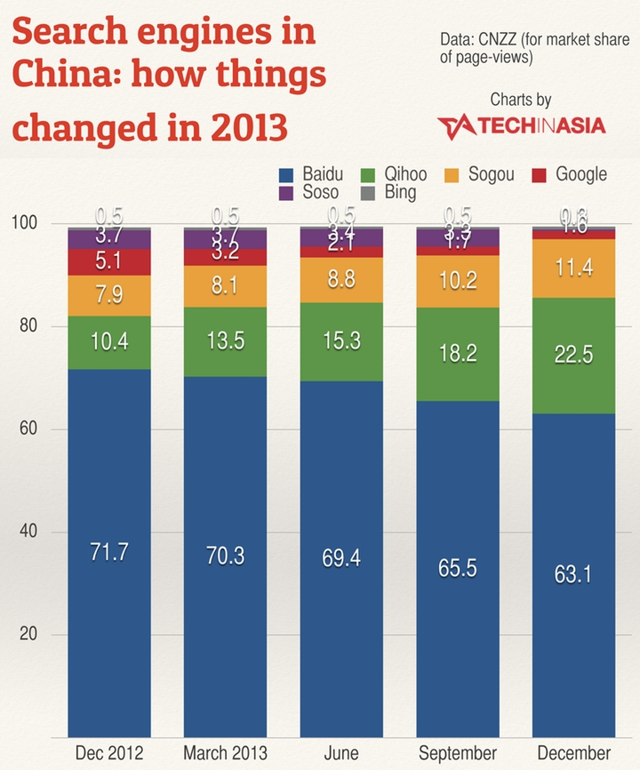 Figure 3 - Search engine market share between 2012 and 2013.
In the past couple of years, there has been some market share gained by Qihoo at the expense of Baidu but combined their market share has been steady at about 80%.
So Baidu is the leader in search and Qihoo the leader in Internet security but how do they perform financially. All sources for the tables were obtained through the company profiles from the Motley Fool. Table 1 looks at some financial metrics for the trailing twelve months.
Table 1 - Financial Comparison (Past 12 Months)
Parameter
Baidu
Qihoo 360
Market Cap
$55.3B
$10.5B
P/E Ratio
30.3
100.1
Gross Margin
61.9%
93.7%
Net Profit Margin
29.2%
14.6%
Return on Assets
10.8%
6.2%
Return on Investments
13.7%
7.3%
Baidu is about five times bigger than Qihoo with a longer financial history. The gross margin for Baidu is very strong while Qihoo is superb at almost 94%. Net margin, ROA and ROI are all favoring Baidu though both companies are making money and get returns for their investments. Both companies are expensive from a price-to-earnings perspective. As a comparison, Google trades at a P/E ratio of 27.1. Table 2 is where we see the true value in both companies and possibly justify the high P/E ratios.
Table 2 - Revenue and EPS Growth Metrics
Parameter
Baidu
Qihoo 360
Revenue Growth (1 year)
47.5%
104.0%
Revenue Growth (3 year)
56.2%
123.3%
EPS Growth (1 year)
2.6%
110.6%
EPS Growth (3 year)
44.5%
97.6%
Baidu has been growing at an incredible pace while Qihoo has been doubling revenue and earnings consistently. The EPS growth for Baidu for 1-year needs context as Baidu has invested heavily in mobile. 80% of Internet users used mobile to access the web using a smartphone in China. With this shift away from traditional desktop and moving towards mobile, how Baidu and Qihoo monetize mobile will be a key to any investment thesis. The next couple of tables compares key income statement (Table 3) and balance sheet (Table 4).
Table 3 - Income Statement Comparisons
Parameter
Baidu
Qihoo 360
Sales
$5,271.07
$671.09
Gross Profit
$3,815.70
$628.54
R&D Spending
$677.67
$255.25
Net Income
$1,708.86
$97.85
% R&D Spend to Sales
12.9%
38.0%
% Net Income to Sales
32.4%
14.6%
Both companies have a healthy spend in R&D with Qihoo heavily investing back to R&D. As growth companies in technology, it is vital to invest back into the company and continue to innovate and push out new products and services to stay ahead of the curve.
Table 4 - Balance Sheet Comparisons
Parameter
Baidu
Qihoo 360
Cash and Equivalents
$1,599.24
$1,013.46
Current Assets
$7,100.24
$1,157.72
Long-Term Debt
$2,843.01
$600.00
Total Liabilities
$5,372.87
$832.00
Total Equity
$6,340.49
$736.89
Investing in growth companies is typically tough since companies need to invest heavily to grow which puts pressure on income and cash flow. Based on the income statement and balance sheets, both companies make a significant amount of money which gives them the financial strength to invest in mobile and other ventures including expanding, acquisitions, etc.
So far in 2014, growth companies have been hit hard as the markets cool down a bit after a huge 2013 for most companies and Baidu and Qihoo have not been immune to the weakness in the market. The following stock chart shows the returns YTD in 2014 for Baidu and Qihoo.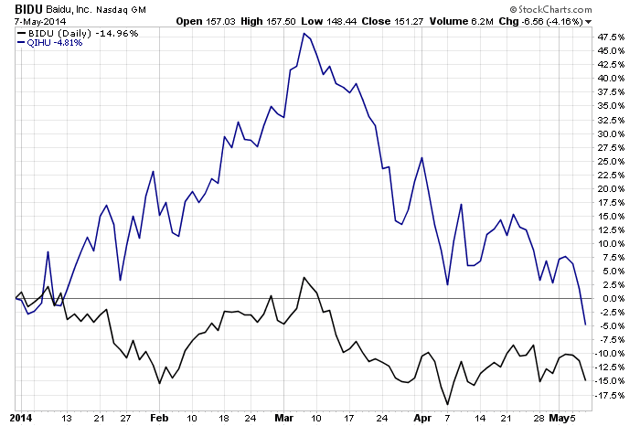 Figure 4 - Baidu and Qihoo stock performance in 2014.
Qihoo gained almost 50% before losing all of it. Both companies are down for the year, which may present a buying opportunity.
Final Remarks
Baidu and Qihoo are both Chinese Internet companies that are dominating search and Internet security. As the people of China continue to increase using the Internet, the revenues for both companies will increase. As growth companies, both are financially strong, have healthy balance sheets, and make money. They are also aggressively expanding into mobile, which is where Internet consumption is shifting toward. With the recent sell off for both companies, and the growth prospects, a position in Baidu and Qihoo may reap healthy returns in the mid-to-long term.
Disclosure: I am long QIHU, BIDU. I wrote this article myself, and it expresses my own opinions. I am not receiving compensation for it (other than from Seeking Alpha). I have no business relationship with any company whose stock is mentioned in this article.