The recent pullback in Rex American Resources (NYSE:REX) shares likely has created an unusual buying opportunity. The stock is now down 35% from its 52-week high set about six weeks ago (June 27th). The primary impetus appears to be the possibility that the EPA won't approve higher levels of ethanol in gasoline in the coming weeks as previously expected (E15 debate). However, the sell-off in the stock appears far overdone. At the current price of $13.75, after subtracting out corporate cash, real estate value and tax assets, investors are essentially getting Rex's ownership interest of approximately 191 million gallons of ethanol production for free.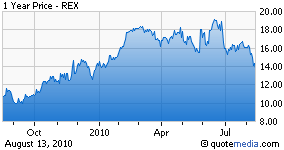 Rex American Resources is an ethanol producer with a reputation of being a savvy buyer and seller of ethanol plants, other alternative energy investments and other assets. The company is currently invested in five LLCs (two majority, three minority positions) that run a total of seven ethanol plants, including its recently announced acquisition of NuGen. Rex is profitable, earning $0.91 per share last year and appears on track to exceed this in 2010 despite tighter ethanol margins. However, the more interesting side of Rex is the asset play:

1) $8 per share in net cash

At the end 1Q, the company had $86 million in unencumbered corporate cash. After taking into account the purchase of NuGen and other 2Q activity, the company likely ended its 2Q (July 31) with an estimated $80 million in net corporate cash, or $8/share.
2) $3-$4.50 per share in real estate

The company has $31.6 million in real estate assets on the books, or $3/per share for real estate, including two distribution centers (DCs) and 39 former retail stores (mostly 11,000 square feet, standalone stores). However, I suspect using book value is low-balling the actual market value of the real estate as some properties were purchased many years ago, prior to the recent rise and fall in market prices. Based on the asking price for one DC, rent rate for part of the other and an old appraisal, I suspect the DCs are currently worth $15 million in total. A large portion of the 39 stores were leased out in 2009 to a tenant who negotiated an option to buy them at the average price of $883,500-$959,250 per store, depending on the timing. The tenant ultimately got out of the leases because its expansion plans were not working, but the price negotiated at the end of 2008 seems a reasonable benchmark for the stores. Even assuming a haircut bringing the per store price to $800,000 each, the estimated market value of the former retail stores is approximately $31 million, bringing the estimated total market value for the real estate to over $45 million, or $4.50 per share.
3) $2 per share in tax assets

Rex has $20 million in tax assets, including a tax refund that has been filed for $7-$8 million. The balance of the assets is in tax credits generated from a former alternative energy investment (section 29 tax credits) that are general credits and can be used against any income.
Summary
$8 cash+$3-$4.50 in real estate+$2 in tax assets= $13-$14.50.

So at the current $13.75, investors essentially are getting valuable ethanol assets for free. How valuable are the ethanol assets? Ethanol companies' stock prices are down substantially from levels a few months ago. The enterprise value (EV) per gallon of public companies appears to be around $1.00-$1.10 currently, well below historical cost around $1.60-$2.00/gallon and more in line with all-in prices paid for plants in bankruptcy in 2009. However, even if you assume the currently depressed price of $1.05 EV/gallon, the value of Rex's ethanol assets is approximately $6 per share. If you assume the price high-quality plants have sold for and a price closer to where the market was for most of this year ($1.25/gallon), it's $10 per share.
Add it all up and you get a target price for REX of approximately $20-$25.

Disclosure: Long RSC