This was a terrible week for most investors. You will read a lot of commentary about the Fed actions causing the market correction. Let me refresh everyone's memory as to what was said in the June 22 / 23 meeting:
A majority of participants continued to anticipate that asset sales would start after the Committee had begun to firm policy by increasing short-term interest rates; such an approach would postpone asset sales until the economic recovery was well established and maintain short-term interest rates as the Committee's key monetary policy tool. A few participants suggested selling MBS and using the proceeds to purchase Treasury securities of comparable duration, arguing that doing so would hasten the move toward a Treasury-securities-only portfolio without tightening financial conditions.
Talk about telegraphing their moves. Here is a portion of the FOMC August 10th statement that talking heads said caused the market sell off:
To help support the economic recovery in a context of price stability, the Committee will keep constant the Federal Reserve's holdings of securities at their current level by reinvesting principal payments from agency debt and agency mortgage-backed securities in longer-term Treasury securities. The Committee will continue to roll over the Federal Reserve's holdings of Treasury securities as they mature.
To the critics of the Fed, I say the FOMC has no magic wand within monetary policy to correct for the structural problem causing literal zero jobs growth. For starters this was a credit induced recession triggered by asset deflation. With open borders, products can be produced anywhere in the world – and more and more production is now occurring in countries with significantly less regulations, lower taxation, and lower labor costs. So it comes as no surprise that this week initial unemployment claims remain above levels where jobs growth can occur.

Low employment to population ratios remains the major headwind to true economic growth – and the hardest one to solve.
Without employment gains, we remain trapped in the Japanese L recovery triggered by asset deflation. And the joke to me is that even the Japanese were able to maintain employment. So in many ways, we are in a worse situation. The Japanese L is not a good place to be as there is no proven solution – only theoretical solutions offered by economists who never foresaw our economic disaster, and until recently rejected that a Japanese L was possible.
I have been ranting for three years now about the inability of the Fed to stop the decline of the employment / population ratio that began in 2000. When the recession bit in late 2008, I realized that the Fed had no weapons against the structural issues causing declining employment. Monetary policy cannot overcome a negative business regulatory environment.
One of the brutal results of this asset deflation and high unemployment growth is the starving of state and local governments of revenue. Using budget cutting as their only weapon, programs are being cut in schools – especially secondary schools. For most of our labor force, this is their highest level of education.
We currently have 2.9 million unfilled job openings awaiting qualified candidates. There are a range of reasons including lack of experience, inability to relocate (because you cannot sell your existing house), and lack of education for entry level positions. Lowering education levels while the education levels of most emerging economies are now surpassing the USA paints a continuing negative trend scenario.
Imagine, having to set up a machine shop in Thailand because you cannot train USA operators due to remedial math skills. And our ability to teach and learn in English is impaired. All are impediments to having a skilled workforce.
I remain convinced the market is trading in the proper range, and similarly convinced we are in the Japanese L. As I look at data unadjusted, it is all painting a picture of an economy which has stalled, but still has a slightly positive bias. The economy is bouncing around in typical MoM ranges for June and July – no growth or decline trend evident except growth in imports. You can look at the pretty graphs for the data released this week and draw your own conclusions.
Note that the graphs are unadjusted data which has seasonal characteristics, and therefore data is analyzed YoY. The problem with the headline seasonal adjustment factors is that we are viewing data which includes a crushing recession year. How does this effect seasonal adjustments? What is the adjustment for the new normal? Even in normal expansion, the data bounces around – and to say with any accuracy that a 0.5% improvement / decline occurred requires a high dose of medication. My position is that unless the data is clearly improving or contracting – the data is flat.
The consumer price index (CPI) for the month of July 2010 grew 0.3% MoM (0.1% less food and energy). I do not believe MOM changes can be taken to the bank for a variety of reasons – but the general downward trend line of inflation remains unbroken.
As predicted by June container counts published a month ago, the US trade deficit grew in June 2010 to almost $50 billion. You can expect further deterioration in the July trade balance based on the July container counts published this week. Exports seemed not to grow in June while import growth trends continue.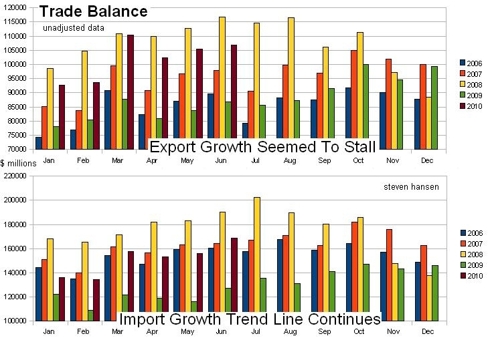 Retail sales for July 2010 remain flat MoM. Note that some analysts like to pull retail sales apart but my position is that you only have so much money to spend.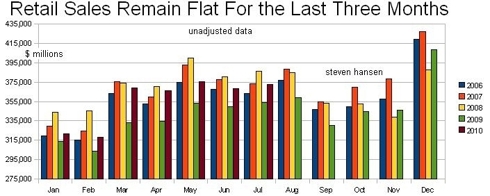 Business sales were flat in June 2010.

Looking Ahead
I do not see any evidence of a double dip at this point. My continual warning is that when the economy is showing no real growth, even small new headwinds can pull the economy negative. This weeks ECRI's Weekly Leading Index (WLI) release improved from -10.3 to -9.8. The WLI is my favorite leading indicator. Lakshman Achuthan, managing director of ECRI stated:
"The WLI plummeted for two months through late June before flattening out and then rising to a nine-week high. But if it turns down once again, that would signal heightened recession danger."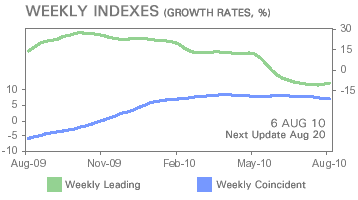 I am a firm believer the economy's future is telegraphed by transport indicators. They remain mixed. Import container counts are rising, while export growth appears to stall – this foreshadows a growing trade balance for July 2010.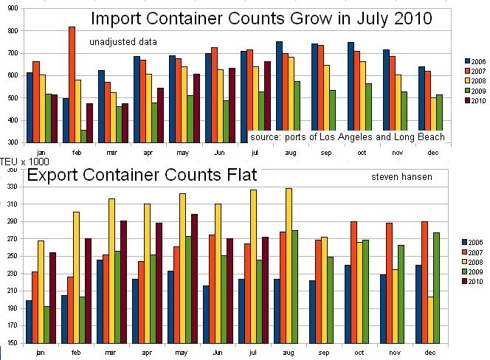 Rail counts fell in July 2010 – but historically always falls in July. Intermodal traffic remains strong.

Truck tonnage for July will be released later this month. Using the July 2010 Ceridian-UCLA Pulse of Commerce Index™ as a proxy – diesel use remains strong.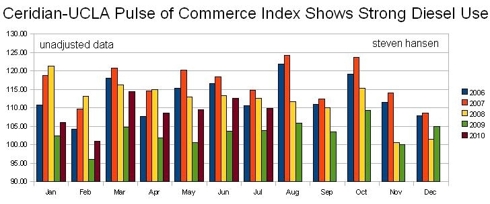 There is nothing in the transport indicators which suggests a double dip at this point.
Bankruptcies this Week: Legendary Investors Group No. 1 and East West Bank

Disclosure: GDX, EGO, IAG, SLW, AEM, HL and various options not exceeding 5% of portfolio value