If global standards of living continue to rise, more people will begin to take pride in their homes and home improvement warehouses will be there to meet their needs. Consequently, Lowe's (NYSE:LOW) and Home Depot (NYSE:HD) are the largest participants in this market and stand ready to make good returns with improving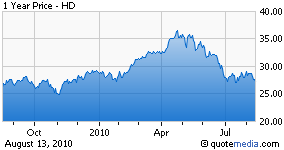 economies. Lowe's and The Home Depot were incorporated in 1946 and 1978, respectively, and were both hit hard by the current financial crisis. On the other hand, the companies operate with a satisfactory amount of cash generation and could possibly be poised to expand during an economic rebound. Most customers find the two companies indistinguishable, but one company may be a better investment than the other. The following analysis is a brief attempt to determine the long-run winner. The chart and list below begin the itemization of the two companies:
In millions of US dollars, except employees:
Lowe's 2009 (left) and Home Depot 2009 (right)
| | | |
| --- | --- | --- |
| Assets | $33,005 | $40,877 |
| Liabilities | $13,936 | $21,484 |
| Long-Term Debt | $4,525 | $8,662 |
| Shareowners' Equity | $19,069 | $19,393 |
| Market Cap (8/13/10) | $28,000 | $45,890 |
| Net Sales | $47,220 | $66,176 |
| Net Income | $1,783 | $2,661 |
| Employees | 228,729 | 317,000 |
Lowe's stores by region:
U.S. …. 1,694
Ontario .….16
Total … 1,710
The Home Depot stores by region:
U.S. …....1,976
Canada.....179
Mexico…....79
China .……10
Total … 2,244
To further the comparison, Lowe's had a better run during the past several years as compared to Home Depot. While Lowe's was executing smoothly, The Home Depot was overpaying executives and experiencing high management turnover along with a failed EXPO Design Center, a chain of higher-end home decorating and appliance stores that was closed in 2009. Consequently, it appears that Lowe's has a better balance sheet and operating results than The Home Depot for the past several years as illustrated in Standard & Poor's long-term debt rating. Lowe's boasts an A rating while Home Depot comes up a little short with a BBB+. However, Home Depot also pays a higher annual cash dividend of $0.911/share versus Lowe's $0.355/share, which may have some effect on the debt rating. Also, Home Depot recently solved their financial and operational problems
(read about it here)
and appears to be on the same footing as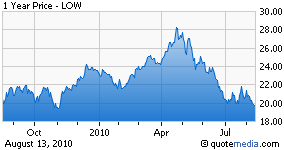 Lowe's once more.
On average, the average home improvement customer tends to regard Home Depot and Lowe's as nearly identical and tends to frequent the store closest to his or her home. Therefore, their competitive landscape appears to be defined by the best real estate location and customer development. Home Depot has already expanded to four different cities in China and seems to be winning the global real estate battle by that metric alone. Home Depot is gaining some tremendous operating experience in China and should be able to translate that into faster expansion. In addition, both companies are trading at almost the same P/E but Home Depot has a higher dividend yield, which, if the companies are nearly identical, would make Home Depot a better bargain. For those reasons, I'd invest in Home Depot. However, both companies seem to operate in an oligopoly competitive environment and should be able to maintain higher profits despite competition with one another. Investment in both companies could be warranted for the investor seeking long-run returns.


Disclosure: The author has no positions in HD or LOW at the time of writing this article.