Valero Energy Corporation (NYSE:VLO) serves as a manufacturer of transportation fuels, other petrochemical products and power. The company has recently reported its Q1 FY 2014 results that made several analysts increase their price targets on the company's shares and upgrade its ratings. Cowen and Company and Barclays (NYSE:BCS) increased their price targets on shares of Valero Energy from $60 to $70 and $70 to $75, respectively. The stock is currently trading at around $57.71, so these price targets indicate handsome upside potential for the company's investors to gain from.
Beginning with a discussion on the company's performance in the recently reported quarter, in this article I will determine its future outlook with respect to the factors that will support its performance and position in the coming years.
A Great Start to FY 2014
Valero Energy concluded its Q1 FY 2014 on a strong note. The company's total revenue increased 0.6% year-over-year in Q1 FY 2014 to $33.66 billion from $33.47 billion and also above Thomson Reuters' estimate of $32.95 billion.
The company reported a net income of $828 million (up 27% in comparison to Q1 FY 2013), or $1.54 per share, also beating analysts' estimates of $1.38 per share. This growth in the company's bottom line was supported by higher refining throughput margins and volumes in each of the company's regions, with the exception of the U.S. Mid-Continent (see table below). The company's margins increased due to cheaper crude oil as new pipelines bring in cheap inland U.S. shale oil, resulting in more crude oil flowing to the Gulf of Mexico. Additionally, other grades of crude like Mexico's Mayan also traded at strong discounts.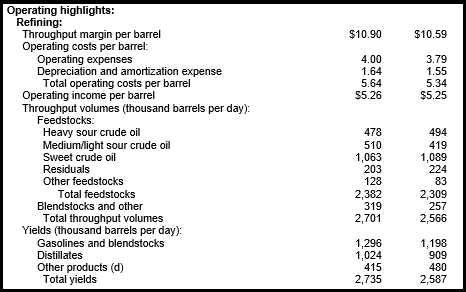 Source: VLO Investor Room Release
Additionally, the company's ethanol segment realized a record operating income in Q1 FY 2014. The company's ethanol production generated an operating income of $243 million in Q1 FY 2014 compared to $14 million in Q1 FY 2013 (see table below).

Source: VLO Investor Room Release
During 2013, a surplus of oil was accumulated at the storage hub in Cushing, Oklahoma due to a lack of infrastructure in the form of open pipeline space to transport oil to refineries in Texas and Louisiana. As a result, the Gulf Coast refiners were stuck importing more expensive crude from abroad or paying higher transportation costs to carry and transfer U.S. oil on rail tankers from places like North Dakota. However, the situation has improved in the current year as new pipelines are transporting oil from Cushing tanks, and now that supply is piling up at the Gulf. Therefore, the gush of cheap crude has forced down the price that Valero and other refiners pay to get oil that they refine into gasoline, diesel and jet fuel. These market conditions are expected to prevail in Q2 FY 2014 and are likely to lift up the earnings of the Gulf Coast refiners such as Valero as more crude will be available for them to process.
The Situation is Likely to Prevail Further with Valero Outfitting itself for Success
Thanks to developments in the U.S. shale oil, there has been a remarkable turnaround in the trend for domestic crude and gas production (see graph below) resulting in lower costs for the U.S. refiners and more supply of crude oil as infrastructure in the region improves. The North American crude production forecasts, as shown in the following table, project tight-oil production to reach more than 4 million b/d in 2015 and further increase to more than 8 million b/d by 2020. Along with other factors, this rise in the North American crude production has altered the U.S. crude supply landscape, allowing refiners to significantly reduce reliance on imported crude oils.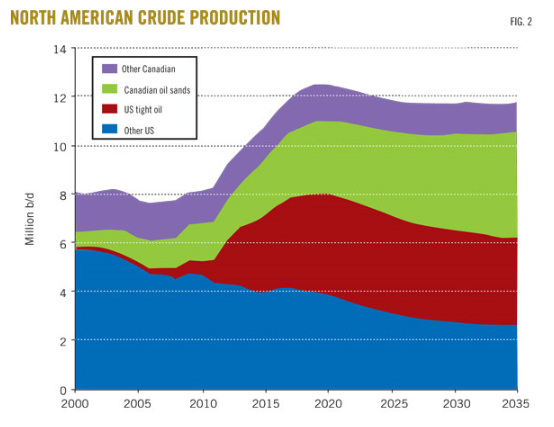 Source: Oil and Gas Journal
While the current and forecast rise in domestic crude oil supply in North America will continue benefiting the U.S. refiners in terms of production, Latin America will present a great market for refined products from the U.S. The rapidly growing demand, altering regulations, and a tough and expensive project environment in Latin America will offer a passage for increased production from U.S. refineries also favoring better days ahead for U.S. refining.
Valero is also growing its oil carriage by rail transportation network. The company's rail-unloading facility in Port Arthur, Texas is anticipated to be completed in Q4 FY 2014. This will increase Valero's access to cheap North American crude oil. At the company's plant in Quebec City, 45% of the crude it processes is now cheaper North American oil, a proportion that is projected to rise to 100% by the end of FY 2014 after a pipeline setback.
The flourishing domestic U.S. crude output is mainly light sweet that can require refiners to cut rates if plants are not reconfigured to process more than they have processed conventionally. Valero is constructing distinctive "crude topper" units at its Houston, Corpus Christi and Three Rivers refineries to escalate light sweet crude processing capabilities. Lacking such adjustments, heavy amounts of light sweet crude coming in can encounter restraints like distillation units incapable to handle more vapors or hydraulic capacity restrictions. Other refiners alongside the U.S. Gulf Coast, such as Flint Hills Resources and Delek U.S. Holdings (NYSE:DK) with plants structured to process heavier crudes, similar to those produced in Canada or Venezuela, are initiating adjustments to make their plants capable of processing light-sweet crude.
Valero is also expecting to gain from the rise in fuel demand as the U.S. economy will recover and with the summer season ahead, the company's Chairman Bill Klesse is looking at positive U.S. gasoline demand and margins.
The Promising Future of Ethanol and Concluding Remarks
The company's ethanol operating income increased to $243 million from $14 million in Q1 FY 2014, receiving support from weather-related supply disruptions, lower industry ethanol inventories, import volumes and corn costs in comparison same quarter previous year. Valero has recently acquired its 11th corn ethanol plant in March 2014, reflecting the fact that the company is aiming to capitalize more prospects from its ethanol operations. The recently acquired ethanol plant has a 110 million gallon capacity and was located in Indiana in March. The company has plans to put the facility back in operation by the end of FY 2014. Expanding in ethanol could provide Valero with a competitive edge over HollyFrontier Corp. (NYSE:HFC) and Phillips 66 (PSX), as this will enable the company to sustain even if favorable circumstances in the wider refining industry start to fade.
The improvement in oil and gas infrastructure in North America has enabled U.S. refiners to take advantage of the cheaper U.S. shale oil that has impacted Valero's bottom line favorably in the recently reported quarter. The company is also aiming to enhance its carriage and refinery facilities to grow its production further as North American crude production is forecasted to grow. Latin America presents an attractive market to absorb the growing production by U.S. refiners at the Gulf Coast. Additionally, the company has also invested to expand its ethanol operations to provide it a competitive edge. Combined, all of these factors indicate the bright future of the company, therefore, I give it a buy rating.
Disclosure: I have no positions in any stocks mentioned, and no plans to initiate any positions within the next 72 hours.
Business relationship disclosure: The article has been written by a Gemstone Equity Research research analyst. Gemstone Equity Research is not receiving compensation for it (other than from Seeking Alpha). Gemstone Equity Research has no business relationship with any company whose stock is mentioned in this article.