I was wrong to say that post-earnings sell-off won't hit the $180 buy-in window I long waited for since early April. The Tesla (NASDAQ:TSLA) shorts and bears finally succeeded in hammering the stock to below $181. Prudence said I must wait for the Friday traders to probably make it cheaper. However, a small bet at $180 was long overdue on my part.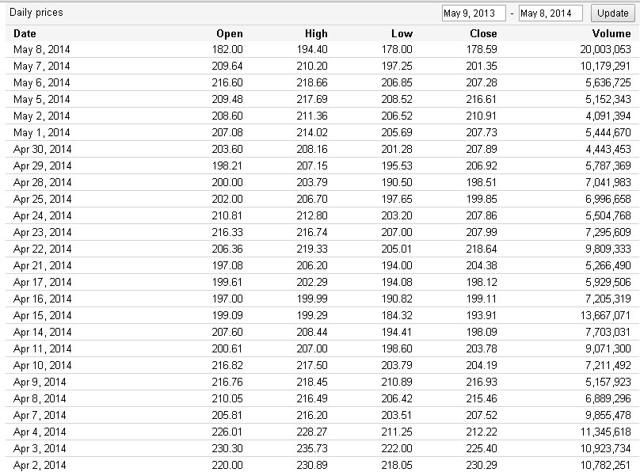 Source: Google Finance
The Mayo Ocho volume was double the Mayo Siete action. The big sell-off was attributed to the 'disappointing' Q2 guidance.
Tesla is a House of Cards?
I did not join a house of cards. Tesla is a very expensive house or club to get into. But Tesla is built on a small but lofty castle that's likely to live up to its pricey valuation. Elon's revelation that Panasonic has signed a letter of intent of joining the Gigafactory venture is the best highlight of the earnings call conference.
Gigafactory is very important for the future of Tesla. Musk even hinted that the 30% reduction in costs per kilowatt hour that Gigafactory will deliver can still be improved. His discussion with Panasonic and other pre-cost supply companies showed the overall savings has still fair chance of increasing.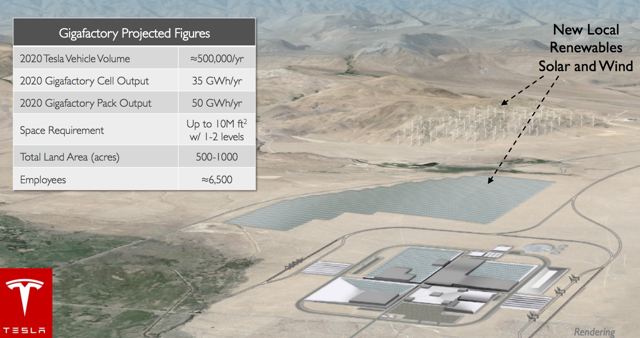 Source: Tesla
Musk has talked to nickel mining companies because nickel is the biggest cost component for the battery. Tesla is likely to get volume order discounts from nickel miners if Elon persuades them enough. Extra savings from the Gigafactory-made batteries can further be increased by directly acquiring other components.
Panasonic's letter of intent is just a formality towards final signing. Horse trading on profit sharing terms is delaying the official announcement but I expect Panasonic to make it happen soon. Musk's assurance that Panasonic will initially be the sole cell producer in the Gigafactory should further embolden the Japanese company. The Gigafactory is designed for a 35 gigawatt-hours cell capacity.
However, the pack capacity is 50 gigawatt-hours. Tesla will most likely order more cells from Panasonic to meet the other 15 gigawatt-hours requirements. The Gigafactory offers as much benefits to Panasonic as it does to Tesla. Elon is also being coy on where the Gigafactory will really break ground. He is still probably arm wrestling for more incentives from competing states. It doesn't really matter where it will be built, the important thing is that Tesla is not a house of cards and the Gigafactory is turning out not to be a gigafarce.
Weak Delivery Guidance Doesn't Mean Weakening Demand
I understand that Tesla's cautious Q2 note that it may only be able to deliver 7,500 Model S units is lower than the consensus estimate of 8,452 deliveries. Leasing is also predicted to be weak with only 200 deliveries predicted by the company.
This habit of predicting delivery volume instead of sales volume is not good for TSLA's performance in the stock market. Tesla bears always take this as a good excuse to say that demand for Tesla cars is weakening. However, Mr. Dalal already made it clear that based on Customer Deposits alone, the world is backlogging a very strong demand for the Model S and Model X.
Mr. Dalal pointed out that Tesla has $198 million in customer deposits and it is still growing. Mr. Dalal estimated that Tesla still has 13,000 Model S backlog. This is another compelling reason why my small bet on Tesla is judicious. Apple (NASDAQ:AAPL) is also having a problem delivering its much in demand Mac Pro 2014 computer. These two companies have high-priced products that are coveted by many people who willingly wait a long time because the products are worth it. The difference between the two is that nobody dares short Apple in a big manner like Tesla bears are doing now.
The Teslamotorsclub.com's reservation tracker also gives a clue that the delayed Model X is very much in demand.

Elon explained the lower than consensus 7,500 delivery guidance for Q2. He said Tesla is still constrained by cell supplies for the first half of 2014. The cells are made and shipped from Japan and Elon only expects the supply to improve during the third quarter. What is important is that Tesla already sold all of its car production for the entire second quarter.
Tesla bulls should rally back next week because Tesla is indeed a monster hyper-growth company with environmentally-friendly products that enjoy hyper-demand.

Source: markets.ft.com
Conclusion
My action does not mean Seeking Alpha users should follow my lead. Please do your own due diligence and decide whether you can accept that Tesla is very volatile and is likely headed for more drops. Tesla might suffer the fate of 3D Systems (NYSE:DDD) who crashed hard after its January flight.
TSLA is a very expensive jagged little pill that believers dare swallow because we believe in the company's potential for long-term gains. The Gigafactory project is well on its way towards a possible ground breaking next month. Tesla's hyper-valuation now may even go even higher once the company starts delivering GEN III or other mass-market EV cars.
The BarChart.com short-term indicators tell us all that TSLA is likely headed towards more dips. Bet at your own risk, park your money at your own risk. TSLA might be a falling knife like Twitter but hey, making cars offers more potential than advertising on tweets.
I just take comfort that BarChart's analysts still rate TSLA a Hold - which agrees with the math and rating of Alpha Omega Mathematica.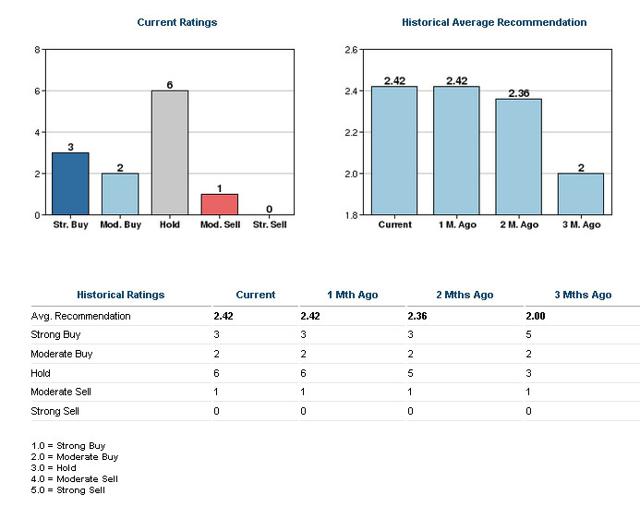 Source: Barchart.com
I trust the analysts at Ft.com's sales projection for 2014 ($3.74 billion) and 2015 ($5.36 billion) as highly feasible. The Chinese market will likely contribute 5,000 sales this year. Despite the cell supply constraint, Tesla is still on track to deliver 35,000 cars this year. Panasonic will help this company deliver 500,000 cars by 2020.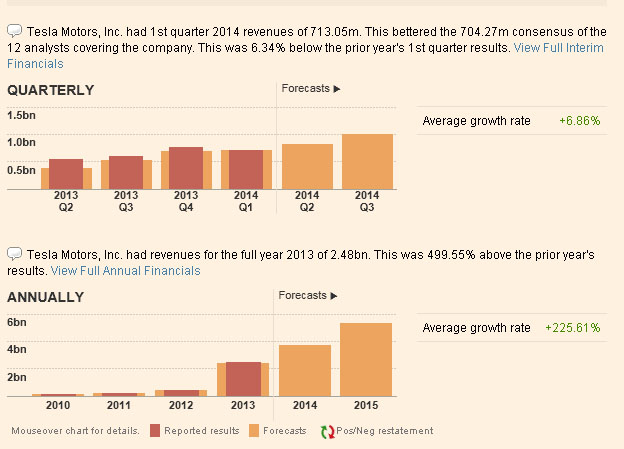 Disclosure: I am long TSLA, DDD, AAPL. I wrote this article myself, and it expresses my own opinions. I am not receiving compensation for it (other than from Seeking Alpha). I have no business relationship with any company whose stock is mentioned in this article.