The chart below shows the performance of semiconductor sector IPOs since the start of trading. Since InsideChips began tracking semiconductor IPO performance on January 1, 2005, only two companies, Hittite Microwave (NASDAQ:HITT) and Cavium Networks (NASDAQ:CAVM) fared well for investors who purchased the stock at the opening price -- 70% plus gain for investors. GSI Technology (NASDAQ:GSIT) and Entropic Communications (NASDAQ:ENTR) had modest gains (8 to10%).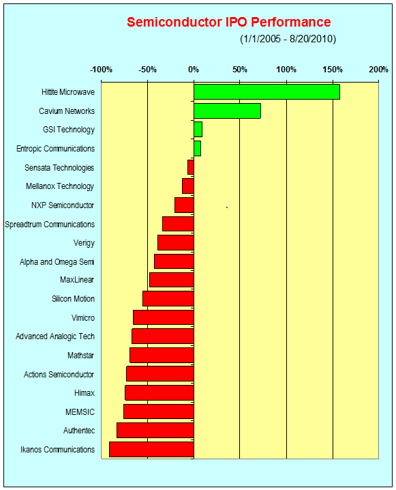 All others are showing mild to significant losses with average gain/loss being -30.5%. As a rough comparison, the Philadelphia Semiconductor Index (SOX) has declined 23.3% in the same timeframe – indicating that IPOs underperformed the SOX index.
PixelPlus, a Korean supplier of CMOS image sensor and imaging ASICs, went public in December 2005 but was de-listed due to its financial condition. Qimonda, a memory spin-off from Infineon, went public in August 2006 but entered insolvency proceedings two years ago. Saifun Semiconductors, an Israeli non-volatile memory IP provider, was acquired by Spansion (
SPSN
), a Japanese pure-play provider of Flash memory solutions. Spansion itself, which went public in December 2005, is mired in financial difficulties. Quimonda (
QI
) which went public in August 2006 has suffered financial difficulties as the industry went into a severe downturn in 2009.
The IPO window has been closed for semiconductor companies following a protracted period of retrenching from the dotcom bust of 2000. As the chip industry recovered in latter part of 2009, and in the first half of 2010, MaxLinear (NYSE:
MXL
), Alpha and Omega Semiconductor (NASDAQ:
AOSL
), and NXP Semiconductors managed to execute their IPOs. MaxLinear, a supplier of RF and analog mixed-signal ICs has lost 48% of its value since its offering in November 2009. Alpha and Omega did not far much better at -42%. The Chinese-American company specializes in power MOSFETs and power ICs.
NXP Semiconductor, which launched its IPO in early August 2010, came out fairly weak with a planned pice range of $18 to $21.00. The stock opened and closed at $14.00 on the first day of trading. Post-IPO, KMR still owns 28% of the firm, Bain Capital 24% and its original parent company Philips Electronics. KMR acquired NXP from Philips in 2006 via leveraged buyout. While NXP is showing improving financials compared to 2009, its gargantuan remaining post-IPO debt of $4.5 billion will cost the Dutch chipmaker about $1.50 per share. In a cyclical downturn, chip firms have problems servicing these large amounts of debt.
For now, the exit strategies of 800+ venture capital backed semiconductor firms which are tracked by
InsideChips
must rely on the merger or acquisition route. Even there, valuations for a typical deal are in the $50 to $100 million range compared to $400 million during the industry's better days. VCs will have to hold on to their portfolio companies longer than desired and exits will likely below norm as IPOs seem to be losing steam.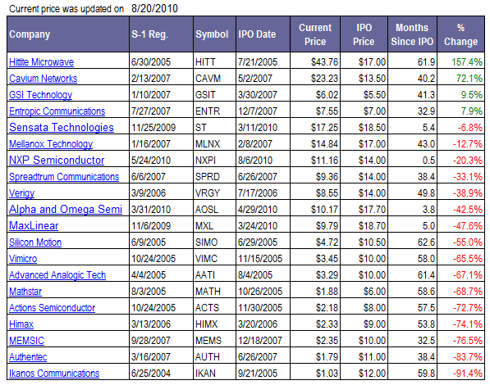 Only chip companies which went public after 1/1/2005 are listed. Chip firms which were acquired during the study period (1/1/2005 to present) are not listed. Netlogic (NASDAQ:NETL) which went public in August 2004 at $4.12 saw a substantial rise to $23.90. Intellon, a powerline chip maker, was acquired by Atheros for about $7.30 per share about two years after its December 2007 IPO at $6.00 per share. Techwell (TWLL) was acquired by Intersil (NASDAQ:ISIL) for $18.50 per share in March 2010. Techwell went public at $9.00 in June 2006.
Disclosure: No positions