In mid-February, we wrote an article about Marine Harvest Group, (NYSE:MHG), the Norway-based, world's largest salmon farming company, which started being listed on the NYSE on 1/28/14, after previously being listed on the Pink Sheets.
At the time, MHG had just declared a quarterly dividend of 1.20 Norwegian krone, which translated into around $.19/share. We added it to our High Dividend Stocks By Sector Tables, (in the Consumer Staples section).
After having a huge 2014 1st quarter, thanks to ongoing record prices, MHG announced on 4/30/14 that its board has proposed a 5 krone quarterly dividend, to be voted upon at its 5/22/14 Annual General meeting.
Also supporting this 4x dividend increase is MHG's upcoming agreement to divest its integrated farming operations on the Shetland and Orkney Islands, which it estimates will bring in around 300 million krone. This sale should close in Q2 2014.
This upcoming dividend translates into around $.85/share, at the NOK/USD exchange rate of 0.169777, and ups MHG's cumulative 2014 dividend yield to over 8%, from the previous 6.20%. The ex-dividend date listed on MHG's website is 5/23/14: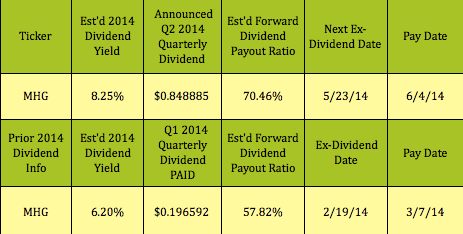 In 2013, prior to its reverse 7-1 stock split, MHG had 2 additional dividend payouts, whose ex-dividend dates fell on 9/17/13 and 11/18/13, but proportionally, they were smaller payouts than the Q2 dividend: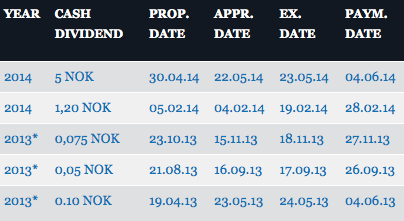 However, the company may very well increase its Q3 and Q4 dividends over its 2013 payouts, as evidenced by CEO Aarskog's recent statement:
The demand in the first quarter was very high, and we expect this to continue. We are encouraged by the high future prices, given the relatively high supply growth for the remainder of the year. I'm convinced that the combination of strong operational performance and high financial flexibility put us in a great position for further development.

Marine Harvest will target a net interest-bearing debt/equity ratio of less than 0.5x. When target level is met, at least 75% of the annual free cash flow after operational and financial commitments will be distributed as a dividend.
(Source: MHG website)
Indeed, after its big 1st quarter, MHG also increased its 2014 tonnage estimate for the 2nd time this year: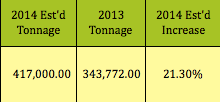 Options: So far, we haven't been able to add MHG to our Covered Calls Table or Cash Secured Puts Table, as there are no US options available yet.
The 1st quarter's record prices shifted MHG's segment earnings more toward its farming operations, vs. its value added and processing segments, as raw materials crimped its VAP and Processing units earnings: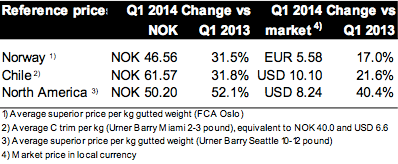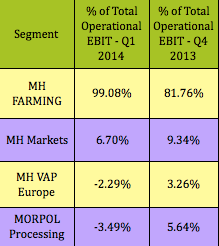 Here's a breakdown from MHG's Q1 earnings presentation, which highlights several big gains, among them being net cash flow/share, (1.75 NOK vs. -0.38 for all of 2013), in addition to a Q1 operating margin gain to 18.6%, from a 16.7% average in 2013.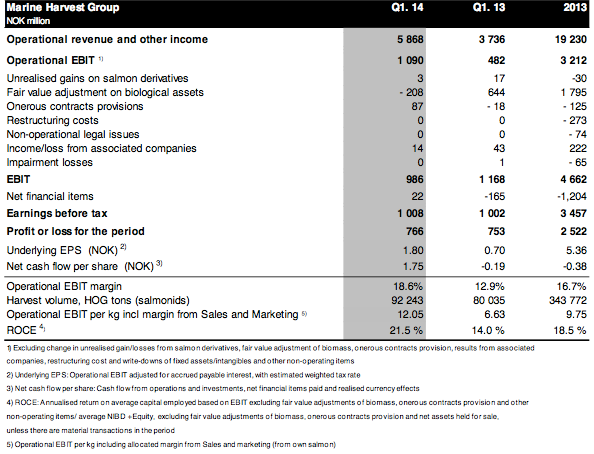 (Source: MHG website)
Increased Estimates - In these recent days of many decreasing earnings estimates, it's refreshing to see a positive trend for a change. Analysts have reacted positively to MHG's solid Q1 earnings, by increasing their forward estimates: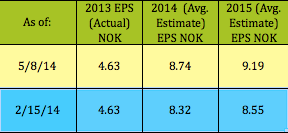 MHG looks very undervalued on a 2014 PEG basis. (We translated this table into $.):

Decreasing Expenses: Also adding to MHG's favorable outlook are its decreasing repayments and interest expenses for 2014:
(Source: MHG website)
Updated Valuations: MHG also looks undervalued on a Trailing and Forward P/E basis:

Financials: MHG also looks strong for these financial metrics:

Performance: MHG underperformed the market over the past year, most likely due to its past thinly-traded Pink Sheets listing. However, getting listed on the NYSE in early 2014 has certainly helped its performance - it has beaten the S&P so far in 2014.

Disclaimer: This article was written for informational purposes only.
Above Tables were furnished by DoubleDividendStocks.com, unless otherwise noted.
Disclosure: I am long MHG. I wrote this article myself, and it expresses my own opinions. I am not receiving compensation for it (other than from Seeking Alpha). I have no business relationship with any company whose stock is mentioned in this article.