The following is a list of the top 20 holdings of Cohen & Steers Capital Management, a New York based firm with more than $26B under management.
Founded in 1986, Cohen & Steers manages income-oriented equity portfolios specializing in real estate securities, large cap value stocks, listed infrastructure and utilities. Though started and headquartered in NYC, the firm has gone global as it also has offices in Seattle, Brussels, London and Hong Kong.
Here is a list of their top 20 holdings as of June 30, 2010. A full breakdown follows below (click for expanded images).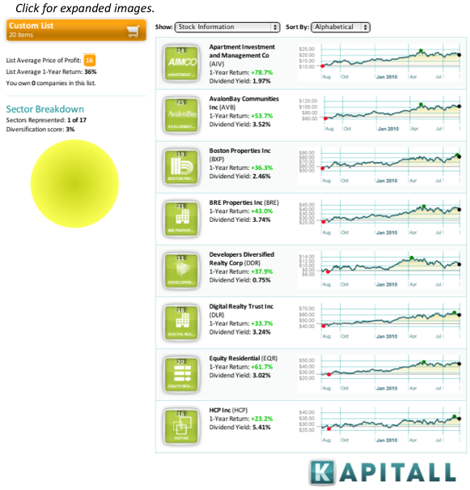 1. Simon Property Group Inc. (NYSE:SPG): $1,323,540
2. Public Storage Inc. (NYSE:PSA): $565,022
3. Equity Residential (NYSE:EQR): $480,795
4. Vornado Realty Trust (NYSE:VNO): $445,170
5. Boston Properties Inc. (NYSE:BXP): $420,202
6. Host Hotels & Resorts Inc. (NYSE:HST): $354,420
7. Prologis (NYSE:PLD): $340,655
8. Kimco Realty Corp. (NYSE:KIM): $337,556
9. Macerich Co. (NYSE:MAC): $322,333
10. HCP Inc. (NYSE:HCP): $291,958
11. AvalonBay Communities Inc. (NYSE:AVB): $289,188
12. Developers Diversified Realty Corp. (NYSE:DDR): $255,307
13. Nationwide Health Properties Inc. (NYSE:NHP): $254,101
14. Digital Realty Trust Inc. (NYSE:DLR): $238,423
15. BRE Properties Inc. (NYSE:BRE): $234,724
16. Liberty Property Trust (LRY): $229,207
17. Regency Centers Corp. (NYSE:REG): $229,002
18. SL Green Realty Corp. (NYSE:SLG): $224,235
19. Health Care REIT Inc. (NYSE:HCN): $198,942
20. Apartment Investment & Mangement Co. (NYSE:AIV): $185,526
Disclosure: No positions