Well guess what? I'm still holding on to my shares in American Realty Capital Properties (ARCP). After yesterday's earnings results and subsequent analyst call, I feel like the boy who cried wolf. Well, not really, but to set the record straight, I never predicted that ARCP would hit or miss consensus numbers; however I did state the obvious in a recent article:
…there is risk in a fast growing company and I intend to wait until I see more evidence of stability and dependability (with ARCP).
But maybe Mr. Market is the boy who cried wolf? After all, the minute-to-minute trader has repeatedly tried to trick ARCP into thinking the REIT was the big bad wolf. At least over the last 90 days, investors have been fearful that the wolf would attack the sheep and be eaten alive.
Yet after Thursday's earnings news, there's no blood on the street. Maybe just another false alarm? Why then has Mr. Market set off the alarm with "imaginary dangers"? Or maybe the dangers aren't imaginary? Hmmm….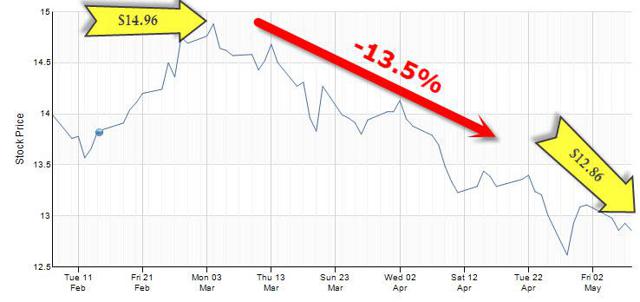 But let's face it. This is no fairy tale, especially when we are dealing with real money. This is not monopoly and I have a lot riding on ARCP. Not only am I trying to protect my principal at all costs, but yours too. I have strategically over-weighted my REIT portfolio with Triple Net companies and ARCP is an important ingredient in the mix. I was fortunate that I planted the ARCP seed last year (at $12.82) yet I'm gravely concerned that Mr. Market sees something that I don't. Why then is ARCP staying at the bottom of the valuation pit?

Let's Examine the Latest Earnings
ARCP's latest quarter was significant based upon the fact that the New York-based REIT has demonstrated its synergistic complexities becoming simpler. In other words, the massive integration of ARCP's multiple businesses is now a less clouded vision or perhaps more directly: a consolidated force of financial engineering.
Since there is no operational risk associated with single-tenant investing, much of the net lease business is more about math than science. The business model in itself is simple: Invest in stand-alone buildings with long-term leases.
So ARCP commenced as a REIT on June 6, 2011 (almost 3 years ago) with around 60 stand-alone buildings and today the company has 3,731 properties.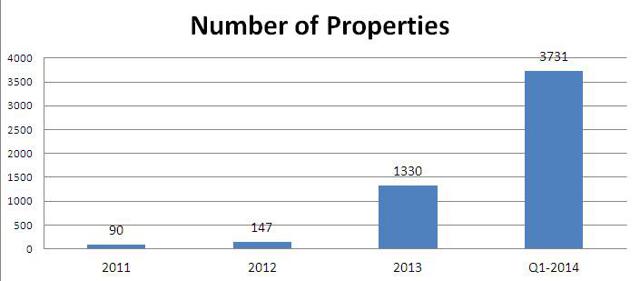 ARCP has ballooned into a massive REIT with over 90 million square feet of gross lease space.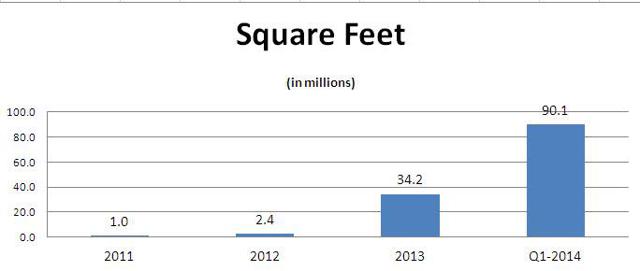 By comparison, ARCP's largest peer, Realty Income (NYSE:O) has 4,208 properties (as of Q1-14):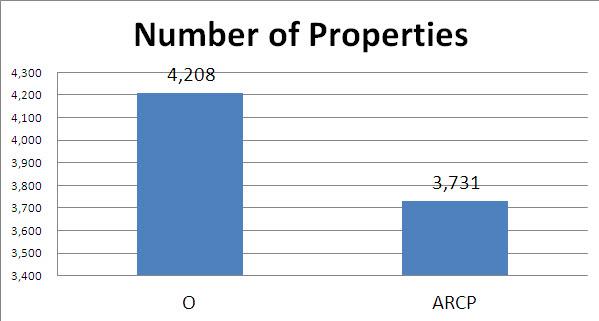 ARCP has announced that it will spin-off its shopping center portfolio into another REIT (externally managed). The proposed new REIT, ARCenters consists of 79 shopping centers and assuming the deal is consummated (in June) ARCP will have 3,652 properties. (see my article on ARCenters HERE).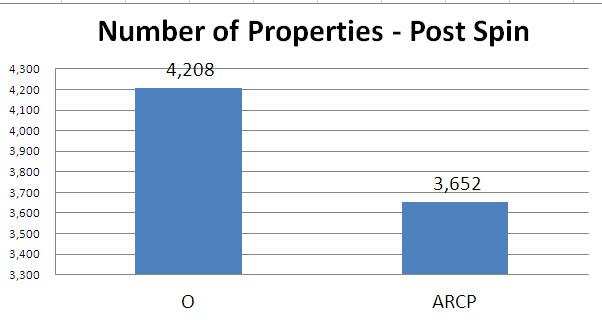 Post-spin off, ARCP will still own/control more square footage than Realty Income.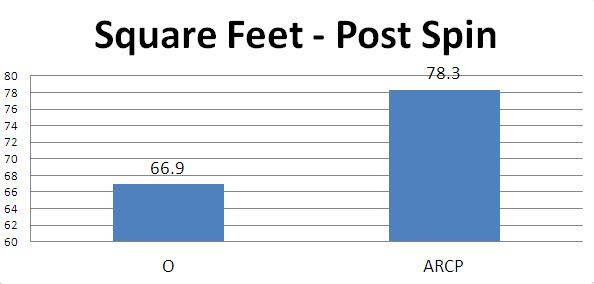 ARCP announced that it had increased revenue (in Q1-14) to a record $320.6 million, up 647.4% compared to the same period a year earlier.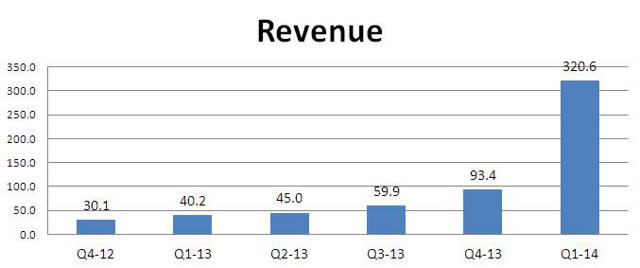 ARCP increased Adjusted Funds from Operations (or AFFO) available to common stockholders to $147.4 million, up 334.6% compared to the same period a year earlier.

ARCP's Adjusted Funds from Operations per share was $0.26 per fully diluted share. Commenting on the first quarter results, ARCP's Chief Executive Officer and Executive Chairman, Nicholas Schorsch explained:
We had a record quarter with earnings coming exactly in line with our expectations of $0.26 AFFO per share, consistent with our previously stated guidance for the year.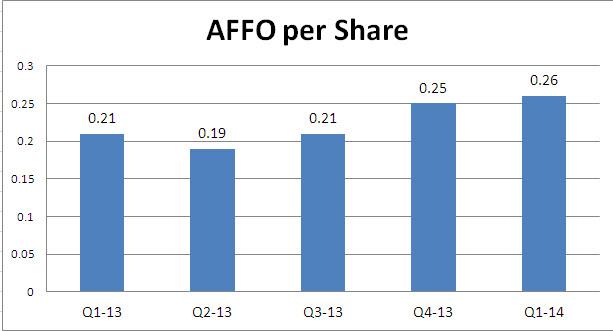 As we dig deeper into the Q1-14 revenue we see that ARCP's income was driven by real estate (83%) and fee revenue associated with the Cole Capital Advisory unit (17%). In Q1-14 Cole raised $897 million and the company is on track to raise $3.1 billion in 2014. Cole has total assets under management of $5.07 billion as of March 31, 2014.
Clearly Cole is a "cash cow" for ARCP; however, I believe that part of the complexity of the REIT has to do with the mis-alignment of Cole investors and ARCP investors. It's clear that there is a lot of commonality with the combined operating entities; however, the benefits of synergies (same building, same acquisition team, accounting, etc..) don't appear to offer compelling value associated with the business units.
In my opinion, a lot of the fear (the boy who cried wolf) has to do with the complexities of the Cole model. That's not to say that there is no value in Cole; however, I believe that is one of the reasons that the shares have not advanced along with the peer group. As an investor, I would prefer to see Cole spin-off like ARCenters; then ARCP would be more of a bond proxy REIT like Realty Income.
Besides, as an investor in ARCP I would like to reap the benefits of the Cole merger. In the latest quarter ARCP's FFO was negative $183.8 million. FFO for this period included one-time merger and other transaction related expenses of $222.2 million. Excluding such one-time costs, FFO was $38.4 million, or $0.07 per share fully diluted. Nice payday...Chris Cole should be a happy camper!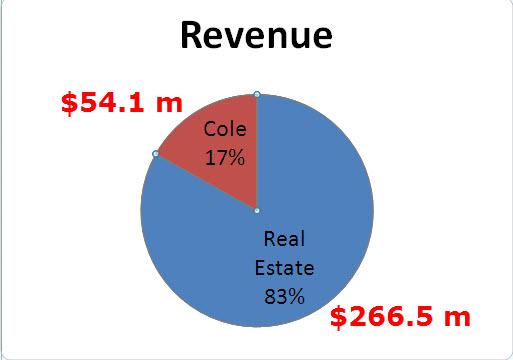 Now Let's Examine the Balance Sheet
Although analysts and investors may have difficulty interpreting the Cole business model, there should be no difficulty understanding ARCP's improved balance sheet. Specifically ARCP reduced its overall cost of borrowings as well as secured debt, lengthened debt maturities and improved balance sheet flexibility.
During the latest quarter ARCP successfully added long-term debt: secured $1.2 billion 10-year fixed rate interest only financing consisting of $693 million of mortgage debt and $500 million of senior unsecured notes. In addition, the company successfully refinanced $730 million of secured mortgage financing. The proceeds received from the 5-year unsecured note offering were used to replace 2-year debt.
At the end of the quarter ARCP's weighted average interest rate was 3.7% which includes the line of credit with a weighted average maturity of 5.7 years. This compares favorably when considering other peers which have an average maturity of 5.9 years and an average debt cost of 4.8%. Also ARCP recently secured investment grade rating from S&P and received a reaffirmation of investment grade from Moody's.
ARCP is Not a Wolf But a Gorilla
Maybe Mr. Market doesn't comprehend that ARCP is not a wolf, but a gorilla. The company's first quarter acquisitions totaled $1.03 billion of real estate, comprised of 224 properties in 78 individual transactions at an average cap rate of 8.24% (8.02% cash cap rate), with another over $700 million already closed or under contract for the second quarter. David S. Kay, President of ARCP commented (on the results):
With our acquisitions team firing on all cylinders, every aspect of our business is exceeding our expectations. With strong earnings, our acquisition volume is outpacing our guidance, our cap rates surpass all industry peers, Cole Capital launched two new products, and we successfully integrated our management and systems, all of which is allowing us to execute with a disciplined intensity.
Last week ARCP shares fell on the fear of a possible merger with Northstar Finance (the company responded by saying it was just a rumor) and on the earnings call yesterday an analyst asked whether ARCP was pursuing larger M&A deals or smaller transactions. The company's CEO (Nick Schorsch) responded:
Yes I mean that is where we're focused (meaning smaller deals). That's what we have spoken about, I mean we obviously did a lot of transactions, we are achieving cap rates (8% to 8.5%) that are frankly that are north of where our peers (7% to 7.5%) are because of the way that we're acquiring.

We continue to look at larger sale-leaseback opportunities and built-to-suit opportunities for the same reasons because we think that we know that we have opportunities there because of our scale, we can take down larger blocks of assets and really get better rates because our peers can't really participate in that. And so we're able to play at both ends of the spectrum. We're clearly focused on those areas much more than we would be in the M&A front.
Now, that sounds like the boy who cried wolf. It's obvious that Schorsch has a beastly appetite to become a dominating $50 billion REIT. The Cole deal was the "tipping point" and now that ARCP has the right-sized infrastructure in place, the table has been set. Obviously Mr. Market is holding its breath hoping and waiting that Schorsch can stay less focused on M&A. But ARCP has another problem to deal with first…
Share Price Risk; Am I Buying?
Thursday on the earnings call ARCP said that it would not be issuing stock to pay for its robust acquisitions pipeline - at least as long as it continues to trade at its current level. Schorsch expressed some disappointment at the company's stock price during the conference call (ARCP shares closed the day's trading down 0.54%, at $12.86):
We do take the stock price into consideration with any acquisitions. But to be clear, we're not anxious to issue stock at $12.00 - whatever it is at the moment - or $13.00, or $13.50 a share. We think we're way undervalued. And we think our currency is not being fairly viewed.
The company does have a buyback plan in place but has no plans to use it in the near term. Schorsch remarked:
Obviously, it's something we have available to us if our stock continues to stay cheap. But we're also looking to deliver our balance sheet over time. … So we don't want to be relevering our balance sheet at the same time as buying back stock.
Schorsch noted that the ARCP management team has bought more than $2 million in stock in the last six weeks. He added:
I would rather be a buyer of stock myself personally than have the company buying back the stock and levering up.
So that leads me to my final question: Am I Buying?
ARCP closed yesterday at $12.86 with a dividend yield of 7.78%, the highest dividend yield in the Net Lease sector:

The company's Price to Funds from Operations (P/FFO) is 11.3x. There is clearly a disconnect with ARCP's stock price and its net lease finance platform. Is it possible that the market has priced-in undue risk that has created a significant margin of safety? Or is there a flaw in the business model that will be a constant drag on ARCP shareholders?

Without an abundance of historical earnings data it's awfully hard to utilize the FastGraph; however, I think this chart is useful because it tells me something important. The black like (the price line) is situated at the lowest possible axis, far below the dividend (pink) line. That tells me that ARCP is "dirt cheap." But we already know that…however and conclusively, this FASTGraph really tells me that the growth trajectory for ARCP is massive. That is also the reason the boy is crying wolf. Mr. Market does not comprehend the potential for ARCP and it clearly underestimates the rewards for growth. Likewise, ARCP is being penalized for risks of the unknown.
There are still questions that remain but I'm hanging onto my shares in ARCP. I'm satisfied with the latest quarterly results and I'm likely to add more shares (for my kids account) soon. I am beginning to build more confidence in the management team and the strong insider ownership provides added alignment of interests.
I certainly can't pretend that I'm the big bad wolf; only Mr. Market can cause that kind of fear. However, I can try to protect my nest egg so that Mr. Market doesn't take it away from me. Given ARCP's low share price of $12.86, I consider the risk much lower. In addition, ARCP's preferred share class (ARCP-P) is trading at $23.63 and yielding 7.09%, a very attractive alternative. I must acknowledge that Mr. Market often provides valuable insight and sometimes priceless clues. Nonetheless, I consider ARCP to be a sound BUY and I will proceed with caution until I recognize otherwise.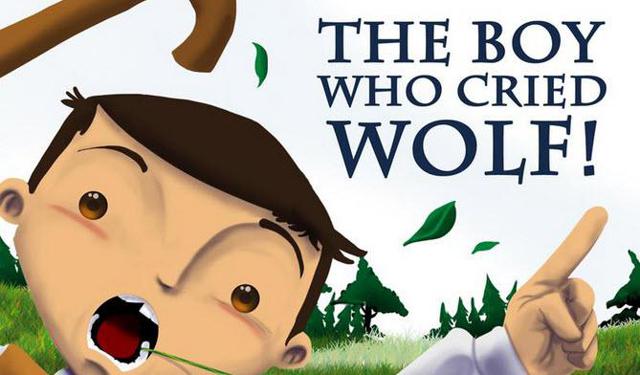 The Intelligent REIT Investor: For more information on REITs, check out my monthly newsletter HERE.
Source: SNL Financial and FAST Graphs.
REITs mentioned:(NYSE:WPC), (NYSE:NNN), (NYSE:GPT), (NYSE:ADC), (NYSE:CSG), (NYSE:STAG), (NYSE:MNR), (NYSE:SRC), (NYSE:OLP).
Disclaimer: This article is intended to provide information to interested parties. As I have no knowledge of individual investor circumstances, goals, and/or portfolio concentration or diversification, readers are expected to complete their own due diligence before purchasing any stocks mentioned or recommended.
Disclosure: I am long O, DLR, VTR, HTA, STAG, UMH, CSG, GPT, ARCP, ROIC, HCN, OHI, LXP, KIM, WPC, DOC. I wrote this article myself, and it expresses my own opinions. I am not receiving compensation for it (other than from Seeking Alpha). I have no business relationship with any company whose stock is mentioned in this article.