ReneSola (NYSE:SOL) reported second quarter 2010 earnings earlier this week which showed a dramatic turnaround from results posted a year earlier. In combination of strong pricing as well as cost cutting, gross margins expanded above 30%. Net income on a US GAAP level was .42 which reversed losses from a year earlier. Because of a prior revised upward guidance the company issued after their quarter closed, these results were only slightly above wall street expectations which had been raised considerably in recent weeks.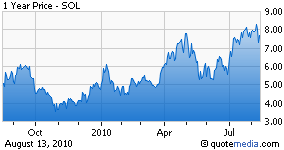 SOL's strong results were due to a couple of factors. The first was due to a sharp rise in their core business gross margins - wafer production. Average selling prices had already bottomed and started to inch up on strong global demand mainly out of Europe ahead of their subsidy rate reductions. In additions, production costs also dropped considerably as a result of higher utilization and the complete absorption of higher cost inventories quarters prior. The company's wafer gross margins came in at .26/watt, or 31.7% on a percentage basis.

The second factor contributing to SOL's earnings rise was contribution from their newly acquired module business. Like many other peers, SOL realized that as prices fell across all verticals, only fully integrated companies had enough scale and synergies to deliver high levels of profitability at the corporate level. SOL started off as a single vertical wafer producer, but early last year, bought a small cell and module company (JC Solar) close to their headquarters in Zhejiang (China) province. The company has quickly leveraged their scale and ramped up JC Solar which contributed to over 28% of their gross profits in the second quarter. The company also implied for module shipments to rise roughly 50% sequentially for the third quarter.

Unlike some peers, SOL does provide a lot of operational metrics which make estimating forward earnings easier. Just like with other solar companies, assumptions have to be made on the pricing as well as shipments. The company has provided their estimates so the numbers below are based on company assumptions without much outside speculation.

Revenues: 310mw - 324m
Wafer: 235mw @ .82/watt = 192.7m
Module: 75mw @ 1.75/watt = 131.3m

Unit Costs:
Wafer: 235mw @ .55/watt = 129.3m
Module: 60mw @ 1.20/watt + 15mw @ 1.70/watt = 97.5m
COGS: 129.3m + 97.5m = 226.8m

Gross Profit: 97.2m
Gross Margin: 30%

Operating Expenses: 24m
Interest Expense: 6m
Tax: 16.1m

Net Income: 51.1m
Diluted Share Count: 87m
EPS: .59

SOL as well as many peers have given rather conservative guidance in the past, often beating their own estimates by wide margins. If the company reports higher shipments or show pricing increases above their flat pricing guidance, their earnings could come in higher. In addition, the numbers above only reflect operating earnings. Non-operating foreign exchange losses which were recorded during the second quarter due to a weak euro would likely reverse for the third quarter as the euro has gained ground. Thus, non-operational forex gains could raise net income as well.

ReneSola also operates a small polysilicon plant which is in the process of ramping. In recent quarters due to less than half utilization, it has diluted earnings slightly. Since production is still rather small relative to the company's overall business, the dilutive effects were relatively muted. SOL's polysilicon production costs were 60/kg in the second quarter, above market prices of 50-55/kg as reported by peers. It's also possible the company activates its second and final stage poly plant this current quarter. If it does, it may be further dilute earnings slightly further because it would be operating initially at very low utilization. Offsetting this to some degree is the recent rising market prices for polysilicon where by some reports is around 60/kg or perhaps even higher. I don't think SOL's polysilicon division will alter overall earnings by much if they do at all, but it's one factor to watch which I did not factor into estimates.



Disclosure: Long SOL.