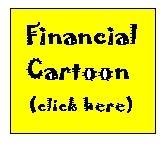 Outlook: The face-off between the equity and bond markets is coming to a head.
The following chart is a comparison between the estimated equity yields of the S&P 500 (year-end EPS divided by the previous year-end price). As the chart illustrates, that since 2002 there has been a significant divergence between the 10 Year Treasury bond yield and the estimated earnings' yield (equity yield) of the S&P 500. The divergence later intensified as a function of the Lehman's "meltdown" and the subsequent financial crisis that ensued. (See financial cartoon here.)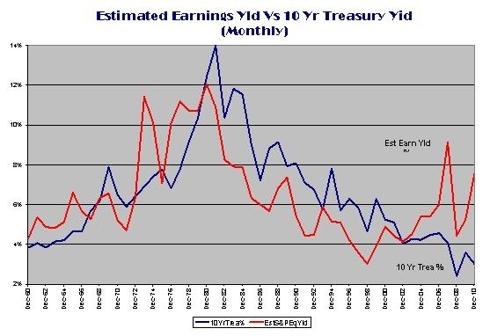 Composition of Earnings Yield: The second chart in this series looks at the composition of the estimated earnings yield.
The chart looks at the riskless yield (10 Yr Treasuries), the corporate credit spread (AAA-10YrTr) and the equity event risk (earnings yield-AAA) as components of the earnings yield.
Less about Credit Risk: From about 1990 to the stock market peak of 2000, 10 Yr Treasury yields exceeded the S&P earnings yield. There was little event risk that equities would not perform at least as well as high-quality corporate bonds ("AAA"). In fact there was fear of not being in equities given their superior relative total returns.
Since the 2007 market plunge equity yields (earnings yields) have increased precipitously. However, the spike in the equity yield is less about corporate credit risks (AAA-10 Yr Treasuries) and more about investors' assessment of equity event risk, i.e. corporations unable to make good on their earnings.
Why is this Important? It is because equity event risk can change quickly as investor sentiment is a material component. While there is a lot to be worried about, a few data points can quickly change investors' perspective.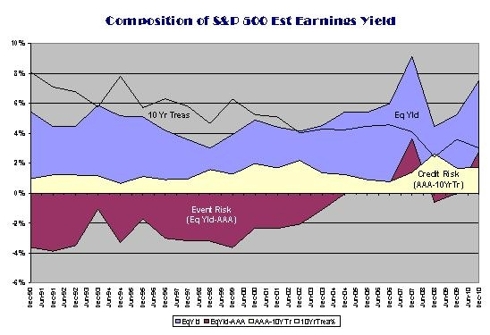 The Right Note: A wife asked her violin playing husband why he only played one note when playing the violin. She noted that when others played they move their fingers all around and played lots of notes. His response was that the others were searching for the right note: he had found it!
So, while I have more than one investment idea, large-cap dividend paying stocks is the one right note for this juncture. Corporations are hording cash. Established distributions will unlikely be cut and they may be increasing going forward. It also keeps our toes in the equity pool if there is a change in investor sentiment. Both ETFs that focus on the same are iShare Dow Jones Select Dividend Index (NYSEARCA:DVY) and SPDR S&P Dividend ETF (NYSEARCA:SDY). The current dividend yields are 3.7% and 3.8%, respectively.
CEF Weekly Review: The 13 closed-end fund (CEF) types on average posted a 0.8% decrease for the week ending 8/13/10. The high-low spread was +3.1% versus +3.2 the previous week with an average of -0.8% and 1.1%, respectively. On an aggregate, unweighted basis the weekly average price change for the 500 plus CEFs was down 0.5%.
The PowerShares CEF Income Composite (NYSEARCA:PCEF), an ETF that invests in taxable income CEFs, decreased 1.4% for the week. The S&P 500 was down 3.8% for the week and swung to a 3.2% loss YTD.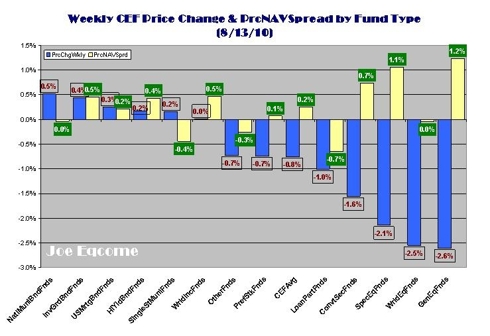 (Click here for YTD CEF Performance. The table is based on a smaller CEF sample size as all the data fields are not available for the CEF universe.)
The Eqcome CEF Fear Index was flat after an easing trend for the three consecutive weeks. The average price decrease was 0.5% versus a 0.6% decrease in the NAV. The CBOE Volatility Index (VIX), which typically moves inversely with the stock market—but is mostly a measurement of volatility based on stock options' premiums—spiked 20.7% after having drifted steadily lower since July.
The average daily trading volume for the S&P 500 continues in the doldrums below 4.0 billions shares. The paucity of buyers contributed to downward share price movement.
CEF Weekly Fund Type Performance: After two weeks of fund type dispersion relating to price changes, fixed-income fund type bunched at the upper end of the price change spectrum while equity-oriented fund types occupied the lower regions. While NatlMuniBndFnds ranked supreme this week, up 0.5%, SingleStMuniFnds were separated by several other fund types as state budgetary problems become part of the 24 hour news cycle.

The PrcNAVSprds typically move in the direction of stock prices. However, half the fund types this week where not in compliance. Interestingly enough, many of the equity-oriented funds price declines were less than their respective declines in NAV.
Weekly CEF Winners and Losers: One of the CEFs with the greatest positive spread was RiverSource LaSalle International Real Estate Fund (NYSE:SLS-OLD). SLS share price advanced 6.6% while its NAV declined 4.0% generating a positive PrcNAVSprd of 10.6%. The board of an open-end fund with the same advisor agreed to acquire SLS at NAV in an exchange of stock. (See "CEF Focus Stock for the Week" below)
One of the CEFs having one of the greatest negative PrcNAVSprd for the week was First Trust/Aberdeen Emerging Opportunity Fund (NYSE:FEO). FEO's price declined 6.1% while its NAV decreased 1.2% generating a negative spread of 5.0%.
While there was no news, FEO experienced greater than triple its 3 month average volume on Tuesday and Wednesday of the week. FEO's 3 month average daily volume has been 46,282 shares.
The shares trade at a 7.0% discount and it supports a distribution yield of 7.1% of which 42.5% is considered attributable to return-of-capital. Lazard Asset Management owns 11.7% while Phillip Goldstein, an activist CEF investor, owns 5.8% and has for some time.
Economic & Earnings Outlook: (Click here for next week's economic calendar; click here for earnings' announcements and estimates.)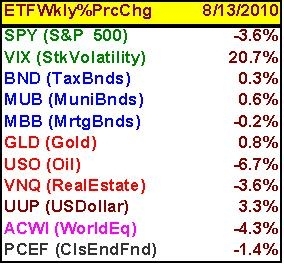 ETFs: For a more detailed EFT performance by sectors, click here.
Insider Trading: While there wasn't much additional activity for the second week of August, there were some transactions of note.
This was the first sighting of the Horejsi Group after a month or more absence. There was a 900 incremental purchase in Denali Fund (DNY) at a cost of $14.24 per share. Horejsi owns over 75% of DNY. DNY ended its tender offer for its Auction Rate Preferred Stock which may have been a factor in taking them out of the market in this stock.
Additionally, Phillip Goldstein, an activist investor in CEFs, continued to add to his position in Special Opportunities Fund (NYSE:SPE) by acquiring and additional 5,000 shares at $13.28 per share for a total expenditure of $66,400. This brings his holdings up to 6,350. Mr. Goldstein is Chairman and a director of SPE having affected a change in management from UBS to Brooklyn Capital Management—of which I believe he is a principal. SPE's annual meeting is scheduled for September 16th, 2010.
James C. Zeller, CEO of Apollo Investment Corporation (NASDAQ:AINV) purchased an additional 5,000 shares at a purchase price of $9.90. This brings his total holdings to 118,025 shares for $1.2 million in value.
On the institutional side, Doliver Capital Advisors reduced its stake in Cornerstone Progressive Return Fund (NYSEMKT:CFP) from 31.1% to 26.0%. Doliver originally owned 98.6% of CFP in 2008.
(Click here for a hyperlink to the Joe Eqcome's CEF Weekly Insider Report.)
CEF Distribution Announcements This Week: The following is a link to a table of CEF distribution announcements this week as well as the previous week's with yet expired ex-dividend dates. The list is not intended to be inclusive. (Click here for Joe Eqcome's Weekly CEF Distribution Announcements)
Significant CEF Corporate Events: Four Nuveen closed-end funds today announced that each has priced a private offering of Variable Rate Demand Preferred (VRDP) shares placed with qualified institutional buyers.
The following amounts of VRDP shares have been issued by each fund: NQP (112.5 million), NPY (100 million), NQJ (144.3 million) and NNJ (88.6 million). The first two were Pennsylvania muni funds and the latter two were New Jersey muni funds. Nuveen expressed that the refinancing transactions are expected to lower the relative costs of leverage over time while also providing liquidity at par for the holders the funds' ARPS.
BlackRock Advisors LLC (BLK) reported that a shareholder complaint was filed against the investment firm earlier this month in the Supreme Court of the State of New York. The lawsuit, filed Aug. 4, relates to four closed-end funds, and alleges that "BlackRock Parties breached their fiduciary duties to the common shareholders". The four funds named in the suit are BlackRock MuniYield Insured Fund (NYSE:MYI), BlackRock MuniYield California Insured Fund (NYSE:MCA), BlackRock MuniYield Fund (NYSE:MYD) and BlackRock MuniHoldings Insured Investment Fund (NYSE:MFL). BlackRock said that, "The claims asserted in the complaint are without merit." I think these law suits are frivolous and unfortunately expensive. It's essentially legal "green mail" or "green suits".
With the very small participation for DNY ARPS tender offer (30 out of 400), it seems that investors weren't interested in anything less than par. However, the plaintiff could argue in principle that some cost savings for the common shareholders that resulted as some investors accepted terms below par. Alternatively, the defendant could argue that given the small participation that the cost of the tender offer would exceed any costs savings of a small acceptance. Holders of the ARPS were typically institutions or qualified investors and not retail investors.
CEF Focus Stock for the Week: RiverSource LaSalle International Real Estate Fund (SLS-OLD) decided to "punt" as some activist CEF investors circled above. Western Investment LLC ("Western") and Bulldog Investors appeared to "cooperate" in prodding SLS into action as they cumulatively acquired a 15.5% interest.
SLS's advisor, Columbia Management Investment Advisers, LLC, seeing the "handwriting writing on the wall", decided it would avoid a future proxy contest. It elected to have its open-end fund, Columbia Real Estate Equity Fund [CREEX], acquire SLS and issue its shares at net asset value in exchange. This action immediately wiped out 12% of SLS's 16% discount. There is a 2% redemption fee for those selling SLS stock one year after closing.
While I try not to get "white hat" and "black hat" guys confused, the probability that the board of SLS would have tried to maximize value without this prodding is likely non-existent.
Other Candidates for Prodding: Based on the characteristic of SLS, a cursory review of the possible candidates for similar prodding would likely have to include RMR Asia Pacific Real Estate Fund (NYSEMKT:RAP) and RMR Real Estate Income Fund (NYSEMKT:RIF). Both are small (under $100 million in market cap), have no leverage, trade at a yield of above 6% and are selling at discounts above 20%.
Complications: While management owns very little of each, the issue for both may be that in each case there is a large institutional holder. For RAP the City of London owns 15%. In the case of RIF, Royal Bank of Canada owns 24.2%. These institutions could be friends of the advisor and could provide a "castling move" if attacked. Or, they could become allies in an effort to maximize value. It is one of the many questions for which I don't have an answer.

---
Disclosure: Author owns a diversified portfolio of CEFs that include PCEF