BDCs have now fallen an average of 11% since S&P announced on February 24, 2014 that it would remove BDCs from its indices, and was followed by Russell on March 3, 2014. This is an ongoing series to follow the volatility-related bumps and dips through the end of June. Keep in mind that earnings season is here, so some of the pricing for individual BDCs has been related to results covered in my profit rankings articles (April, May Part 1 and May Part 2). I would suggest that investors keep plenty of dry powder and not expect to buy at the bottom of this cycle.
Previous Russell-related articles:
The following table shows my long-term recommendations and suggested portfolios, along with recent price points to indicate which companies are closing in on three-month or one-year lows. I have also included whether or not I believe each BDC is getting close to a support level or "floor". Obviously, these floors will continue to change and be tested through the end of June, but for the BDCs that I believe currently have no resistance level, investors may want to take a "wait-and-see" approach before starting a position. Since Part 1, American Capital (NASDAQ:ACAS) and PennantPark Floating Rate Capital (NASDAQ:PFLT) appear to have a support price, and PennantPark Investment (NASDAQ:PNNT) and Apollo Investment (NASDAQ:AINV) have moved from no support to potentially having a floor price. PNNT announced positive results for investors that are focused on both sustainable dividend yield (10.5%) and net asset value ("NAV") growth (6% over the last 12 months), which is why it is a component in my "higher total return" portfolio. There are now 12 BDCs that are close to or at 52-week lows, and appear to be headed lower, and I am currently calling this group the "lack of support group".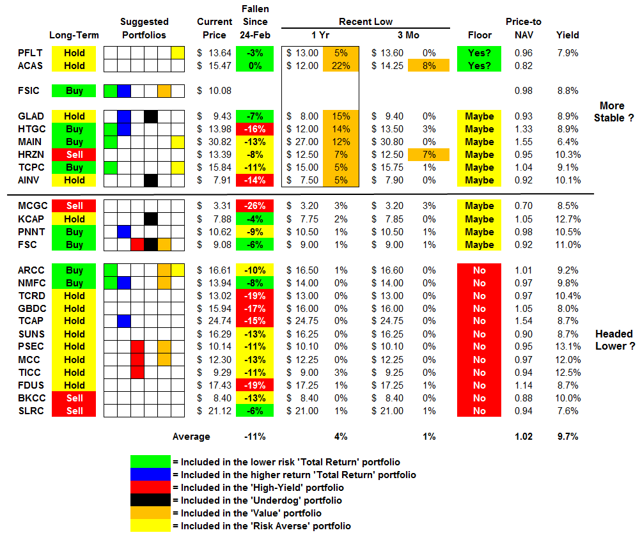 Lack of Support Group
This group of BDCs has nothing in common, except that they are near 52-week lows and appear to be headed lower. At this point, a "Buy" recommendation is for investors that are not concerned with getting a more attractive price once the dust settles, and includes Ares Capital (NASDAQ:ARCC) and New Mountain Finance (NYSE:NMFC), that both reported results covering dividends and stable-to-growing NAV per share. THL Credit (NASDAQ:TCRD) and TICC Capital (TICC) report next week, and their price performance will be impacted by the results. Prospect Capital (NASDAQ:PSEC) has already reported, and slightly missed EPS projections and covering dividends, but is currently trading down related to the SEC statements regarding some of the unconsolidated "holding companies" that PSEC holds its investments in, "operating companies" that should be accounted for as investment companies and consolidated. I will have an article covering the potential longer-term non-accounting-related impacts to PSEC coming out early next week that I believe should be more important to investors. I have recently downgraded Medley Capital (NYSE:MCC) to a "Hold" for the reasons discussed in my "MCC: May 2014" report. The following chart shows the price performance of this lack of support group compared to the average BDC, and appears to turn lower starting April 22, falling an average of 3% more than the others and testing new lows.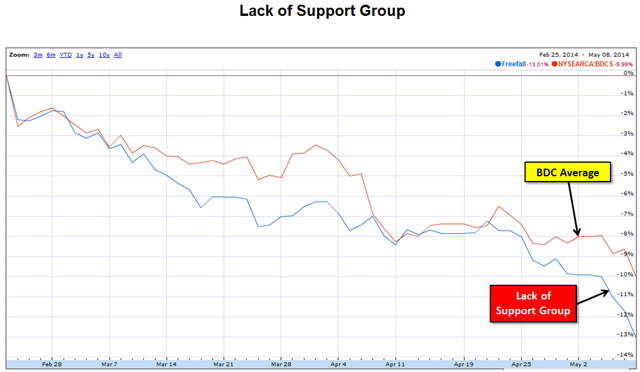 I have identified four BDCs that are near new lows, but may have found a support price, including PNNT, Fifth Street Finance (FSC), KCAP Financial (NASDAQ:KCAP) and MCG Capital (NASDAQ:MCGC). As discussed earlier, PNNT had what I consider to be positive results and could head higher or at least outperform the others, and FSC missed EPS projections but covered dividends and grew its portfolio by 13%.
TCP Capital (NASDAQ:TCPC) is one of my higher-ranked BDCs, and reported positive results that I will cover in future articles, and for investors looking for a BDC to hold during this volatility, it could be a good choice, as well as FS Investment Corp. (NYSE:FSIC) that has no direct exposure to the Russell indices.
Main Street Capital (NYSE:MAIN) and Hercules Technology Growth Capital (NASDAQ:HTGC) are both two of the highest-priced BDCs using NAV multiples, and have dropped more than the average and could fall further next week related to relative pricing. Triangle Capital (NYSE:TCAP) is the other higher-priced BDC, and reported results beating estimates but not covering dividends and a decline in NAV per share, falling 5% yesterday, but bounced a little in after-hours trading.
I will update this information over the coming weeks. Investors should remain patient and be in the process of performing personal due diligence on BDCs that fit their investment criteria (see suggested portfolios) to take advantage of upcoming opportunities. Investors should only use this information as a starting point for due diligence.
Disclosure: I am long FSIC, HTGC, MAIN, TCPC, ARCC, NMFC. I wrote this article myself, and it expresses my own opinions. I am not receiving compensation for it (other than from Seeking Alpha). I have no business relationship with any company whose stock is mentioned in this article.