Kinder Morgan [Kinder Morgan Inc. (NYSE:KMI) and Kinder Morgan Energy Partners (NYSE:KMP), Kinder Morgan Management (NYSE:KMR)] is in the middle of a PR nightmare; with language in its proposal to expand the Trans Mountain pipeline suggesting that an oil spill could have possible positive economic benefits.
While adding this sort of language to its proposal was a boneheaded move by the company, the Trans Mountain pipeline is facing other serious issues.
As I noted in a recent article, this expansion has become a new target for environmentalists both in the US and Canada, especially now that the Keystone XL pipeline approval has been delayed until after the November elections.
Kinder Morgan expands its CO2 footprint in Colorado and New Mexico
However, investors in Kinder Morgan should focus on its operations. With that in mind, news regarding its investment in CO2 infrastructure in Colorado and New Mexico should be considered a positive development.
According to the release, Kinder Morgan is set to invest $671 million to grow its carbon dioxide CO2 infrastructure in southwestern Colorado and New Mexico.
Specifically, the company plans to increase its CO2 production in the Cow Canyon area of its McElmo Dome source field in Montezuma County, Colorado. Plans are for the adding of 16 wells and other associated assets, with costs for this expansion expected to be around $344 million. This will add about 200 MCF/D of CO2 production, with 100 MCF/D coming online July 2015, with the remaining 100 MCF/D expected by year-end 2015.
In addition, there are plans to expand the 500-mile Cortez Pipeline which current transport CO2 from southwestern Colorado to eastern New Mexico and West Texas. Kinder Morgan will be adding a 64-mile loop in New Mexico while also modifying 5 pumps located in various states. Costs are expected to run at $327 million; and will increase pipeline capacity to 2 BCF/D from the current 1.35 BCF/D. Plans are to complete the northern expansion by July 2015 and the southern expansion by mid 2016.
Do note that these investments are apart from Kinder Morgan's previously announced $1.0 billion capital expansion investment to develop the St. Johns source field in Apache County, Arizona and the associated 214-mile pipeline.
Why is Kinder Morgan expanding its CO2 segment?
The company noted that these projects are necessary due to increased demand for CO2 in the region sparked by the increased use of enhanced oil recovery techniques ("EOR").
Basically, E&P companies are using CO2 for the "scrubbing" of older wells, allowing for incremental oil production growth at relatively low costs. Kinder Morgan is itself a large user of CO2, with its own production heavily using EOR methods.
While I am sure many will question why Kinder Morgan refers to these projects as an "expansion" versus "maintenance", do note that the company is bound to the definition of maintenance capital in its partnership agreement, which refers to maintenance capex as "capital spent to maintain an asset without increasing its capacity or throughput."
Nevertheless, I believe these projects will be a boon to Kinder Morgan's DCF going forward. The first volumes should come on board by mid-2015. In addition, the company has previously noted that this spending should be accretive on a per unit basis starting in 2016.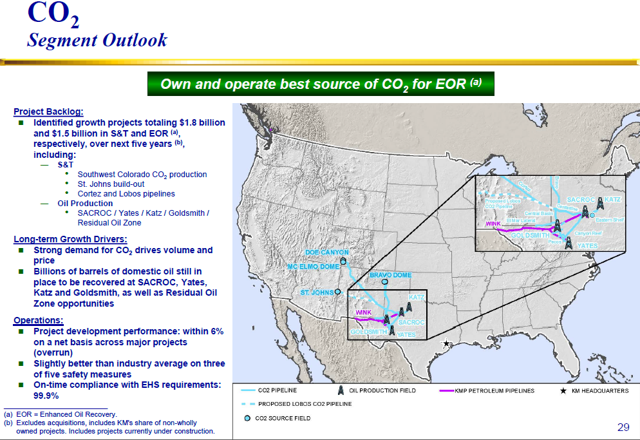 Conclusion
As I have noted elsewhere, Kinder Morgan may need to simplify its corporate structure. At current prices, KMP trades at a over 40% discount to its peers while KMI is among the cheapest and highest yielding of the pure-play MLP GPs.
However, profitable projects such as the CO2 expansion are reasons why you would want to own stock in Kinder Morgan. US production of oil is growing, with the country expected to be a net exporting within five years. In addition, EOR are a key source of the growing production, which pretty much secures demand for the CO2 service.
Disclaimer: The opinions in this article are for informational purposes only and should not be construed as a recommendation to buy or sell the stocks mentioned. Please do your own due diligence before making any investment decision.
Disclosure: I am long KMI. I wrote this article myself, and it expresses my own opinions. I am not receiving compensation for it (other than from Seeking Alpha). I have no business relationship with any company whose stock is mentioned in this article.