The market experienced a sell-off in Canadian natural gas leveraged intermediate producers yesterday, with $1 downdrafts in the stocks of high flyers Birchcliff Energy (OTCPK:BIREF) and Crew Energy (OTCPK:CWEGF).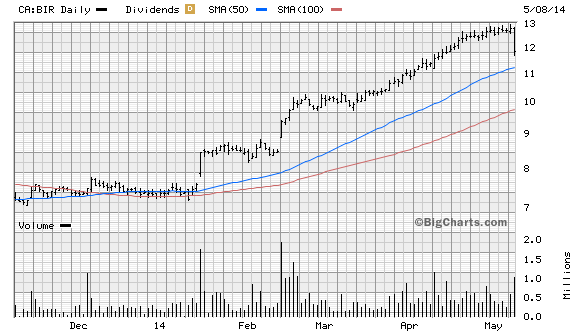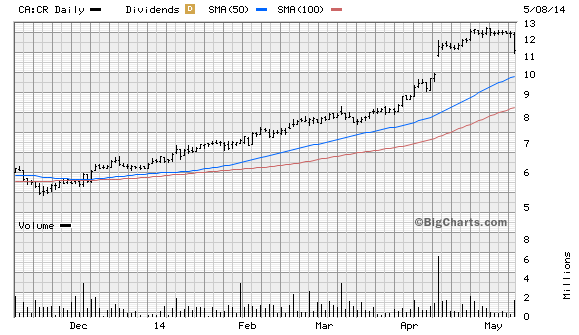 These equities had been up approximately 75% and 110% respectively over the past six months. I recommended taking profits in Crew Energy at $11.84 in this article written on April 10.
The EIA calculated build in US natural gas supplies for the week ending May 2 came in at 74 bcf, less than the rise of 88 bcf last year, but above the five year average of 58 bcf. Storage rose to 1,055 bcf. Natural gas futures declined following the build.
Working gas in underground storage, lower 48 states Summary text CSV JSN
Historical Comparisons
Stocks
billion cubic feet (NYSE:BCF)
Year ago
(05/02/13)
5-Year average
(2009-2013)
Region
05/02/14
04/25/14
net change
implied flow
% change
% change
East
397
362
35
35
749
-47.0
870
-54.4
West
203
191
12
12
343
-40.8
322
-37.0
Producing
455
428
27
27
761
-40.2
844
-46.1
Salt
113
104
9
9
210
-46.2
173
-34.7
Nonsalt
342
324
18
18
551
-37.9
671
-49.0
Total
1,055
981
74
74
1,852
-43.0
2,037
-48.2
Source: Energy Information Administration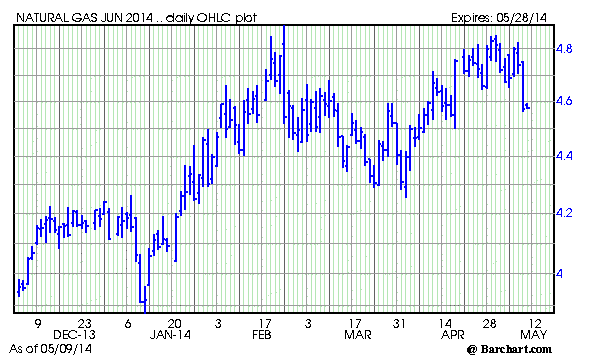 \
In my view, the almost 800 bcf natural gas supply deficit compared to last year, and 982 bcf deficit relative to the five year average, won't be removed unless weekly builds exceed last year's pace by 30-40 bcf per week, rather than just match them.
I am not running in to buy the charts of the two stocks above, because they already matched my target prices and more, with Birchcliff hitting a $12.99 high recently and Crew hitting $12.95.
Crocotta Energy
One interesting and in my view, undervalued natural gas and liquids leveraged junior name that hasn't gotten much attention yet, is Crocotta Energy (OTCPK:CRCTF), trading on the Toronto Stock Exchange under symbol CTA.
The stock closed at $3.70 yesterday, and has a high of $4.06. There is very little short position and the stock is covered by about half a dozen analysts. Daily trading volume has been light at an average 365,000 (last 50 days) and 284,000 (last 200 days).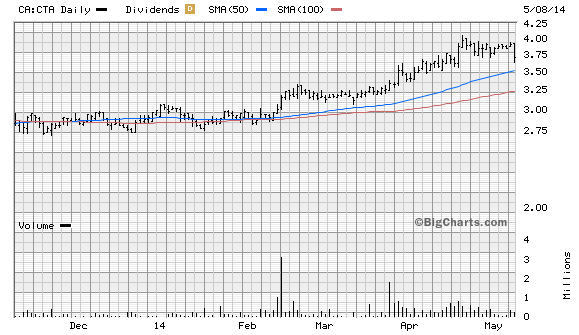 Crocotta (the name refers to a mystical half wolf-half dog predator), operates in two areas in Western Canada: a multi-zone Cardium and Bluesky oil and gas play near Edson, Alberta as well as some very prospective real estate in the liquids rich natural gas fairway of the British Columbia Montney.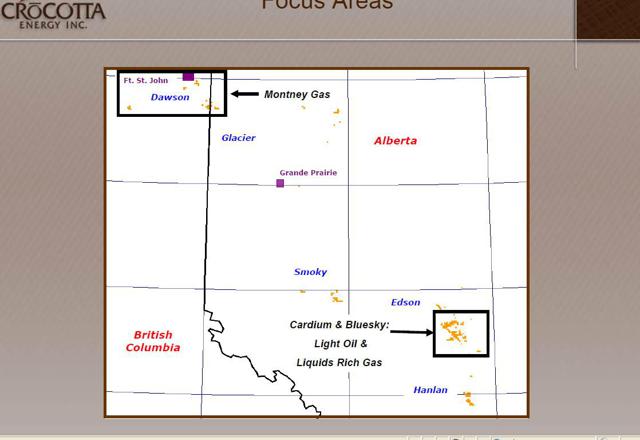 Ironically the two plays are both on the Alliance pipeline which takes liquids rich gas down to the Aux Sables processing plant in Illinois. Late last year Crocotta signed deals to market its liquids rich gas and get better prices for its natural gas liquids while reducing third party processing tolls. The company believes operating netbacks will be boosted in both the Edson play (by $5/boe) and Dawson (by $6/boe).
Edson Liquids Rich Gas and Oil
According to its annual filing, in February 6,800 boe/day of Crocotta's total 8,800 production came from Edson operations. This was comprised of approximately 55% light oil and condensate with 45% liquids rich natural gas laden with propane and butane.
At Edson, the company is exploiting three zones: the Cardium (at circa 1,800 metres), Notikewin (2,200 m) and Bluesky (2,500m).
Crocotta operates all its infrastructure at Edson. It has a 75% interest in 97 sections and plans to drill 12.2 net wells in 2014. The company has over 100 prospective well locations and expects to spend about $65 million at Edson in 2014 and get production up to 8,000 boed.
A key improvement not reflected in the stock price is the new deal to market production on the Alliance pipeline rather than use the nearby Talisman-controlled deep cut plant. The processing of gas and sale of liquids at Aux Sables will improve pricing of liquids that have less of a market in central Alberta. Crocotta figures netbacks will increase by $5 boe and have already reached $30.88/boe at Edson in Q4 13.
Edson has a decline rate of approx. 33% and therefore needs $50-55 million to maintain production. This is due to the immaturity of the play and the high proportion of new Hz Frac wells with high decline rates.
As the company matures, the decline rate should come down and Edson free cash flow will be used to support growth in the Montney.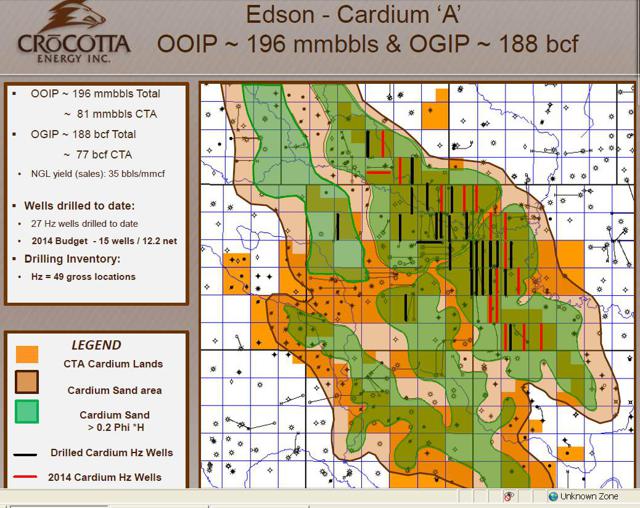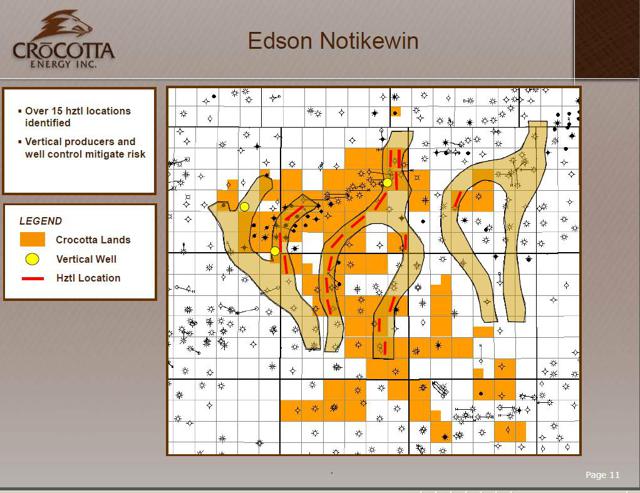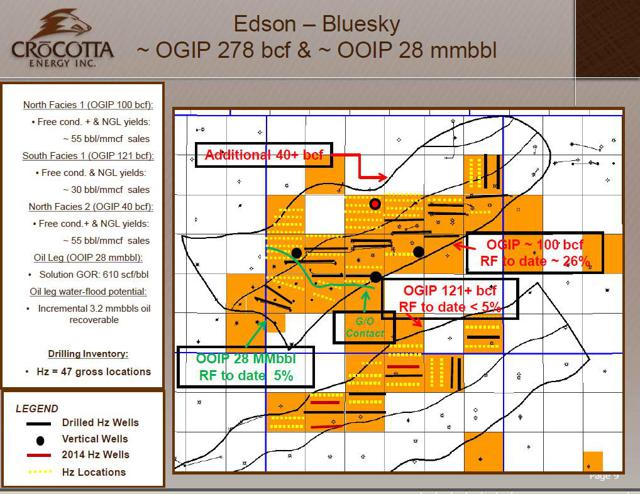 Dawson and Groundbirch Montney Growth Play
Crocotta already has 35 sections in the Montney with over 60 bcf of estimated original gas in place per section, for a total of 2.1 tcf. The company is expanding its land base in the Montney and is building a sour gas processing capability at its wholly owned sweet gas plant on the Alliance pipeline spending $10-15 million in 2014. The total raw processing capacity of 60 mmcf/day by mid 2015 will allow the company to process portions of its gas which is slightly sour (1.5%).
The company's Dawson area Montney neighbors include Crew at Septimus, Birchcliff at Pouce Coupe in Alberta and Tourmaline Oil (TRNKF) at Parkland and Sunrise, so I think Crocotta could become takeover bait for these companies.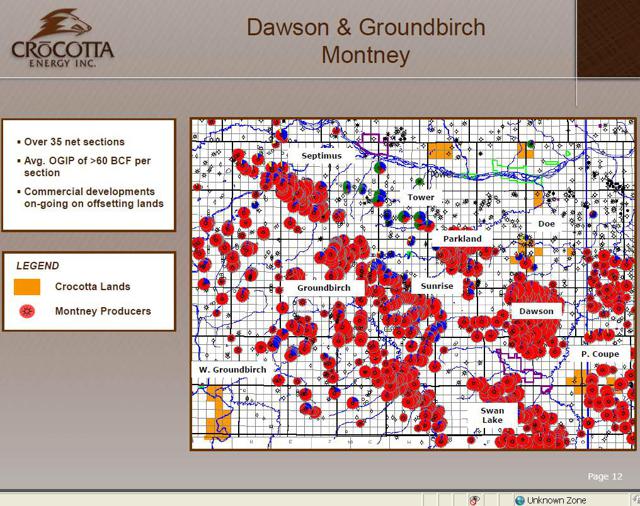 The company operates all its infrastructure in the Montney area and produced 1,950 boe/d during February. The company plans to spend $30 million and drill 5 wells to further delineate its promising area at Doe. The economics of the Montney require more expensive wells at $5 million a piece, but the recoverable reserves approach 900,000 boe per well, for an IRR of 210%, payback of 0.7 years and capital efficiency of $8,320/boed, based on $97.50 WTI and $3.83 GJ gas.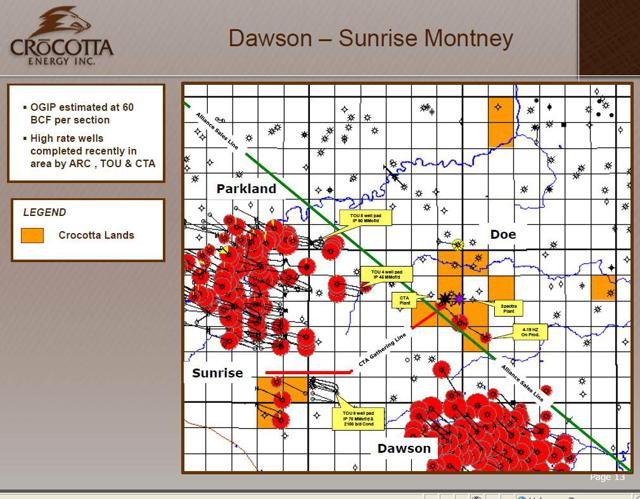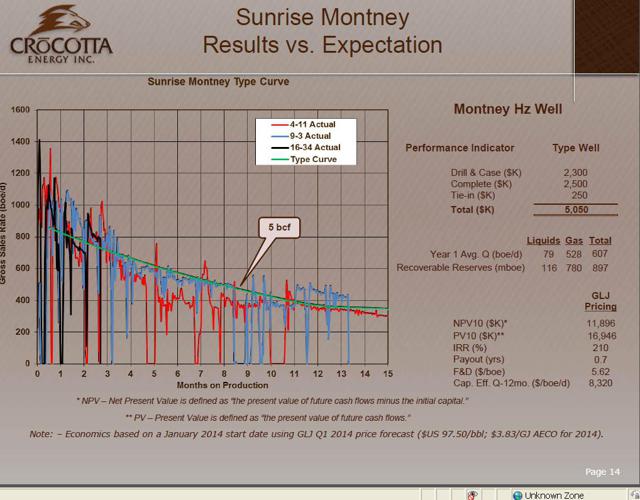 Crocotta reported decent 21% 2P reserves growth to 46.3 million gross boe on March 24 (39.2 net of royalties).
The company calculates a 13.7 year reserve life index based on gross reserves and Q4 production rate of 9,233. My calculation uses net reserves and the 10,000 targeted average production rate in 2014, to get an RLI of 10.75. However, I expect the company to book more reserves due to its plan to spend $110 million and drill 17 net new wells in 2014, which would extend the RLI.
The company is guiding $90 million cash flow generation this year and this will increase debt to $140 million within the current bank credit line of $150 million. I expect the credit facility to be expanded shortly.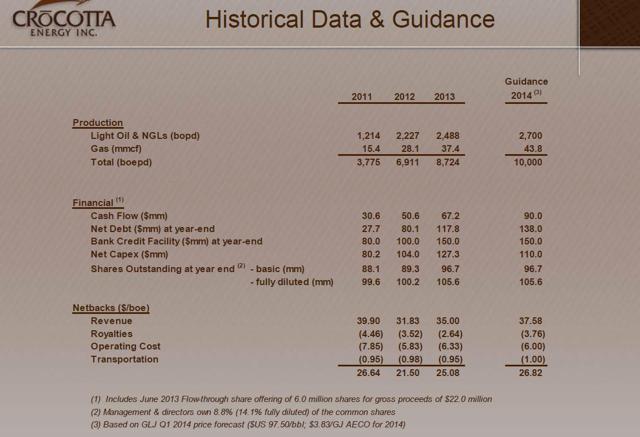 Valuation and Target Price
With 96.7 million shares outstanding, Crocotta Energy had a market capitalization of $358 million at yesterday's closing price of $3.70.
The company expected to generate $90 million or 93 cents per share based on average $97.50 WTI and $3.83/GJ natural gas ($4.03/mcf).
Crocotta is hedged on 1000 boed of oil at very attractive WTI CAD prices in the $100.80-$110/bbl range. Natural gas is only 20,000 GJ/day hedged for the 2014 injection season (less than 50% of production), at $3.50-$3.75/GJ. The company was open on Q1 natural gas pricing.
Another unhedged Canadian natural gas producer, Paramount Resources (OTCPK:PRMRF), reported realized Q1 prices averaged $6.04/mmcf. Penn West Petroleum (PWE), reported pre-hedging natural gas price realizations of $5.84/mmcf.
I expect Crocotta to report excellent Q1 price realizations near when it reports on May 13, on approximately 9,000 boe/day of production. The company should report better than expected oil and NGL realizations due to the Alliance deal, which were $74.62 in Q4 2013, but lower than $6/mcf natural gas realizations as removal of liquids reduces the heat content and value of the natural gas.
I expect the company to achieve its $90 million cash flow guidance for 2014, which would be 93 cents per basic share. At a six times multiple, the stock should trade at $5.58 per share.
On a 2P reserves basis and including $118 million of 2013 year end net debt, the estimated total enterprise value of $476 million represents a valuation of $9.67 per gross boe and $12.13 per net boe.
I estimate Crocotta's 2014 ending reserves and Montney position to be worth at least $15/boe on a gross basis or $554 million net of estimated $140 million 2014 year end debt, for a value of $5.73.
Therefore, we are looking for capital appreciation in the range of 51-55% in 2014.
Disclosure: I am long CRCTF. I wrote this article myself, and it expresses my own opinions. I am not receiving compensation for it (other than from Seeking Alpha). I have no business relationship with any company whose stock is mentioned in this article.
Editor's Note: This article discusses one or more securities that do not trade on a major U.S. exchange. Please be aware of the risks associated with these stocks.