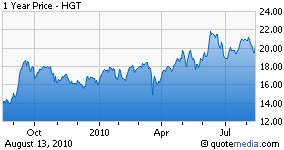 Buy-recommended Hugoton Royalty Trust (NYSE:HGT) offers an 8% distribution yield derived from natural gas, the most undervalued cleaner energy. Second quarter detail filed with the Securities and Exchange Commission on July 21 confirms the prices and volumes disclosed monthly.
The distribution yield of HGT and peer stocks is almost always attractive as stock price tends to adjust to expected distributions. Because those distributions, in turn, are most influenced by natural gas price, HGT stock can be a way to invest in future natural gas price while receiving cash payments along the way. The price received by the trust also depends on geographic differentials which have been narrowing this year compared to the widely quoted benchmark.
Distributions further depend on production volume, which normally declines steadily at a rate that can be moderated by new drilling. New drilling is usually more active when natural gas price is higher and vice versa. Because drilling costs are subtracted from distributions, they tend to moderate the increase or decrease in distributions as a result of price.
Rising distributions have rewarded investors since mid-2009. Stock prices for HGT and most income and small cap stocks are similarly in a rising trend as measured by current quote compared to the 200-day average.
Originally published on July 23, 2010.