Unit price of Linn Energy (LINE) has dropped by more than 7% year-to-date, compared to a 2.4% return for S&P 500 Index over the same period. In my view, the price weakness presents a buying opportunity as market's concern on the unit's distribution prospects is likely overdone.
LINE's production in Q1 2014 exceeded market expectation driven by strong performance at the company's California and Uinta Basin properties. Distribution coverage ratio came in at 0.99x in the quarter. However, management expects production to decline over the next few quarters due to downtime issues at some of the company's third-party facilities. Management also guided higher transportation and leasing expenses in the coming quarters. As such, the distribution coverage is likely to remain below 1.0x in 2014.
LINE's current valuation appears to have reflected the likely weakened distribution coverage. Based LINE's current annualized distribution of $2.90 per share and a 9.0% cost of equity (the CAPM model suggests a 8.2% cost of equity by using 3.0% risk-free rate, 6% equity risk premium, and LINE's 5-year beta of 0.87), the Gordon growth dividend discount model suggests that the current unit price of ~$28 implies a negative perpetual distribution growth rate at approximately -1% (see chart below).

This appears to be a pessimistic valuation to me as potential upside from Permian divestiture/asset swap is largely ignored. Management has already indicated their intention to completely exit the Permian assets and deploy the sale proceeds towards acquisition of producing assets with lower decline rate or debt reduction. Given that M&A market has been very active for this region [i.e. there were a few major transactions in 2013 and Athlon Energy (NYSE:ATHL) recently acquired some assets in this area], I anticipate no major issues in the divestiture of LINE's Permian assets, but the questions are on how much the asset can fetch and how management would deploy the divestiture proceeds. It is noted that estimated value from sell-side analysts generally ranges from $1B to $2B.
I have performed an analysis to illustrate the potential upside from the Permian divestiture plan with several conservative assumptions (see chart below). My calculation assumed a value range from $10K to $30K per acre for the Permian assets. Based on 55K total acres, the total asset value was estimated to be $0.55B to $1.65B, a much lower range than sell-side's estimates. Two scenarios were illustrated. The first scenario assumes the company to reduce debt with the sale proceeds. Based on 6.0% interest rate (LINE's weighted average interest rate is approximately 5.8%), the interest saving or incremental distributable cash flow ("DCF") resulted from the debt reduction was estimated to range from $33M to $99M depending on the valuation of the divestiture. Based on my estimated coverage ratio of 0.97x for 2014 (based on consensus estimated 2014 EBITDA) (see chart below), the incremental DCF would translate into a pro forma coverage ratio range from 1.00x to 1.07x for 2014. The second scenario assumes the company to acquire a mature producing asset with the sale proceeds. Based on an estimated EV/EBITDA acquisition multiple of 7.5x for the producing asset, which is notably higher than the multiple of 6.5x for the Berry acquisition, the incremental EBITDA was estimated to be from $73M to $220M depending on the selling valuation. Assuming a 30% maintenance capex to EBITDA ratio, which is higher than LINE's average on the existing assets, the incremental DCF was projected to be $48M to $143M, translating into a pro forma coverage ratio range from 1.02x to 1.12x for 2014.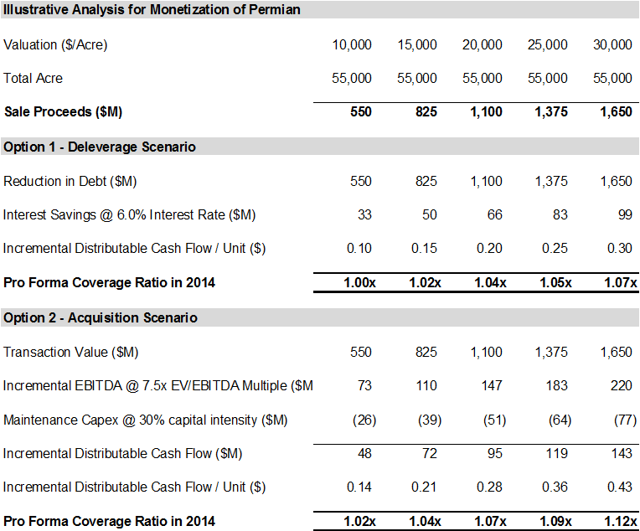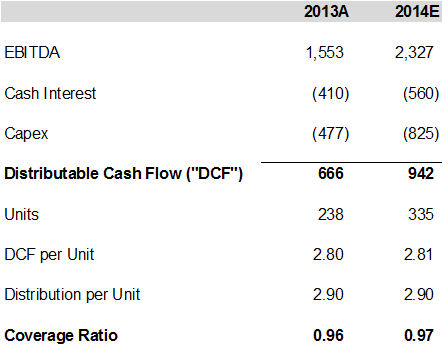 The conclusion is that LINE's successful execution of the divestiture plan will significantly improve its distribution coverage outlook and mitigate the risk of equity offerings. The risks of selling the Permian assets are limited due to the active M&A market in Permian Basin. Given the pessimistic stock valuation which implies a negative distribution growth prospect, the shares warrant a buy rating at ~$28.
All charts are created by the author, and data used in the article and the charts is sourced from S&P Capital IQ, unless otherwise specified.
Disclosure: I am long LINE. I wrote this article myself, and it expresses my own opinions. I am not receiving compensation for it (other than from Seeking Alpha). I have no business relationship with any company whose stock is mentioned in this article.