I reiterate my bullish thesis on T-Mobile (NASDAQ:TMUS). The company has been working aggressively to counter tough competition within the industry and strengthen its performance. The company recently reported mixed results for 1Q2014. TMUS's increasing smartphone penetration and synergies from MetroPCS remain among the important earnings growth drivers. Also, growth initiatives like ETF and no contract plan have been helping the company strengthen its subscriber base; TMUS experienced postpaid phone net additions of 1.265 million in 1Q2014. However, the company's margins and ARPU were negatively affected, as the company continues to offer competitive rates (adoption of value/simple choice plans) to counter competition and strengthen subscriber base.
Moving Ahead
The U.S. Telecom Industry has been facing intense competition and has a highly saturated wireless markets, which limits the growth potential. The telecom market, mainly postpaid market, is dominated by Verizon (NYSE:VZ) and AT&T (NYSE:T) , which limits TMUS's growth potential. However, the company does have the potential to expand and strengthen its prepaid business, and seems to be on track to benefit from the growth potential.
With the MetroPCS acquisition, TMUS has strengthened its position in the U.S. industry. It will help the company increase its revenues and also benefit from expected future synergies. TMUS expects to realize total synergies of $6-$7 billion from the acquisition of MetroPCS, which would be derived through the integration of the MetroPCS network. The company was able to report a total revenue increase of 47% year-on-year in 1Q2014, mainly due to the inclusion of full quarter results of MetroPCS. In the last quarter, 53% of MetroPCS customer base migrated to TMUS compatible handsets. I believe TMUS's top line numbers for 2014 will stay strong since it has a lot to offer through the expansion of its consumer choice plans via strong MetroPCS integration ties.
The MetroPCS deal was not the only revenue growth driver for the company in the last quarter; higher smartphone sales also contributed towards the growth, as the adjusted revenue grew by 15% year-on-year in the quarter. The company has been on track with its increasing smartphone penetration, which will expand its subscriber base and strengthen its position in the industry. The company has successfully increased its smartphone penetration to approximately 80% in 1Q2014, up from 65% in 1Q2013. The following chart shows the increasing smartphone penetration trend for the company in recent quarters.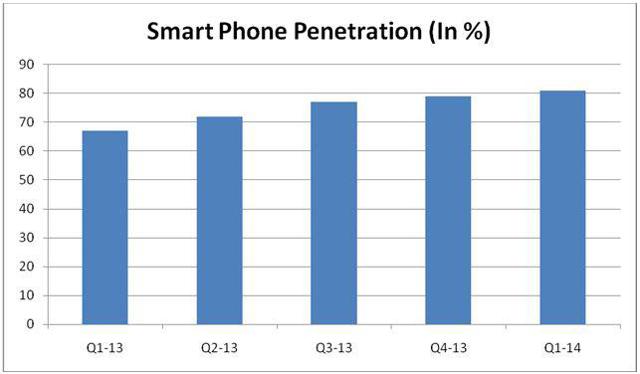 Source: Company's Quarterly Earnings Data
Margin Contraction and Growing Subscriber Base
The company has been taking measures to cater to the intense price war in the telecom sector. TMUS, with its value/simple choice plan, is offering more services with no extra charges. Also, the company's simple starter plan has started giving a tough time to T's entry-level plan by offering more data than T's 300MB, with no more extra charges. The initiatives taken by the company to address the price seem to benefiting the company's customer base; however, this will put pressure on margins, cash flows and ARPU. In 1Q2014, branded postpaid ARPU dropped by 7.5% year-on-year to $50.01 and EBITDA margin contracted by approximately 200bps.
The company drove its postpaid subscriber base better than the entire U.S wireless carrier in 1Q14 with "un-carrier 4.0" ETF reimbursement offer for switchers and no-contract plans. I believe in the ETF plan's strength of growing TMUS's subscriber base, yielding a long term stabilized earning base, thereby moderating/supporting margins. Also, I believe the tablet strategies of market leaders like T and VZ, for postpaid customer additions, are highly challenged by TMUS's ETF plan. The following chart shows the postpaid phone additions in 1Q2014 for TMUS, T, VZ and Sprint (NYSE:S).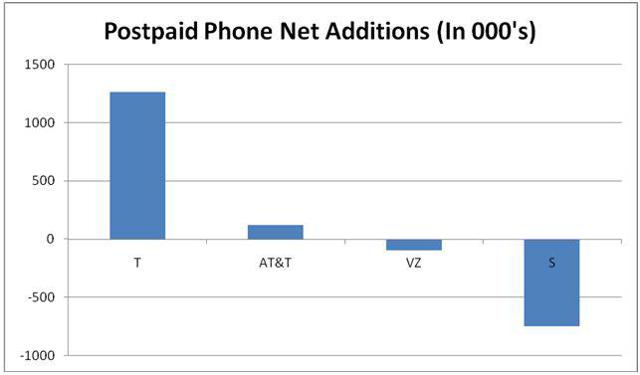 Source: Company's Quarterly Earnings Data
Other than postpaid phone net additions, the company has been doing well to expand its branded postpaid net additions and improving the branded postpaid churn rate.
| | | | | | |
| --- | --- | --- | --- | --- | --- |
| | 1Q-13 | 2Q-13 | 3Q-13 | 4Q-13 | 1Q-14 |
| Net Additions(In 000's) | (199) | 688 | 648 | 869 | 1,323 |
| Branded Churn (In %) | 1.9% | 1.6% | 1.7% | 1.7% | 1.5% |
Source: Company's Quarterly Earnings Report

Conclusion
The company is among the leading telecom companies in the industry. TMUS has substantial prepaid operations, further strengthened by the recent acquisition of MetroPCS. TMUS has been opting for aggressive strategies to counter competition. Healthy subscriber additions and improving churn rate are likely to continue in the near future, as a result of TMUS's unlimited data plan, cheaper value plans, the ETF reimbursement deal, the JUMP early-upgrade plan and free global roaming. These initiatives might put pressures on the company's margins and ARPU, but remain growth drivers for the future. Also, expected synergies from the MetroPCS acquisition and increasing smartphone penetration will benefit the company's future performance. Due to the aforementioned factors, I am bullish on the stock.
Disclosure: I have no positions in any stocks mentioned, and no plans to initiate any positions within the next 72 hours. I wrote this article myself, and it expresses my own opinions. I am not receiving compensation for it (other than from Seeking Alpha). I have no business relationship with any company whose stock is mentioned in this article.