Has anyone else noticed that the questions floating around everywhere about the interest (or lack of) in the upcoming IPO don't cover the most important item about it?
What are they selling and at what price point?

How can anyone know whether they'd want to buy this or any other IPO without knowing what percentage of the company you would be owning and the asking price in relation to some reference point of valuation?
Already established shares have clearly defined P/Es, price book value, price/cash flow relationships yet the rumored GM IPO has not addressed any of these factors. The question most heard has been… "Should the public be allowed to participate or will all the shares go to the privileged?"
If the public is allowed to buy it's almost certain that they'll be grossly overpaying for dicey future prospects after a couple of quarters with profits that were 'manufactured' along with the Chevy Volt.
If the public is excluded from the IPO, either through complicated bidding rules or other means, it's likely that the newly issued shares will be ready to "jump and be dumped" onto them at highly inflated prices.
See the Tesla Motors (NASDAQ:TSLA) post-IPO chart as an illustration of how the early non-IPO investors did in TSLA shares…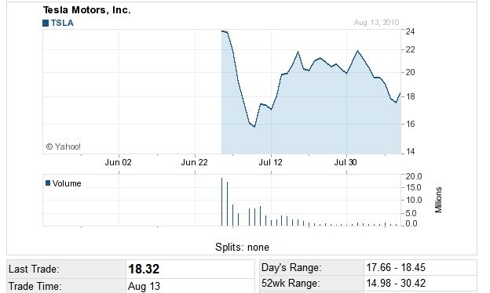 Priced at $19 it jumped quickly to $30.42 just in time to suck in those who couldn't get shares on the offering. Within a few days TSLA was down to under $15 to give them a chance at capital losses or tax loss carry forwards for their trouble.
Caveat emptor on the GM offering.
Disclosure: Author is short TSLA naked calls