On May 8, 2014, Depomed, Inc. (NASDAQ:DEPO) reported financial results for the first quarter ended March 31, 2014. Total revenues in the quarter were $76.5 million, up 192% from the first quarter 2013 and absolutely crushing our expectations for $51.3 million. However, we note almost all the upside came from greater-than-expected recognition of non-cash royalties associated with the PDL BioPharma transaction in October 2013. Revenues from product sales totaled $21.5 million, up 136% year-over-year, but falling short of our estimate. Cash royalties totaled $0.5 million, right in-line with our estimate. Licensing and milestone revenues of $11.8 million were up 297% from the first quarter 2013 and generally in-line with our thinking. The table below provides greater detail on each line item:

For the full year 2014, management has provided total product sales guidance of $100 to $115 million, and total revenues of $200 to $215 million. We provide some additional color on each key product and revenue driver below:
…Gralise…
Gralise sales came in below expectations in the first quarter 2014, $10.9 million vs. our $13.5 million forecast. Total Gralise prescriptions for the first quarter were 65,000. Based on the current price per pill ($3.33 per), 65,000 prescriptions should have equated to around $19.5 million in sales. Although we note Gralise new prescriptions include the titration pack, which is lower cost than a full 30-day prescription. Also, the price was only just raised in February 2014, so not all sales took place at the current level. Still, $10.9 million is far below what was expected based on the prescription number. CEO Jim Schoeneck noted on the first quarter conference call that three reasons were the culprit for weak Gralise sales in the first quarter.
The first was the bitter cold weather in January and February. Significant Gralise use is from elderly patients in the South, where the unusually cold weather slowed just about everything from car sales to drug sales. Weather has been a popular scapegoat for hundreds of companies during the first quarter reporting season.
Depomed also noted that new 2014 insurance reimbursements rates and deductibles played a role in slowing Gralise prescription update in January and February. In the company's defense, several other players in this area have made similar comments on their first quarter calls.
The third reason for the weaker-than-expect sales was wholesaler inventor destocking. This is the second year in a role that wholesalers worked down inventory after the first of the year.
Below is a graph showing the Gralise prescriptions for the past year. Note the drop in January and February compared to the all-in high of December 2013.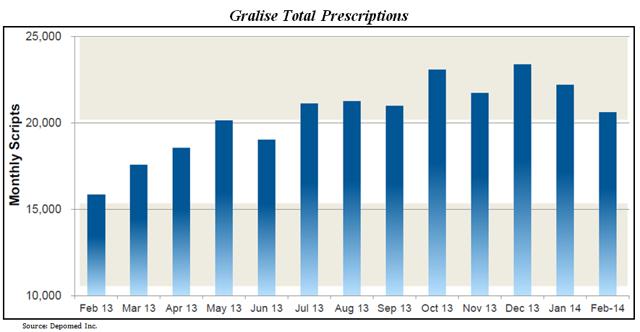 Management noted that prescriptions have bounced back for March 2014. We also remind investors that the company took an 11% price increase in December 2013 and a 19% price increase in February 2014! We believe that sales in the second quarter 2014 will better correspond to prescriptions, which we believe will be in the area of 70,000 for the quarter. Therefore, we project Gralise second quarter sales at $14.5 million. For the full year 2014, we model Gralise sales of $62.0 million.
On the exclusivity side, the company has been busy winning patent protection for Gralise - now totaling eight listed patents in the FDA's Orange Book. They have had success defending the Gralise IP against generic challengers; most recently seeing two players exit the active lawsuit and in late January 2014 and another two exit in April 2014. Actavis remains the only active patent challenge on Gralise right now. The company received a favorable Markman ruling on its litigation with Actavis in January 2014. The judge ruled in the company's favor on 23 of the 24 disputed terms. Actavis is stating that they do not infringe on the Gralise October 2016 patent. They are also claiming the October 2022 Gralise patents are not valid. The trial starts on May 12, 2014.
…Zipsor…
Zipsor sales also came in below expectations in the first quarter, totaling $5.3 million vs. our estimate of $6.2 million. CEO Jim Schoeneck gave similar reasons for the shortfall in Zipsor as noted above with Gralise - colder weather keeping patients at home, reset of insurance deductibles slowing uptake, and inventory destocking artificially impacting numbers. Similar to Gralise, management noted a bounce-back in March 2014.
However, there may be a fourth reason for the slowdown in Zipsor uptake in the first quarter 2014 - competition. Horizon Pharma acquired the U.S. rights to Vimovo from AstraZeneca late last year. Horizon has recently expanded its sales force to 250 representatives. The company now actively promotes both Vimovo and Duexis. We think Horizon's increased efforts and a reinvigorated Vimovo means Depomed must pick up its effort around Zipsor. Below is a graph showing the last year of prescriptions for Zipsor.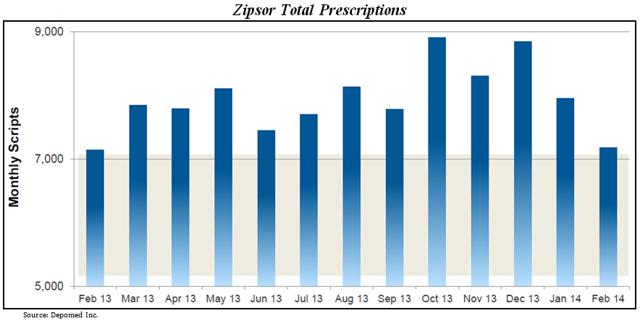 The current Zipsor run-rate is around $25 million, up nicely from when the company acquired the product. We model $25.1 million in Zipsor sales in 2014, growing to $27.5 million in 2015.
…Lazanda…
Lazanda sales totaled only $0.7 million in the first quarter, but it sounds like from management the product is really taking off here in the second quarter based on management's efforts to improve patient access. For example, the company noted that based on FHA audits, the product is annualizing at $10 million in sales right now. We model $8.5 million in Lazanda sales in 2014. We are hoping to see this product become a bigger and bigger part of the revenue line in the coming quarters.
…Cambia…
In December 2013, Depomed announced it had acquired the U.S. rights to CAMBIA (diclofenac potassium for oral solution) from Nautilus Neurosciences for $48.7 million in cash. CAMBIA is a non-steroidal anti-inflammatory drug (NSAID) indicated for the acute treatment of migraine attacks with or without aura in adults (18 years of age or older). Based on the previous twelve month sales of roughly $18 million at Nautilus, the transaction price equates to roughly 2.7x trailing twelve-month sales - more expensive than previous transactions with Zipsor or Lazanda, but still frugal compared to the company's valuation at the time of around 3.5x sales.
We note that Depomed immediately raised the price of CAMBIA by 26% upon the close of the transaction. This suggests, assuming no loss of accounts, future twelve month sales could be in the range of $23 million. We like the Cambia acquisition because Depomed can plug the product into its current 155-person sales force. Cambia is a diclofenac product like Zipsor. The product has good Tier-3 coverage and will yield 85% gross margin once scale has been reached.
Depomed re-launched Cambia with its existing infrastructure in mid-February 2014. Sales in the quarter totaled $4.6 million, ahead of our $4.0 million expectations. For 2014, we model Cambia sales at $23 million, growing to $28.0 million in 2015. For additional information on Depomed's acquisition of Cambia, please see our Zacks report from December 2013.
…Royalties, Licensing & Collaborative…
Total royalty revenue in the first quarter 2014 totaled $43.3 million. As noted above, $42.8 million of this line item was non-cash associated with Glumetza royalties. Depomed acts as the middleman in this transaction, booking the royalty revenue from Salix Pharma on Glumetza whereas PDL BioPharma actually receives the cash. Salix Pharma reported Glumetza sales in the first quarter 2014 of $130.3 million, an incredible number that nearly tripled expectations.
Carolyn Logan, Salix CEO, noted that sales were impacted by significant wholesaler stocking during the quarter necessary to bring inventories back to "adequate levels." Salix then noted that "based on March prescription data" Glumetza is annualizing at $224 million. So we are expecting a pretty significant snap-back on the non-cash Glumetza royalty line at Depomed during the next few quarters based on this information.
The remaining royalties of $0.5 million consisted mainly of royalties paid by J&J for Nucynta-ER. Going forward, we expect Depomed to continue to book royalties from J&J on Nucynta-ER, plus the newly approved Xartemis XR at Mallinckrodt (NYSE:MNK). Xartemis XR is an oxycodone hydrochloride / acetaminophen extended release tablet (essentially "Percocet XR") that Depomed provided formulation work on to Mallinckrodt. In return, Mallinckrodt will pay Depomed a high single-digit royalty on sales. For 2014, we expect total cash royalties to be $3.5 million.
On the licensing and collaborative, Depomed recorded $11.8 million in revenues in the first quarter 2014. This consisted of a $10.0 million milestone payment from Mallinckrodt on the FDA approval of Xartemis XR noted above and $1.8 million in other licensing and milestone payments. Mallinckrodt has a second Phase 3 candidate, MNK-155 (hydrocodone hydrochloride / acetaminophen extended release - essentially "Vicodin XR") that Depomed did formulation work on for Mallinckrodt. FDA acceptance of the MNK-155 new drug application earns Depomed $5 million and approval earns Depomed $10 million. We expect the NDA on MNK-155 in September 2014 and approval in 2015. We also expect Ironwood to begin a Phase 2 trial on refractory GERD candidate, IW-3718, in the second quarter 2014. We believe this will pay Depomed a small cash milestone - which we model at $2.0 million.
Depomed Revenue Growth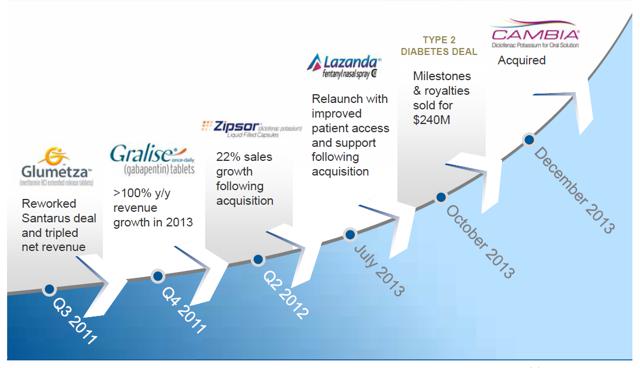 …Operating Expenses…
Product gross margin in the quarter was 82.8%, lower than expected and lower than any other quarter in 2013. We think the reset on deductibles played a role in reducing Depomed's net gross margin during the first quarter. As of now, we do not see this as a trend and expect gross margin to be back up above 86% by the end of the year.
Operating expenses in the quarter totaled $34.5 million, up slightly from the previous quarters on increased legal fees associated with the ongoing Gralise patent litigation. As a reminder, that trial is expected to start on May 12, 2014. The company also booked approximately $1.9 million in stock-based compensation during the quarter. We expect SG&A expense to track slightly lower in the next few quarters. R&D expense remains low at around $2.0 million per quarter. We note the company has no active clinical programs, and in February 2014 the company's Chief Medical Officer, Mike Sweeny, left the company. Depomed also recorded a non-cash amortization expense of $4.5 million for the full year 2013.
…Net Income & Cash Position…
Net income in the first quarter totaled $17.9 million on a GAAP basis. This equated to $0.30 per share. Net income was far ahead of expectations based on the larger than expected non-cash revenues associated with Glumetza during the quarter. However, we remind investors that cash income and GAAP income are two very different things. Below is the company's breakdown of adjusted net income based on non-cash / GAAP charges.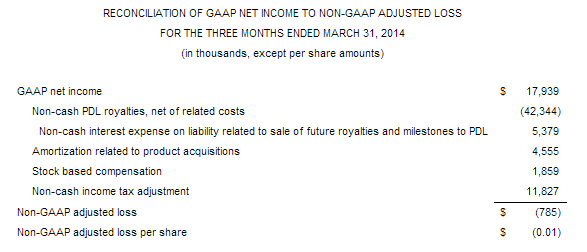 Investors can see, on an adjusted (CASH) basis, the company lost just shy of $1 million in the quarter. This was essentially in-line with expectations.
…Guidance…
Management expects total revenues in 2014 to come in between $200 and $215 million. We currently model $214.8 million for the full year 2014, and frankly speaking, we think this number is low. The Glumetza royalties are throwing us for a loop. Salix booked $130.3 million in Glumetza sales in the quarter. Depomed recorded $42.8 million in royalties (~32%). However, Salix CEO, Carolyn Logan noted that the product is annualizing at only around $224 million for 2014. So for the full year, we expect only another $94 million in sales. Depomed's guidance on this revenue line assumes between $62 and $70 million in royalties. Thus, we expect a significant drop in this non-cash royalty line in the next three quarters. Guidance for product sales for 2014 is $115 to $125 million. We model $118.6 million, up 104% from 2013.
Because of the complexity of the PDL BioPharma transaction, management has provided expense guidance on both a GAAP and non-GAAP basis. We have attempted to build our model for 2014 in-line with this guidance. The company paid net cash taxes of $58.0 million in the first quarter 2014 related to profits in 2013 - mostly related to the PDL BioPharma transaction. We note taxes of $58.0 million when applied to the $240.5 million cash received from the Type-2 diabetes franchise sales to PDL BioPharma equates to around a 24.5% tax rate.
Below is a breakdown of management guidance on GAAP and adjusted EPS for 2014. Guidance is for EPS on a GAAP basis between $0.21 and $0.36 per share. We currently model $0.39 per share.

Valuation & Recommendation
Based on our modeled top-line of $214.8 million in 2014, the stock is trading at only 2.95x revenues ($10.56 per share x 60.0 million basic shares = $633 million market value). We believe this is cheap on a relative peer-valuation basis, as the specialty pharmaceutical industry average trades at more around 4-5x revenues. This suggests, despite the impressive stock performance over the past 12 months (+90%), Depomed shares still have some nice upside left to the tune of another 30-40%.
On a GAAP basis, we expect positive EPS of $0.39 in 2014. On a non-GAAP (pro forma) basis, we see positive EPS of around $0.15 per share. The company expects, at a minimum, to be cash flow breakeven in 2014 backing out the $58.0 million in cash taxes paid in the first quarter. Therefore, we believe the company will exit 2014 with roughly $220 million still on the books. Of course, this includes no new product acquisitions in 2014, which we doubt will be the case. According to management, the phones over in the business development division of the company are ringing off the hook. We believe the company is looking for a late-stage (most likely post-phase 3) or commercialized asset between the price of $20 and $100 million to plug into the existing commercial model.
History tells us management will be prudent and economical in their decision just based on the deals to acquire Zipsor, Lazanda, and Cambia. So far they have not strayed from the core focus of pain or neurology. If we assume the company puts half that money work over the next twelve months, and can take that $100 million and turn it into $200 or $300 million in new revenues between the end of 2014 and 2017, then Depomed's stock is very cheap!
Downside seems limited unless the company loses the Gralise ANDA litigation, which based on the outcome of the recent Markman hearing seems highly unlikely. As a result, we continue to believe Depomed represents a nice core holding in the specialty pharma sector. We admit, we liked Depomed's stock before the quarter was reported at $13 per share, so today at $10.50 we REALLY like it. Fundamentals have not changed.
Based on a price-to-sales ratio of 4x 2014 revenues of $215 million, Depomed would be fairly-valued at $14.50 per share. Adding in another $220 million in cash raises this value to $18 per share. In 2015, we model revenues at $240 million. We think the future remains bright for this name, especially considering all the M&A activity in specialty pharma lately. Our target is $15 per share, which we believe is very conservative and achievable in the next six months.
Disclosure: I have no positions in any stocks mentioned, and no plans to initiate any positions within the next 72 hours. I wrote this article myself, and it expresses my own opinions. I am not receiving compensation for it (other than from Seeking Alpha). I have no business relationship with any company whose stock is mentioned in this article.