Earnings estimates have fallen sharply for Silicon Labs (SLAB) following the company's Q1 earnings report on April 29. The drop in consensus estimates was enough to place Silicon Labs in the bottom 5% of all companies that Zacks ranks according to earnings momentum. It is a Zacks Rank #5 (Strong Sell) stock.
Although shares of Silicon Labs have sold off following the latest earnings report, the valuation picture still does not look very attractive with the stock still trading above the industry median on multiples of both forward earnings and cash flow.
Silicon Labs develops analog-intensive, mixed-signal integrated circuits used in a wide range of applications such as set-top boxes, televisions and cell phones. The company was founded in 1996 and has a market cap of $1.9 billion.
First Quarter Results
Silicon Labs reported its first quarter results on April 29. Adjusted earnings per share came in at 24 cents, missing the Zacks Consensus Estimate by 2 cents.
Revenue for the quarter was $145.7 million, which was actually better than the consensus of $144.0 million. But it was up just 0.2% year-over-year. The sluggish growth was mostly attributable to a 15% drop in revenues in the company's "Access" segment, which was due to declines in the market for embedded modem ICs.
Gross profit declined from 60.1% to 59.8% of revenue as margin contraction in its Access and Broadcast products more than offset gains in its Broad-based products.
On the bright side, operating cash flow was strong, rising 59% year-over-year to $47.0 million.
Estimates Plummeting
Following its Q1 results, management provided disappointing guidance for the second quarter, prompting analysts to revise their estimates significantly lower for both 2014 and 2015.
The 2014 Zacks Consensus Estimate is now $1.17, down from $1.43 before the Q1 report. The 2015 consensus is currently $1.56, down from $1.88 over the same period. This negative earnings momentum is a trend that has been in place for several months now.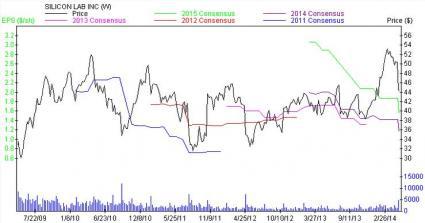 Silicon Labs is a Zacks Rank #5 (Strong Sell).
Pricey Valuation
Shares of Silicon Labs are down almost 10% since the Q1 report, but it does not look like a value stock at these levels. The stock trades around 28x 12-month forward earnings, well above the industry median of 16x. And its price to cash flow ratio of 28x is also a premium to the industry median of 18x.
The Bottom Line
With earnings estimates in a major downward trend and given the premium valuation, investors should consider avoiding shares of Silicon Labs for now.
SILICON LAB INC (NASDAQ:SLAB): Free Stock Analysis Report
(email registration required)