There are companies that have been around for years and others for decades. Some have been around for 100-odd years, but only a few have been there for centuries. Anheuser Busch (NYSE:BUD) and Molson Coors (NYSE:TAP) are two such companies that were founded back in 1366 and 1786, respectively, and have managed to exist for centuries. Now that isn't very surprising as booze is probably the oldest social networking tool available to mankind.
Both are leading global brewers that produce, market, distribute and sell beer and other beverage products. In fact, Anheuser Busch is one of the world's top five consumer products companies. The company's portfolio has well over 200 beer brands, including Budweiser, Corona, Stella Artois and Beck's among others. Its key markets are North America, Latin America, Europe and Asia. Likewise, Molson Coors' operating segments are divided into four key regions, viz. the United States, Canada, Europe, and Molson Coors International (MCI). The company has a diverse portfolio that includes signature brands like Carling, Coors Light, Molson Canadian, etc.

Below these two beer companies square off in a battle to determine which is a better investment candidate for your portfolio.
Round 1: The recent earnings report (1Q14)
Anheuser Busch released first-quarter earnings on May 7, and the results were mixed compared to analysts' expectations. Here's a breakdown of the report and a year-over-year comparison:

Driven by strong performance in top markets, total volumes grew by 17.8% to 105.99 million hectoliters from 89.96 million hectoliters in 1Q13.
Revenues increased 15.7% in the quarter.
Cost of Sales increased by 2.0% in the quarter, but decreased by 2.2% on a per hectoliter basis, driven by lower commodity prices and production costs.
EBITDA increased 13.1% to $3.88 billion.
EBITDA (normalized) margin expanded 63 basis points.
Normalized profit attributable to shareholders was $1,416 million in 1Q14 compared to 1,852 million in the year-ago period. As a result, earnings per share decreased 25%.
On the same day, Molson Coors released its first-quarter report. The results beat analysts' expectations. Following is a breakdown of the report and a year-over-year comparison:

Worldwide beer volume decreased 0.1% to 11.9 million hectoliters.
Net sales decreased 1.5% to $816.0 million, but were up 0.3% on a constant currency basis.
Cost of goods sold decreased 4.5% to $523.2 million in 1Q14 from $547.1 million in 1Q13.
EBITDA increased 20.4% to $251.2 million.
EBITDA margin expanded by 5.6 percentage points.
Underlying after-tax income increased 115.2% to $0.55 per diluted share, driven by improved performances in all of its businesses and lower interest expenses versus a year ago.
Winner: Molson Coors,
Score: Anheuser Busch 0 - 1 Molson Coors.
Round 2: Outlook on the year
As a result of mixed first quarter, Anheuser Busch isn't too optimistic for the rest of this year. Driven by an improving global economy, the beer company expects growth in volumes in the upcoming quarters, esp. in Mexico and Brazil in the run-up to the 2014 FIFA World Cup. The company also shrugged off concerns of any adverse volume impact as a result of the pass-through of the recently announced tax increase in Brazil. It also forecasts strong volume growth in China and other Asian nations during the year.
The company expects revenue-, CoS- and distribution expenses per hectoliter to grow organically during the year. The average coupon on net debt is forecast to be in the range of 4.0% to 4.5%, while the effective tax rate is expected to be between 21% and 23% in FY14. The company's guidance for net capital expenditure in the year is $4.0 billion. Although Anheuser Busch does not provide revenue or earnings guidance, Bloomberg analysts are expecting second quarter and full-year 2014 per-share earnings of $1.31 and $5.33, respectively. This would translate to a 47.1% and 8.55% rise, respectively, from 2Q13 and 2013
In comparison, Molson Coors is forecast to report second quarter and full-year 2014 per-share earnings of $1.47 and $4.25, respectively. This would reflect a slight (2.6%) earnings decline in Q2 on year-on-year basis, but represent a full-year growth of 7.6% over 2013. After a strong first-quarter result, Coors management maintained its forward guidance from last quarter. For the year, the company expects free cash flow of $700 million, plus or minus 10%. After entering an advanced pricing agreement with tax authorities early in the second quarter, Coors reduced its full-year guidance for effective tax rate to be in the range of 12% to 16%, down from 16% to 20% earlier. The company anticipates $350 million in capital spending, $110 million in corporate MG&A expense, and $145 million in consolidated net interest expense during 2014.
Winner: Anheuser Busch,
Score: Anheuser Busch 1 - 1 Molson Coors.
Round 3: Value of beer stocks
To ignore the distorting impact of individual countries' taxation policies, the simplest way to value beer stocks is to look at their enterprise value, which includes both equity and debt, and compare it with pre-tax earnings (EBITDA), which is a proxy for cash flow. To put it into perspective, the chart below compares EV/EBITDA metric for some of the most prominent names in the industry.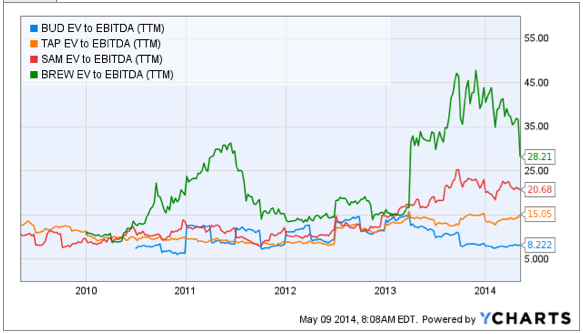 Source: YCharts
As you can see, all the four companies had similar EV/EBITDA about a year ago, but took varying trajectories over the last twelve months or so.
Clearly, Boston Beer (NYSE:SAM) and Craft Brew Alliance (NASDAQ:BREW) are significantly overvalued than Busch and Coors. Be that as it may, Coors trades at almost double the EV/EBITDA of Busch, which is unequivocally the most undervalued stock considering industry trends.
Winner: Anheuser Busch,
Score: Anheuser Busch 2 - 1 Molson Coors.
Round 4: Cash flow analysis
Sure enough, top and bottom line growths are important considerations while analyzing a company. Nevertheless, earnings can sometimes be clouded by accounting gimmicks. It goes without saying that cash flow is harder to manipulate, making it an effective metric for analysis, not to mention it reflects the cash-generating ability from business operations. Ultimately, cash is king and this is especially true in the beer industry where aggressive marketing, research and development, new product launches are common practices.
Analyzing a company's free cash flow instead of earnings multiples provides a better understanding of how a company runs and an account of actual cash that would be available for distribution to shareholders after making all investments necessary to maintain ordinary business operations.

As illustrated in the table above, both companies have been generating positive free cash flows in recent years. However, Anheuser Busch observed a 43.18% decline in FCF in 2013, mainly due to the acquisition of Grupo Modelo. The company has been making large investments lately, and has also re-acquired Oriental Brewery in South Korea, a $5.8 billion deal that closed on April 1. Clearly, these investments are likely to expand the company's markets, brands and, more importantly, earn high returns. As a result, the company's strategy has the potential to pay off in the long run.

On the other hand, Molson Coors has been steadily growing and nearly doubled its FCF over the past three years. Underlying FCF for 1Q14 totaled a use of $65 million, up $16 million from year-ago period. However, the FCF figure does not include a $62.9 million noncore cash receipt for the early termination of Modelo brand's JV in Canada.
As Anheuser Busch is considerably larger than Molson Coors, it will have a harder time growing its FCF in the short term. That being said, its aggressive strategy to invest in cash machines - in emerging markets around the world - should successfully pay off in the long term.
Winner: Anheuser Busch,
Score: Anheuser Busch 3 - 1 Molson Coors.
Bonus round: Dividend analysis
While Anheuser Busch pays unequal, semi-annual dividends that total up to an annual payment of $2.81 per share, Molson Coors pays a quarterly dividend of $0.37 per share that adds up to an annual payout of $1.48 per share.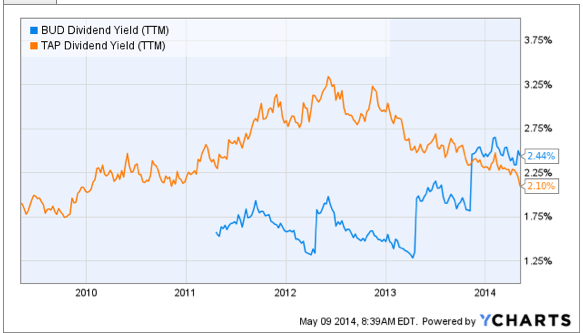 Source: YCharts
Currently, both stocks have comparable dividend yield (TTM) of around 2.10%-2.45%. As you can see in the figure below, Molson Coors has been distributing cash to its shareholders for more than 25 years now and has increased payouts almost regularly. Although payouts may have remained unchanged for a few years in between, it has never reduced payouts since 1988.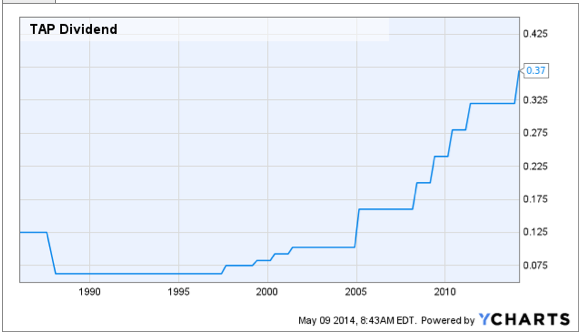 Source: YCharts
In comparison, Anheuser Busch started paying a divided in April 2010. It paid an annual dividend for the first three years, which turned into semi-annual payments last year. The company has raised its payouts in each of the last 3 years and expectations are same for this year too.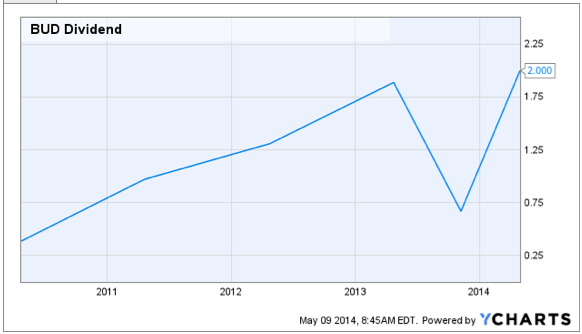 Source: YCharts
Furthermore, Coors has a far more manageable current payout ratio of 36.5% compared to 53.6% of Busch. Considering the dividend-paying streak, dividend-raising streak and payout ratio, this round goes to Molson Coors.
Winner: Molson Coors,
Score: Anheuser Busch 3 - 2 Molson Coors.
Verdict
In my humble opinion, it appears that Anheuser Busch has better chances of outperforming Molson Coors in the long term. Thanks to its aggressive strategy, the company is making all the right moves to not only sustain growth in key regions, but also penetrate into fast growing markets of Asia, Central and South America. Cheap valuations, positive free cash flow and decent dividend yields, makes it an attractive candidate to add to your portfolio.
Disclosure: I have no positions in any stocks mentioned, and no plans to initiate any positions within the next 72 hours. I wrote this article myself, and it expresses my own opinions. I am not receiving compensation for it (other than from Seeking Alpha). I have no business relationship with any company whose stock is mentioned in this article.