While I am not currently an investor in ICON plc (NASDAQ:ICLR) at the time of researching and writing for this article, I very well could continue looking and be a buyer (I will update this article if that occurs). I can break the strengths of this company down into three main categories, and all three will support the opinion that the shares are at least 20% undervalued; our mark for considering for purchase.
Strength in the Sector, Insulated Business Model
Financials and Valuations
Successful Integration of Acquisitions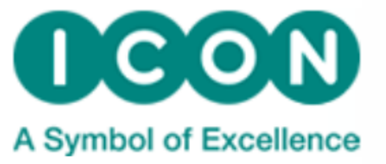 (Source: Company Website)
The major drug sector, and to a similar degree the biotech sector, has experienced incredible growth over the last decade. Pick a reason; aging populations, baby boomers, obesity increasing demand, or technology increasing our efficiency to create products. Whichever reason you are more comfortable with, all exist going forward as well. From a top-down perspective, we are very favorable on growth continuing. According to the National Health Expenditure Projection published by Health Affairs (Source: Health Affairs, September 2013), drug spending will reach $455 billion by 2022. This equals an incredible compounding growth of nearly 7% per year. If you're already thinking this is an article expounding the virtues of buying drug stocks because people are getting old, you're wrong. We're getting to the point that makes ICON plc the right way to play this trend in the short term and generate excess returns.
The ICON business model:
There has been a lot written about energy MLPs in the last year. I'm going to use the analogy for the energy sector to paint a picture of what's happening here in the drug sector. There are three ways to be involved in the energy business:
Pull it out of the ground (upstream)
Store it and transport it (midstream)
Refine it and put it in your gas tank (downstream)
Upstream has the risk. These companies own the commodity and the land, and take the risk of failure. Downstream is exposed to refining spreads and demand fluctuations. The people in the middle, though, those that take it from one location to another, they are the one raking it in for tolls paid to cross the bridge. They make their money on transportation, regardless of the rise and fall of oil from one day to another.
Consider the same three-way breakdown for the healthcare sector (crudely simplified)
Design, research, test new drugs (upstream)
Assist in the flow of drugs from Stage 1 trials to Stage 4 trials (midstream)
Deliver to end-users i.e. doctors, hospitals, drug stores (downstream)
Midstream drug development is where ICON plc focuses and flourishes, or as the company would put it, "outsourced development services to the pharmaceutical, biotechnology, and medical device industries". (iconplc.com). Nowhere along the pipeline of developing drugs does ICON own any product, nor is the company's long-term business success hinging on the next-stage approval. We have all seen it too many times, a biotech company announces trial failure and the stock drops 20% in a day. We have that risk with a drug developer, not with a midstream healthcare support company like ICON.
This is our #1 buy catalyst for ICON. We get to be exposed to a great growth sector and industry without taking the same level of risk.
Financials & Valuation Matter Too:
On the Q1 '14 conference call on April 30th, CEO Ciaran Murray stated:
"…margin performance was ahead of expectations and this is the reason for our increase in guidance" (Source: Conference Call Transcript)
This is a great sign, and very difficult to do when doubling revenue every year over the last three. Typically, growth like that requires exceptional additional expenditures. ICON has been able to keep its eye on efficiency while expanding the top line. Whichever margin you choose to look at, they are all marginally improving; gross margins, operating margins, as well as the reduction in SG&A as a percent of revenues (a good thing).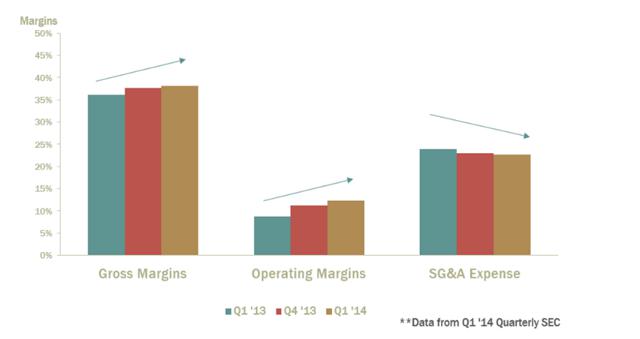 (Source: Morningstar)
There was a lot of interest in margins by the analysts on the most recent conference call (16 analysts cover ICON in total). Here's what is important going forward, though... Margins will continue to improve. This is the part Wall Street is either missing, or has failed to believe. The acquisitions in the last two years (which we will get to in a second) have been integrated exceptionally well. While some targets are acquired simply to "buy additional revenue growth", management at ICON has intentionally focused on buying companies that offer synergies in the expense and revenue departments. As a specific example, the company has combined its labs with clinical services departments, making the free flow of information more fluid. (Source: Ciaran Murray, CEO. Call April 30th, 2014)
Our #2 Catalyst for the buy recommendation: ICON is growing fast, and responsibly.
Acquisitions: Covering the Globe
ICON plc is a Dublin, Ireland-based business, but that's just the headquarters. The company is truly global. The largest customer is Pfizer (NYSE:PFE), at 29% of revenue (Source: quote from David Windley, analyst at Jeffries who covers the company). That number represents a risk to any company, having that much in sales generated from one major client. Let me examine further for you, though, and explain why maybe Wall Street is mispricing this risk. Pfizer has been the largest client for several years. Last year, it represented 26% of revenues (2013 Annual Report). To be the largest client, and growing as a percentage, for a company that has growing revenues means one thing. It's simple math, Pfizer is doing substantially more business with ICON. Nothing moves the needle more than the largest client giving you more business. We can take a look at Pfizer's pipeline of drugs and make the same estimations going forward as it continues to develop more products. Pfizer is a $180 billion company that spent more than $6 billion in R&D each year for the last 6 years (Source: FierceBioTech)
ICON CEO, Ciaran Murray is quoted as saying he spends time "developing the relationship" with the company's largest client, and that it is very strong.
In 2012, ICON completed the acquisition of Beijing Wits, a similar "mid-stream" outsourced services company based in China, with a predominately Chinese customer base. The goal of this acquisition was to increase geographic footprint and implement the synergies we discussed before. Mission complete.
In early 2014, ICON announced an acquisition of APTIV and closed in May at a $143 million price tag. APTIV has a strong presence in the Japanese market. This acquisition was a catalyst for the increase in guidance management recently gave.
It's a good thing that CFO Brendan Brennan recently said, "we will pause and reflect", when asked if the acquisitions will continue. Management understands one of the competitive edges is incorporating the new companies into the efficient model of ICON and adding value to the enterprise as a whole, not just buying revenue.
Catalyst #3 for buying ICON: The company acquires right.
Summary:
A high-growth company (both top and bottom lines), in a low-growth economic environment
With the balance sheet and cost-efficiency of a mature, stable blue chip
And a risk-reduced business model in a secular bullish sector
An investor is hard-pressed to find all these attributes in a company.
Reduced risk doesn't mean no risk. There are three hurdles that could derail the $48 price target we see for next year. First, a significant economic downturn that causes drug manufacturers to question spending on development. Second, overreaching on acquisitions and failure to implement strategy correctly. Third, and probably the largest risk, Pfizer leaving. Maybe Pfizer buys a smaller company similar to ICON and takes these services in-house, maybe it finds a replacement, and maybe M&A activity changes the dynamic of what Pfizer needs. Whatever the reason, it is a risk we have to price in.
Downside price risk if any of these items happen... $29.50. Investors will not be willing to pay a high multiple for growth, and earnings will fall in the 1.90-2.05 range.
The more likely valuation scenario from our analysis is that fiscal year 2014 earnings per share will be $2.40. This is based on our analysis that 3 things will happen:
APTIV will be successfully incorporated into the company's business culture. (adding 15-20 cents to EPS)
Gross margins will continue to improve, by 1%. (adding 12 cents to EPS)
The current $3.1 billion backlog will increase by $400mm. (in line with expectations)
**And investors will realize the catalysts we have discussed throughout the article and be willing to pay for this "risk-reduced" growth, when growth is so hard to come by. (20x multiple)
The math looks like this:
Last Year's EPS: $1.91
+ APTIV Acquisition: $0.20
+Margin Expansion: $0.12
+Organic Growth: $0.17
___________________
$2.40 x (20x Multiple)
(20x Multiple is 10% lower than average growth stocks at the moment, and historically on the conservative side for ICON)
= $48.00
ICON plc is 27% undervalued from the $48 per share estimate of value we forecast by year-end 2014.
Disclosure: I have no positions in any stocks mentioned, and no plans to initiate any positions within the next 72 hours. I wrote this article myself, and it expresses my own opinions. I am not receiving compensation for it (other than from Seeking Alpha). I have no business relationship with any company whose stock is mentioned in this article.
Additional disclosure: AlphaStreetResearch is a team of Investment Research Analysts. This article was written by Mr. Hunter Orr, CFA, Director of Research.