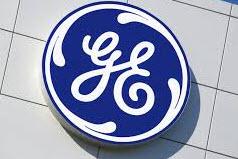 General Electric (NYSE:GE) has been in the headlines as of late due to the company's offer to buy the French company Alstom. The purchase would greatly expedite the transformation of General Electric into a global energy powerhouse no doubt. Nevertheless, this is only one of many recent positives materializing for General Electric shareholders as we speak. In the following section I will detail several new catalysts for the stock that have not received much coverage as of late and may not be priced in.
Recent catalysts and developments
A strong Euro bodes well for US multinationals
The Euro recently closed near its 52-week high of 139 compared to the US dollar. The strength in the Euro bodes well for US multinationals.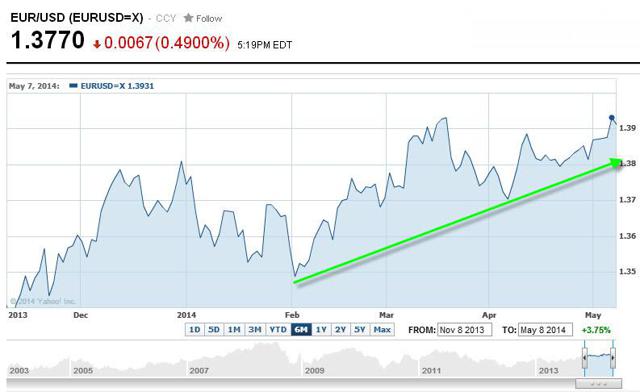 (Chart provided by Yahoo.com)
A weak dollar makes US products less expensive for foreign buyers. This bodes well for exports and therefore General Electric. Furthermore, I do not see the current predicament the dollar is in changing anytime soon. The issue at hand is the fact the ECB has not embarked on the same quantitative easing program as the US and I don't see them doing so any time in the near future either. Consequently, this bodes well for General Electric's global sales potential and underpins my thesis the stock will appreciate.
The hunt for yield continues
The Fed implemented a zero interest rate policy in conjunction with its quantitative easing policy. This has left baby boomer savers out in the cold and on a hunt for yield. Fixed income instruments such as bonds and CDs have virtually no yield currently. General Electric's outstanding 3.3% dividend yield coupled with the company's opportunity for growth suggests a scenario where investors can achieve both capital gains in combination with income production. This would seem to be an excellent opportunity for dividend investors.
A shift in the market form growth to value has occurred
Over the past few weeks I posit a major paradigm shift has occurred which will underpin General Electric's stock. The high-flying momentum stocks have severely sold off regardless of the results. The issue at hand is market participants are no longer satisfied with ephemeral valuation metrics such as the number of eyeballs and the like. Investors have come to their senses so to speak and are demanding earnings and income, as they should. This cycle happens every so often with the disparity between growth and value stocks widens significantly. Now that the snapback has begun, I submit some of that money flow will find its way into General Electric's stock.
The turnaround story shifting into high gear
General Electric is focused on streamlining operations and divesting itself of unprofitable business units. GE plans to divest $4 billion of the expansive conglomerate by spinning off the consumer finance business in an initial public offering later this year. Furthermore, the company plans to shed all operations that aren't meeting a minimum profit margin target of 10%. This will allow GE to focus on the company's strengths such as its industrial business. Profits rose 12% year-over-year for the division. The jet engine and oil and gas businesses delivered strong results for instance. As time goes on, this program will have a dramatic impact on the company's bottom line.
The stock is fundamentally undervalued
GE currently trades for a 21% discount to the industry. I suggest this leaves the stock with plenty of room to run.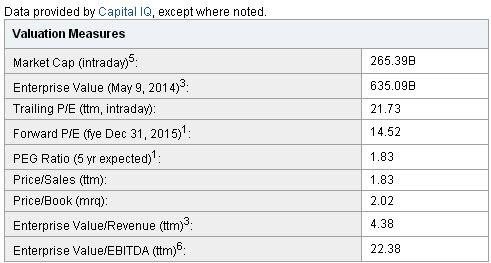 (Table provided by Yahoo.com)
I see this as a definite buying opportunity in the stock. Obtaining shares of GE with the potential for significant share price appreciation and a 3.3% dividend yield to boot seems like an excellent opportunity for income investors. Furthermore, the stock appears technically sound as well.
The stock is in a technically bullish trend
The stock has broken out to the upside and is currently in a well-defined uptrend.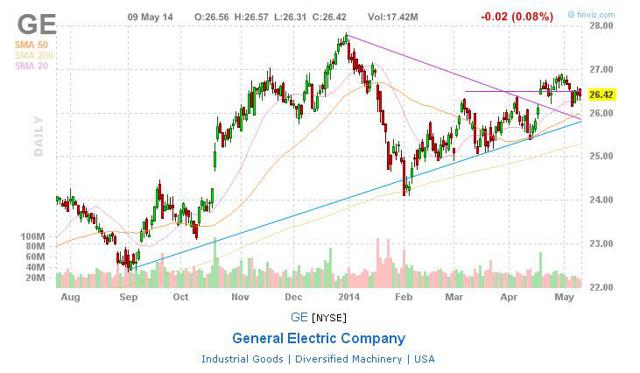 (Chart provided by Finviz.com)
Conclusion
General Electric is a great investment currently on the company's own merits. If the global economic recovery and the company's plan to improve the bottom line stay on track, this will create significant shareholder wealth over the coming years. On top of this, the company is shifting the focus of operations to the energy sector. This may trigger multiple expansion as a re-rating of the company to the higher multiple energy sector may occur.
Final Thought
Based on the Fed's current zero interest rate policy, GE is a better hedge against inflation than fixed income instruments such as bonds and CDs. On top of all this, dividend-paying stocks have always outperformed non-dividend-paying stocks. With General Electric's outstanding 3.3% dividend yield and the company's opportunity for growth, you have a recipe for outstanding returns. Nevertheless, if you choose to start a position in any stock, I suggest layering in a quarter at a time at a minimum to reduce risk.
Disclosure: I have no positions in any stocks mentioned, but may initiate a long position in GE over the next 72 hours. I wrote this article myself, and it expresses my own opinions. I am not receiving compensation for it (other than from Seeking Alpha). I have no business relationship with any company whose stock is mentioned in this article.