I began thinking more and more about the U.S. beer market a few weeks ago after hearing reports of yet another blockbuster year for the Vermont Brewers Festival. With over 30 different breweries from the region participating, the turnout was strong and the beers varied.
I've also noticed the massive amount of shelf-space now dedicated to craft and micro brews at my local gas stations, convenience stores, and liquor stores. After realizing that I was a huge fan of many of these frothy offerings I began researching growth stock investment opportunities in the craft brewing industry.
I've found two stocks that are compelling small cap investments and even though they have rallied over 180 percent in the last year and a half, I believe they still have room to run.
According to a report released last week by Brewers Association (the largest organization of brewers in the U.S.), craft beer now accounts for around 5 percent of the total U.S. beer market. That's not a huge percentage, but sales volumes have increased 9 percent in the first half of this year. And this story does not stop there.
Paul Gatza, director of the Brewer Association, had this to say on the subject of market strength: "While craft brewer sales volume climbed 9 percent in the first half of 2010, overall U.S. beer industry volume sales are down 2.7 percent so far".
What we have here is a market that appears to be experiencing near zero growth (or even contraction if you assume 2010's results will occur again in 2011), but consumers are becoming increasingly interested in the craft brewing segment. And they're buying those beers instead of the mass produced offerings.
Odell Brewing Company said people are "...looking for bigger flavors and subscribe to the drinking-less-but enjoying-it-more club". It's the quality over quantity concept that's becoming more prevalent across many industries - and it's allowing craft breweries to grow and increase sales volumes.
So what qualifies a beer company as a 'craft brewer'? Craft beers are produced at a small brewery with output of no more than 2 million barrels a year. According to the report released by the Brewers Association last week, the number of these types of breweries is steadily increasing.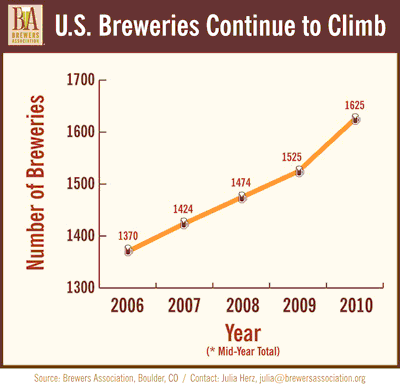 But more breweries will mean increased competition - so differentiation is critical for companies to be successful over the long-term. Two small cap companies are excelling in this area, and I think have potential to grow and grab market share from the larger brewers.
The first is Boston Beer Co. Inc. (NYSE: SAM). This brewery produces the popular Samuel Adam's Lager and Twisted Tea. The company is headquartered in Boston, Ma, and has breweries in Massachusetts, Ohio, and Pennsylvania.
Boston Beer recently reported results for the three months ended June 26, 2010. The company's revenue increased to $129.6 million, up 9.7 percent from the comparable three months of 2009. The company also saw its gross profit increase 16.6 percent over the same period.
Boston Beer is growing fast enough that it may soon outgrow craft beer status. The brewer expects to sell more than 2 million barrels by 2012. But just because the company may outgrow the 'craft brewer' definition doesn't mean it isn't a compelling investment. It may just be in the sweet spot - small enough to gain greater popularity as a top-quality brewer but large enough to gain distribution efficiencies and greater shelf space.
The second company I've been following is Craft Brewers Alliance, Inc. (Nasdaq: HOOK).
Headquartered in Portland, Oregon, Craft Brewers Alliance brews high-quality craft beers including Redhook Ale and Goose Island. Craft Brewers currently produces 31 beers - most are regional, but some are gaining attention at the national level.
Last Friday, Craft Brewers Alliance reported results for the second quarter of fiscal 2010. The company's operating profit increased by 14 percent and gross margin increased by three percentage points. The stock jumped 13.5 percent on Friday, closing at $5.96 per share.
Both Boston Beer Company and Craft Brewer Alliances are in a growing industry. Both stocks have also been strong performers of late. As with all small cap stocks, it's important to pick the right time to establish a position - if you decide you're a fan of these companies.
The chart below compares their returns over the last year and a half.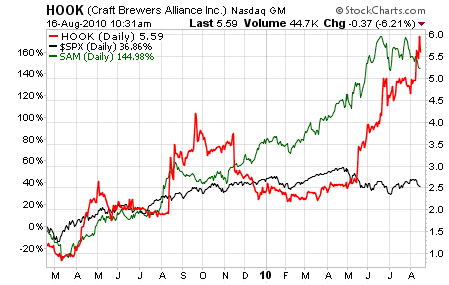 They have clearly outperformed the S&P 500 over this period - both gaining around 150 percent while the S&P has gained around 30 percent.
Since craft beers typically cost more than traditional, mass produced beers, you might think consumers in a recession would shift to cheaper offerings from mega brewers. Even analysts say the success of craft beer is surprising given the economic conditions over the last year - but they do believe there's an explanation.
Lauren Torres, beverage analyst at HSBC, says, "I think people like affordable luxuries in this type of economy and maybe they can't buy a new car or a second home, but they can afford better beers".
I couldn't agree more. People like to indulge, even if just a little bit. It's easy to talk oneself out of buying a fancy flat screen TV - or a new set of golf clubs or a new couch for the living room. If you already have these items and they work - why upgrade?
A more expensive beer on the other hand is easy to indulge in. After all, if you buy two 'expensive' beers at a total cost of $4.00 (from the liquor store) versus three 'cheap' beers at a cost of $2.50, you've hardly broken the bank.
The homegrown element of craft beers is also something that's very appealing to the growing number of consumers who subscribe to the local food movement. If these people like to purchase food that's grown closer to home, it's rationale to assume they like to do the same with beer. Of course, buying a 'local' beer that brewed on the other side of the country isn't exactly in-line with the localvore food movement, but the idea is pretty much the same - and it's easier to bottle and ship a craft brew than a dozen cherry tomatoes.
Take a look at these two companies and let me know what you think. I like them, and suggest putting them on your watch list. And when you get around to trying their beers, I bet you'll like those too.