Isis Pharmaceuticals Inc. (ISIS) reported a net loss of 25 cents per share in the second quarter, wider than the Zacks Consensus Estimate for a net loss of 15 cents and the year ago loss of 3 cents. The higher loss was mainly due to lower revenues and higher operating expenses. Following the adoption of a new required accounting standard, Isis is no longer including Regulus Therapeutics' financial results.
Quarter in Detail

Second quarter revenues, which include license fees, milestone-related payments and other payments, declined 24.2% to $23.5 million. Revenues missed the Zacks Consensus Estimate of $26 million.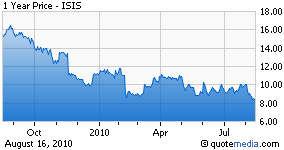 Despite recognizing revenues from the $35 million upfront payment received from GlaxoSmithKline (NYSE:GSK) and $1.9 million under a recently signed agreement with Sanofi-Aventis (NYSE:SNY), revenues declined during the reported quarter as the company finished amortizing the revenue associated with the $50 million upfront payment received from Johnson & Johnson's (NYSE:JNJ) Ortho-McNeil-Janssen in 2007. Moreover, Isis is no longer including Regulus' revenue.

Third quarter revenues will include a $5 million milestone payment received by Isis under its collaboration with GlaxoSmithKline. The milestone payment relates to the selection of a suitable candidate (ISIS-GSK1Rx), which can be moved into further stages of development under the collaboration agreement.
Isis reported higher expenses during the quarter mainly due to increased costs associated with the company's preparations for applying for regulatory approval of lead candidate, mipomersen. Isis and partner Genzyme (GENZ) intend to file for US approval in early 2011. The higher expenses were partially offset by the non-inclusion of expenses for Regulus.

We expect operating expenses to continue increasing as the company works on the regulatory filing of Mipomersen and expands its research and development activities.

Guidance Updated

Isis updated its guidance for 2010 which now reflects the impact of the company's agreement with GlaxoSmithKline. The company now expects net operating loss in the mid to high $40 million range, representing a 10% - 20% increase from its earlier expectation of net operating loss in the mid $50 million range. Isis also increased its cash guidance for the year by $25 million and now expects to exit the year with more than $450 million of cash.

Our Take

We recently upgraded Isis Pharmaceuticals to Outperform. We believe that antisense technology, which is the main area of focus at Isis, represents an exciting and potentially revolutionary platform for developing therapeutic candidates to treat a wide margin of diseases. We are encouraged by the company's progress with its lead pipeline candidate, mipomersen.

We are also positive on Isis' agreement with Glaxo, which not only validates its antisense technology; it also provides Isis with funds in the form of upfront, milestone and other payments.