The Alerian MLP index dropped by 0.39% for the week with YTD total return at 7.38%. The S&P 500 finished the week down 0.14%. In spite of the slightly down week overall, there was an abundance of positive news disclosed during the earnings conference calls leading to 32 MLP units reaching a new 52-week high. There were 2 new 52-week lows, including solid MarkWest Energy LP (NYSE:MWE), which guided to accelerating distribution growth in 2015 and 2016, however, the market continues to be concerned about volatile producer volumes.
Unit Value Winners and Losers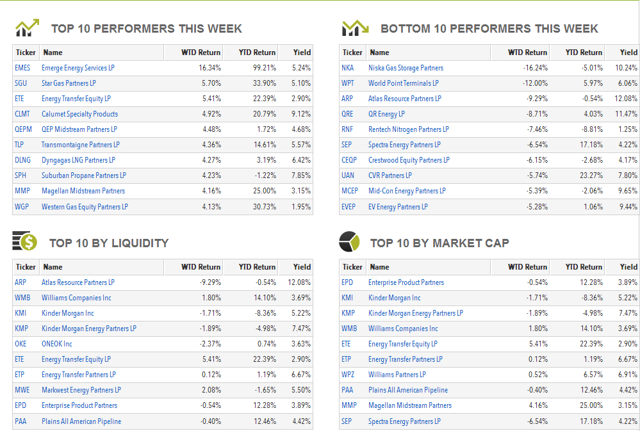 The company's Q1 earnings report only reinforced the growth prospects of Emerge Energy Services LP (NYSE:EMES), with new contracts, "intense" demand for its products and permitting underway for two new facilities. The EMES unit price is up almost 100% year-to-date. Hi-Crush Partners LP (NYSE:HCLP) also produces and distributes Northern White fracking sand, generating a 140% TTM total return.
The week's worst performer, Niska Gas Partners LP (NYSE:NKA) used the earnings release to announce the CEO resignation and replacement. In addition, the re-contracting of Niksa's largest gas storage company provides a one-time payment that helps ensure DCF coverage for the just started FY2015, but the lower contract rate leaves future cash flow coverage in doubt.
High Growth Units continued to perform well this week with TallGrass Energy Partners leading the group with a 3 year distribution growth rate in excess of 38%.

Distribution Rate Changes
A pair of healthy increases from variable distribution payers, Terra Nitrogen LP (NYSE:TNH) and Northern Tier Energy LP (NYSE:NTI) stand out in this week's increase list. Western Refining Logistics LP (NYSE:WNRL) paid is first full quarter distribution since the company's October 2013 IPO. The chart below shows the announced increases:

Insider Trading
John Sherman, as the former CEO of Inergy, continues to unload shares of the company that merged into NRGY.

Share Issuance News
There were two well-received MLP IPOs this week: GasLog Partners LP (NYSE:GLOP) and PBF Logistics LP (NYSE:PBFX). GLOP closed the week $5.62 above the $21 IPO price. PBFX closed $5.00 higher than the $23 IPO, which was the top end of the range. Very strong institutional demand was cited by the book runner.
Get the details of any offer of interest by clicking on the specific issue on the Issuance page of the MLPData Dashboard.



ETF, CEF and Mutual Fund Money Flows
MLP focused funds added $455 million in assets for the last week, up $66 million from the previous week's inflows. Mutual funds added $187 million, down from last week. ETFs took in $267 million, over $200 million more than during the previous week. At the recent level of additions, MLP funds are adding assets at approximately a 3% per monthly rate. As Q1 Institutional 13F's are disclosed, we will begin to see where these active funds are evolving their positions.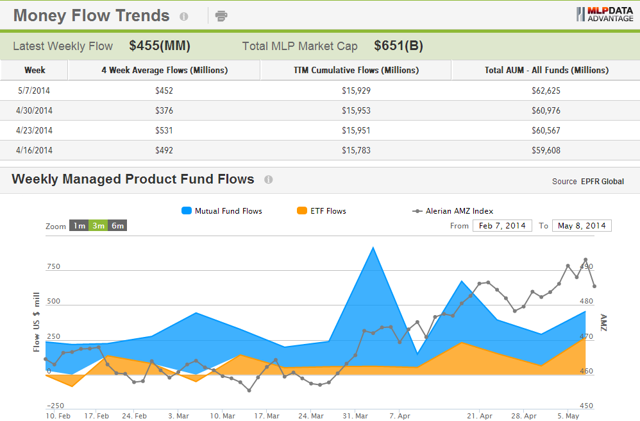 Next Week's Earnings Calendar
The 2014 first quarter earnings season comes to a completion next week, with 10 more companies releasing results.

To make sure you get this round-up each week, make sure you are Following MLPData here on Seeking Alpha.
All charts and tables provided by MLPData.com
Disclosure: I have no positions in any stocks mentioned, and no plans to initiate any positions within the next 72 hours. I wrote this article myself, and it expresses my own opinions. I am not receiving compensation for it. I have no business relationship with any company whose stock is mentioned in this article.