Introduction
It is a well-accepted fact that the premium Mac is on the rise. With superior quality, innovation, improved value and a growing customer base, there's good reason for it to be and in the future I expect the trend to continue. Apple (NASDAQ:AAPL) has shown that they are resisting the declining PC market while capturing market share by showing continuous growth of their PC sales. Fiscal 2014 Q1 posted a 19% year-over-year increase in Mac sales and last quarter posted a 5% increase. With Mac pulling in $5.5 billion in revenue for the quarter, it only made up about 11% of their total revenue. This is a narrow revenue stream, but the Mac is still an important core to Apple's success and for this article I will cover the commonly overlooked Mac and discuss the potential for continued growth.
(Author's Note: I feel that it would make sense to state that I have continuously used Windows and my most used computer is a Microsoft (NASDAQ:MSFT) Surface Pro.)
Inexpensive Macs are leading to major growth
As mentioned in Apple's conference call, for 31 out of 32 quarters, Mac showed a continuous increase in market share. Apple has lowered prices of the MacBook into very reasonable price ranges making them more attractive than ever before. In 2013, the MacBook Pro saw a price drop in February from $1700 to $1500 and then in October from $1500 to the current $1300. These decreases led Apple to a year-over-year 5% increase in units sold for the quarter. Revenue wise, there was only an increase of 1.3% due to the reductions lowering the average cost of each unit by around $44. Although this may have slightly eaten into profits, when considering the declining PC trend, any increase in market share, unit sales and revenue can still be considered a win.
In addition to continued price drops, Apple has recently dropped the price of its 11 and 13-inch MacBook Air to $899 and $999 while slapping on improved processors. Not only does this put the 11-inch version at half the cost of prestigious launch version of Air in 2008, but also serves as an entry into an enormous market; annually, a $63B market according to J.P. Morgan (NYSE:JPM). This consists of the $500-$1000 range of mobile PC which in 2013 accounted for nearly 100m units making up nearly 55% of market. As a side note, this also places the Surface Pro 2 at the same price of the Air, excluding the almost mandatory keyboard covers. With an additional price drops on the Air, it is highly likely that the momentum of their improving market share will improve at a potentially increased rate.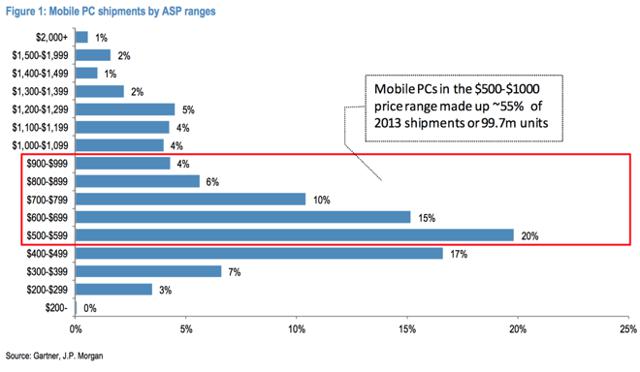 Mac still leads with an attention to detail that is unmatched
Where innovation, performance, and detail are concerned, Apple is a clear leader. For years, these factors have dominated the industry and it feels like nobody is catching up. From all-in-ones, low-end and high-end desktops to mobile PCs, Apple's lineup appears unmatched with mostly inferior copies being launched by competing PC manufacturers. In notebooks, Dell and HP (NYSE:HPQ) have released great responses to the MacBook Pro with retina display but both come short in design and performance despite their similar prices. You can see comparisons of them head to head against the MacBook Pro with retina display, as seen on Digital Trends: here (HP Spectre 13t) and here (Dell XPS 13).
One of the reasons of this lead is due to Apple's significant attention to detail as it is something that they take pride in. This is expected as there are really only a few models that focus on configuring internals. To give an example of this attention to detail, I will compare a feature from the 2008 (6 years old) MacBook Pro that is present on Dell's XPS 13: the external battery indicator. This is a simple button that notifies you of battery life and problems when pressed. As you can see in the images alone, the brand new XPS 13 looks terrible when compared to the should-be "outdated" MacBook Pro. These kinds of details are spread across the entire design as well as the important operating system that provides users with its well-known flawless experience.
Dell XPS 13 Battery Indicator (Source: Digital Trends)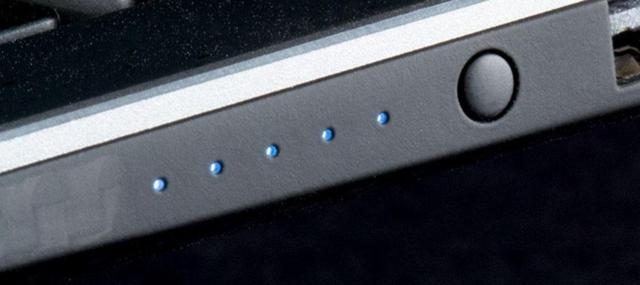 MacBook Pro Battery Indicator (Source: Artiss)

IT enterprises find Apple more desirable and reliable
Being inside of businesses is where Apple's market share is at a minimum, but not for all sectors. In an International Business Times article, a survey on IT enterprises surveying over 200 IT heads discovered that 45% of their businesses offer Macs. On the other hand, 95% of those that didn't would be interested in doing so if they could access a single management system on Macs and Windows. In addition, 77 percent of IT decision makers thought Macs were more reliable and 65% said they are easy to support. This survey is very much in line with Mac's reputation: reliable, easy to use, and desirable. PCs generally have a long turnover rate and as Apple continues to dominate and offer good value in the future, their potential to gain market share will continue to increase at a potentially exponential rate.
More iPhones and iPads means more Macs
The growing force of the iPhone is incredible as last quarter was noted as their best non-holiday quarter for the device. A large portion of these sales came from first time users which play an important role to Apple's success thanks to the halo effect. In the last six months, two thirds of newly registered iPads and half of newly registered iPhones came from first-time users. In addition, the iPad Air and iPad Mini with retina display received a 98% customer satisfaction rate in February as measured by ChangeWave.
This unlocks a whole new extractable market as their expanding new user base has potentially become more inclined to own or switch to a Mac. This will be the halo effect extending to Mac and will serve as a large benefit to them in the future. There are many users who enjoy the familiar user experience of Windows so it takes a big step to move to a new one. However, if Mac is successful in capturing more and more of this large market, I believe that this momentum will continue to drive growth and will become increasingly difficult to break.
Conclusion
With more and more people easing away from specs and performance while focusing on web browsing, e-mail checking, and reliability, the tables are turned into the Mac's favor. Mac is desirable to consumers and is now flooding the mobile PC market as seen in your local coffee shop and university library. Even businesses, as mentioned above, desire them. It is becoming clear that Mac is the smarter choice - and I'm saying that without having ever owned one due to their premium price tag; which is becoming less of a problem. The primary factors holding Windows together is its affordability and strong gravitational force that comes from its massive size, but with those elements dissipating we'll start seeing more Macs, more revenue, and potentially a bigger price tag on Apple stock.
Disclosure: I have no positions in any stocks mentioned, and no plans to initiate any positions within the next 72 hours. I wrote this article myself, and it expresses my own opinions. I am not receiving compensation for it (other than from Seeking Alpha). I have no business relationship with any company whose stock is mentioned in this article.